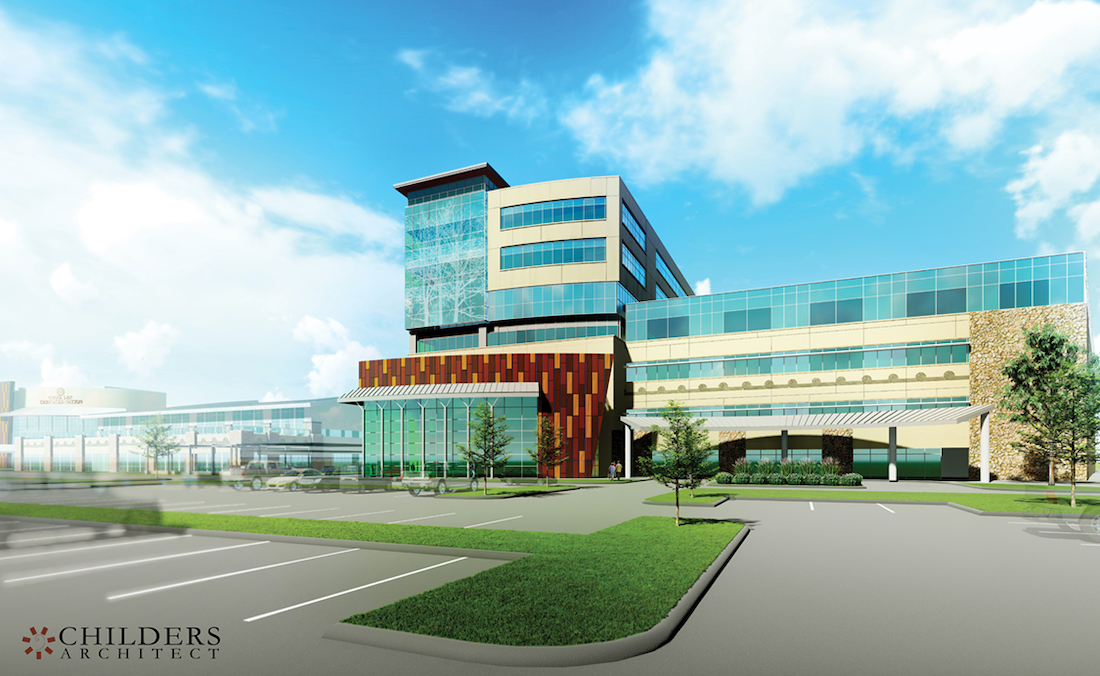 Details

Health Care
A "historic" $430 million investment will bolster the Cherokee Nation health care system that's experienced unprecedented usage throughout the pandemic.
In mid December, Chief Chuck Hoskin, Jr. signed legislation approving $400 million for a new hospital in Tahlequah, Okla. and a $30 million outpatient center in Salina, Okla. The legislation also included up to $5 million in donations to Northeastern State University's new optometry college.
The projects will be funded through $250 million from the tribe's $1.8 billion in federal American Rescue Plan Act funding, as well as revenue generated from the health care system itself, Hoskin said.
"COVID did two things: It sharpened our focus on what our health care needs were," Hoskin told Tribal Business News. "It also created an environment where we had access to funding we didn't have before."
The new hospital in Tahlequah will take over for W.W. Hastings Hospital, which has come under immense pressure with skyrocketing patient numbers. While Cherokee Nation initially intended the original building to serve 60,000 visitors per year, recent annual visits have closed in on 500,000.
"Our focus pre-pandemic was more on what we could do with behavioral health, but COVID accelerated the new hospital much quicker than we had planned," Hoskin said. "We knew we were going to have to replace the hospital."
While still in the design phase, the new building will better accommodate increased usage, especially from critical care patients, visitors in need of dialysis, and patients in labor, according to Cherokee Nation. The new hospital will connect to an outpatient facility constructed in 2019, bringing the two components together.
Hoskin said the tribe's experience of operating in a newer facility prompted the decision to build a totally new hospital, rather than renovate the existing building.
"We looked at our outpatient facility and saw what a blessing it was to have a more modern facility in dealing with an infectious disease," Hoskin said. "There's limited things you can achieve renovating something decades old. It just made sense to start from scratch and build it the way you'd build a new facility so it's there for the next generation."
The older Hastings hospital will be repurposed as a behavioral health center, which will serve as "the heart" of the tribe's expanding mental health program, Hoskin said.
The Cherokee Nation investment marks the second major tribal health care project in eastern Oklahoma. Earlier in 2021, the Muscogee Nation opened outpatient services at its new Council Oak Comprehensive Healthcare facility in Tulsa following a $40 million deal to purchase a former Cancer Centers for America building.
As well, the tribal health care investments come as COVID-19 has had an outsized effect on Native Americans. According to the Indian Health Service, American Indians and Alaskan Natives are 3.5 times more likely to be infected, four times more likely to be hospitalized, and nearly twice as likely to die as a result of infection.
A March 2020 report by trade publication Health Affairs pointed to ailing health care infrastructure — including a lack of protective equipment, staff and facilities — as a major risk factor for Native Americans during the pandemic.
"Together, these projects will positively impact the lives of Cherokee families for many, many generations," Hoskin said.
'Economic vitality is connected to wellbeing'
Hoskin also believes the hospital will represent an economic boost for the Nation, from improving the health of the tribe's communities to building a construction workforce in the region.
"I think in a number of respects, this investment will be good for the economy," Hoskin said. "What does health care accomplish for any community? Economic vitality is connected to wellbeing. As we improve access to health care and quality of health care, people are more productive, and that improves the workforce."
The construction of the new hospital will help to create a skilled workforce capable of large-scale projects, and give material providers and contractors a "shot in the arm," Hoskin said.
"I feel like we're going to be meeting a lot of needs, even when this project is over," Hoskin said. "Just the spending of dollars on materials: We're going to keep those dollars circulating in the tribal economy, and we're going to have a preference for Native American businesses."
Moreover, expanding the tribe's medical campus opens up both new necessities and possibilities. The tribe will have to supply an expanded system, and the Nation may opt to meet some of that need on its own, Hoskin said. For example, the health system's growth may lead to other future investments in areas such as medical manufacturing.
"Our system is growing, so the opportunity to perhaps spur investment in manufacturing here in Tahlequah or somewhere else in our reservation, I think that's exciting," Hoskin said.
Such investments are becoming more common in Indian Country as tribes and private, Native-owned companies step into the medical manufacturing space. To that end, Native-owned startup Tribal Solutions Medical sprang up in 2020 in direct response to protective equipment shortages, while Oklahoma's Modoc Nation announced a joint venture with Texas Medical Technology in October 2021.
Hoskin added that any such investment would be down the line, and the most immediate economic benefit will simply be building a healthier community.
"Health care tends to help with a foundation of economic growth," Hoskin said. "We're excited about that."