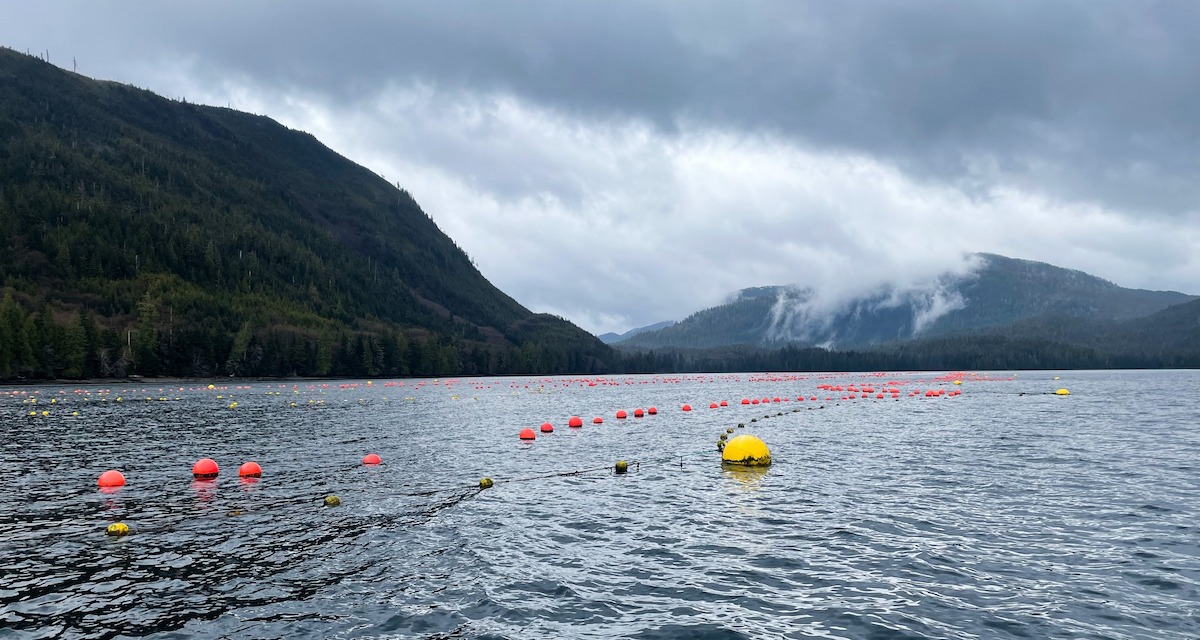 Details

Economic Development
The $49 million in federal funding that the Southeast Conference of Alaska was awarded for its proposed mariculture industry cluster effectively hits the fast-forward button on the project.
What was once expected to be a 20-year project to establish a $100 million mariculture industry in rural, coastal Southeast Alaska now has a "much shorter time frame," Southeast Conference Executive Director Robert Venables told Tribal Business News.
The money comes from the Biden Administration's Build Back Better Regional Challenge, which was initially funded by 2021's American Rescue Plan Act and administered by the Economic Development Administration at the Commerce Department.
The $1 billion grant challenge asked communities to identify interconnected investment opportunities that could drive significant economic growth. The EDA selected 21 awardees from a group of 60 finalists, who each received a $500,000 seed grant. The program had 529 initial applicants.
Three predominantly Native or tribally-led projects, including the Southeast Conference's mariculture initiative, are among the 21 winning projects.
While Southeast Conference is a regional economic development corporation, the area it is targeting for by the mariculture cluster is mostly Alaska Native villages, Venables said.
"A quarter of the funding we receive is targeted to benefit Alaska Natives and 25 percent goes to underserved communities, many of which are Alaska Native villages, so there's a strong focus on reaching out to and working with our tribal partners," Venables said.
In tandem with regional partners, including Alaska Native Corporation Sealaska, the Southeast Conference plans to create workforce development, sustainable growth and processing capabilities in the area and build a network of support for the region's mariculture producers.
"I think the impact here is potentially huge — I know it's huge," Venables said. "The tasks we're addressing include financing, workforce development, seed availability, building nurseries, hatcheries, processing and testing facilities. We're going to build a whole ecosystem of support."
Never miss the biggest stories and breaking news about the tribal economy. Sign up to get our reporting sent straight to your inbox every Monday morning.
In Tulsa, Okla., the Indian Nations Council of Governments received approximately $39 million from the Build Back Better Regional Challenge to create a regional Advanced Mobility corridor focused on manufacturing electric and autonomous vehicles.
The project aims to "transition the region from its legacy of oil and gas and traditional manufacturing to advanced mobility, automation, and unmanned aerial systems," according to an INCOG statement.
Under the project, Oklahoma State University will partner with the Osage Nation to build a 114-nautical mile flight test range for aerial mobility technologies and establish a research and technology center through the school. The group anticipates an annual incremental economic effect on the region of between $4.7 billion and $9 billion, as well as the creation of 29,000 to 53,000 jobs, each with a median wage well above state averages, according to INCOG.
"The United States and the world are witnessing a mobility revolution that is poised to disrupt the global economy," according to a statement from INCOG. "The northeast Oklahoma region is stepping forward during a period of economic shock driven by COVID-19 to embrace this opportunity to create a resilient economy, anchored in innovation, entrepreneurship, and advanced manufacturing."
Further north, a group of nine Native community development financial institutions (CDFIs) plan to use $45 million in Build Back Better Regional Challenge awards to grow Indigenous finance across the Midwest, including the states of North Dakota, South Dakota, Montana and Wyoming. Dubbed the Mountain | Plains Regional Native CDFI Coalition and led by the Eagle Butte S.D.-based Four Bands Community Fund, the coalition will lower the barrier to credit in the region for Native entrepreneurs and businesses.
The group's plans include developing a financial workforce, building out non-physical infrastructures such as I.T. services and employee training, establishing an innovation center to provide facilities and services to entrepreneurs, and creating a revolving loan fund, according to a prior report from Tribal Business News.
"Supporting the financial sector in Indian Country boosts Tribal economies while driving growth across the region by creating jobs and supporting small businesses," Sen. Jon Tester, D-Mont., said in a statement. "I'm glad to see the Administration investing in Native finance, and look forward to working with EDA to make sure these grants get to the folks at the Four Bands Community Fund leading critical development projects across the Treasure State."
Meanwhile, the Southeast Conference's mariculture cluster also hopes to support entrepreneurship, Venables said. The group expects to create jobs through its workforce development program and support new entrepreneurs in getting their mariculture businesses on their feet and into hiring positions.
"We want to satisfy that desire for our region to grow and create an outlet and avenue for career tracks so that our local people can be employers, not just employees," Venables said. "Our revolving loan program can support very favorable terms on financing, and we can help create the kind of infrastructure our region can take advantage of."
The Build Back Better Regional Challenge awards can help take projects like the mariculture cluster to a level that can support more people, Venables said.
"We're going to be building at a scale that this initiative will help create," he said. "We're going to use that funding to build these connected but diverse economic activities around the mariculture industry."