Crow Agency, Mont.-based Plenty Doors Community Development Corp. plans to establish a new business incubator to help Native entrepreneurs on or near the Crow Indian Reservation prepare to launch their new ventures.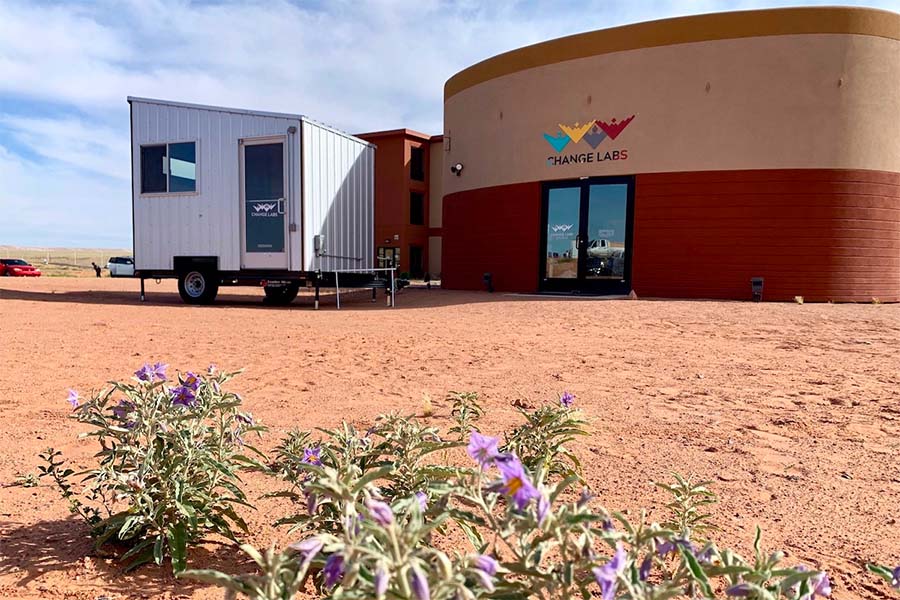 Backed by $300,000 in first-time funding from the U.S. Department of the Interior, Plenty Doors wants to use this new initiative to expand its existing services, such as credit builder and financial literacy classes. With new funding, said
Executive Director Charlene Johnson said the funding will enable the Native-led nonprofit to offer business development classes, marketing, web design, and even retail and office space.
"We did an economic study and found that 85 percent of every dollar that comes to the reservation leaves. Our community has lots of poverty and high unemployment, and we're trying to figure out ways to capture some of those dollars," Johnson told Tribal Business News. "Getting funding for that business incubator will help us help those businesses so they're more likely to be successful."
Never miss the biggest stories and breaking news about the tribal economy. Sign up to get our reporting sent straight to your inbox every Monday morning.
The funding came as part of a nearly $3 million round of grants announced this month by the Bureau of Indian Affairs within the Interior Department. The funding, which went to 10 tribes and tribal organizations, marks the first round of funding under the Native American Business Incubators Program, which was created by federal law in late 2020.
November's announcement follows two years of rulemaking and fine-tuning the Business Incubator Program after its inception. During that process, Native leaders expressed concerns about the lack of a requirement for Native leadership or ownership for organizations applying for the grants.
Notably, however, each of the 10 organizations that received grants in the initial round are Native-led or tribally owned, according to the BIA announcement.
The recipients include:
Change Labs, Arizona — $300,000
Quechan Indian Tribe, Arizona — $300,000
Plenty Doors Community Development Corporation, Montana — $300,000
Cherokee Nation, Oklahoma — $300,000
Chickasaw Nation, Oklahoma — $300,000
Sinte Gleska University, South Dakota — $300,000
South Puget Intertribal Planning Agency, Washington — $300,000
Taala Fund, Washington — $300,000
Regents of New Mexico State University, New Mexico — $289,869
Mohave County Community College District/Hualapai Tribal Nation, Arizona — $237,055
The awarded money pulls from an initial federal allocation of $5 million. Funded organizations can use the money to establish and operate new business incubators or improve on existing programs, such as the one at Change Labs, a Navajo and Hopi-centered organization in Tuba City, Arizona.
Change Labs has developed a wide-ranging program providing cohort members with virtual classes and real-life workspaces, as well as assistance in improving business plans, navigating complex land and building leasing issues, and developing marketing strategies.
Executive Director Heather Fleming previously told Tribal Business News that the Native American Business Incubator funding would help address "unique issues" that Native business owners face. More funding can help create more programs, which in turn will improve accessibility, she said.
"I just think more support levels are needed. There are little to no other incubator programs that are based on tribal lands that are serving Native entrepreneurs," Fleming said for a previous report. "We'd just like to see a lot more programs where someone can drive down the street and find a coworking space or get help getting a loan or advice."
Assistant Secretary for Indian Affairs Bryan Newland said the Department of Interior was "proud" to support tribal business owners.
"These grant programs are part of the federal government's treaty and trust responsibility to protect Tribal economic sovereignty and revitalize Indigenous communities by spurring economic growth and innovation," Newland said in a statement. "Growing businesses in Indian Country is necessary to build sustainable Tribal economies that generate revenue, meet community needs and create jobs."
The Bureau of Indian Affairs also announced a $1 million round of funding for the Native American Business Development Institute Feasibility Study Program. The initiative will help 15 Native-led or tribal organizations study potential successes and barriers in their communities for particular kinds of businesses.
Recipients for the feasibility study funding include:
Pit River Tribe, California — $75,000
Soboba Band of Luiseno Indians, California — $75,000
Coushatta Tribe of Louisiana — $75,000
Bay Mills Indian Community, Michigan — $75,000
Cherokee Nation, Oklahoma — $75,000
Alabama-Coushatta Tribe of Texas — $75,000
Kiowa Tribe, Oklahoma — $73,665
Muscogee (Creek) Nation, Oklahoma — $68,708
Burns Paiute Tribe, Oregon — $65,750
Iowa Tribe of Kansas and Nebraska — $62,164
Delaware Nation Economic Development Authority, Oklahoma — $60,300
Kaibab Band of Paiute Indians, Arizona — $59,700
Shinnecock Indian Nation, New York — $58,752
Resighini Rancheria, California — $57,187
Kickapoo Tribe of Oklahoma — $43,774
Feasibility studies have become a key component in refining potential investment opportunities to better suit both federal and private funding, according to the BIA.
"When performed by a reputable third party, an economic development feasibility study also can be used to help persuade lenders and investors to provide financial backing," the BIA said in a statement. "A study that concludes a project is worthwhile and financially sustainable can often fulfill many of the lender's or investor's due diligence requirements by answering questions about a project's chances of success, resulting in a more rapid loan approval or better loan terms."