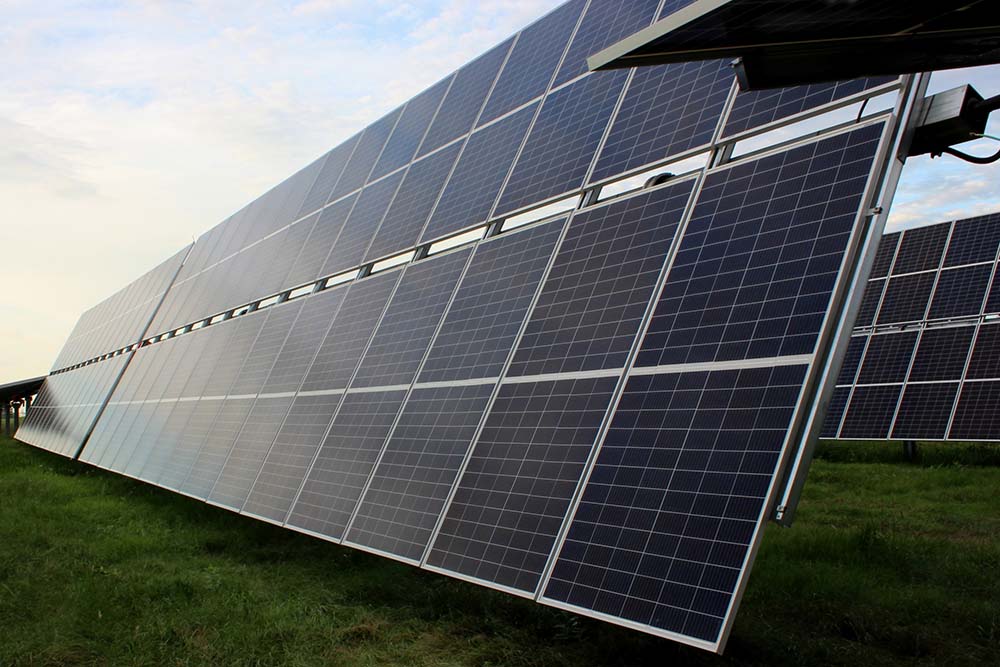 Details

Energy | Environment
DURANT, Okla. — A solar farm built on the Choctaw Nation reservation in Oklahoma will double in size after a successful first few months in service.
Oklahoma Gas and Electric announced this month that it plans to expand the capacity of the Choctaw Nation Solar Farm, based in Durant, from 5 megawatts to 10 megawatts by the end of 2021.
The farm first came online in August 2020 and produces up to 5 megawatts of power for the surrounding area. Many Choctaw Nation facilities, including new tribal government, culture and health centers, receive a portion of their power from the solar farm.
Between consumer and tribal power use, the tribe quickly took to solar energy as a popular option, said Choctaw Nation Utility Authority Director Stanley Self.
"The farm, once it came online, pretty well sold out immediately. There were plenty of people who signed up on it," Self told Tribal Business News. "We didn't want to take the entire farm; we wanted to make sure consumers and other businesses would have the opportunity to benefit from a renewable energy source."
While OG&E owns, maintains and generates revenues from the plant, Choctaw Nation users benefit from the farm with lower electricity costs, Self said.
Each of the 58 facilities uses solar energy for up to half of their total power usage. Across those facilities, Choctaw Nation saved $69,000 on energy costs in the first 90 days following the farm's activation.
"For a lot of people, that may not be a big amount of money, but for us, that means a lot," Self said. "We're trying to give back to our communities, reduce our carbon footprint and protect our Mother Earth. We saw this as budget savings, as well as additional funds to provide more programs for tribal members."
Self noted that Choctaw Nation also avoided spikes in energy costs during a winter storm that ravaged Oklahoma and Texas in February. The storm forced members of the Southwest Power Pool into controlled blackouts as power usage skyrocketed, which in turn caused sharp increases in fuel costs. Because half of power consumption stemmed from a renewable resource, the Nation was protected from rising costs, Self said.
"I have seen that our overall costs have begun to drop," he said. "We haven't really gotten through the first year, but our team is looking forward to making those comparisons from the previous year to this year and what our yearly savings would have been on this solar program."
The Choctaw Solar Farm was one of two such farms constructed in Oklahoma last year, with the other built in partnership with the Chickasaw Nation, as Tribal Business News previously reported.
OG&E Energy Chairman, President and CEO Sean Trauschke said the utility provider was "proud" to work with the Choctaw Nation to provide solar power to surrounding communities.
"OG&E remains an industry leader in reducing its impact on the environment, while at the same time maintaining some of the lowest rates in the nation," Trauschke said in a statement. "With this addition, we continue to advance our popular customer driven renewable energy offerings."
With the solar farm's expansion, the tribe plans to connect 150 rental houses within the service area to partial solar power, an important move for low-income families or elders on fixed incomes living in those homes, Self said.
"Our elders that live in residential housing could see a benefit from this that would put more money back into their spendable income and pay for other necessities they may need," he said. "I just wish it was available throughout our entire Choctaw Nation, but we're going to utilize it in the OG&E areas for sure."
Additionally, the success of the OG&E and Choctaw Nation Solar Farm has convinced tribal leaders to look into new solar investments.
While the tribe doesn't have any energy interests of its own, it could use the savings associated with the farm for solar installations at tribal facilities outside of OG&E's service area, Self said.
"We have a rental housing area that presently is being looked at to add solar to these residential units, and it will be our first step into contracting with a company, having them come in and install solar on these rental units," Self said.
Down the road, Choctaw Nation could expand into energy production, although that possibility is likely far off, according to Self.
"It's a thought that myself and my manager have talked about. There may come a day when we sit down and look at those opportunities," Self said. "It just depends. Right now, all of the utility power providers in Oklahoma are a member of the Southwest Power Pool, so there would be some discussions with them and others."
In the meantime, the tribe is focused on making small changes that can have large effects, and is "hedging their bets" on small expansions to the burgeoning solar program.
"As energy costs rise, ours will not for what we have committed to this solar farm," Self said. "We're very proud of the partnership with OG&E. We felt like this was a win-win."