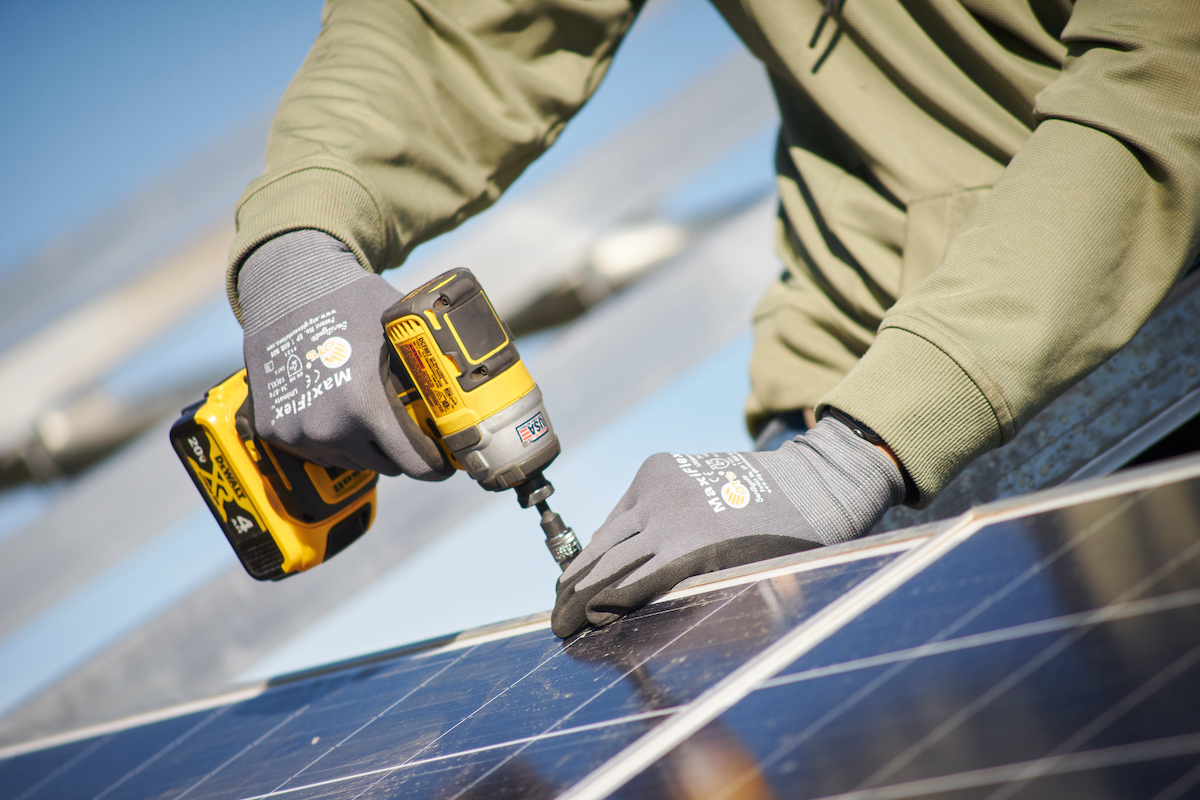 Details

Energy
LAME DEER, Mont. — The Northern Cheyenne Tribe in Montana has partnered with solar nonprofit Indigenized Energy Initiative to develop the $4 million, 1.25-megawatt White River Community Solar Project on the tribe's reservation.
The Indigenized Energy Initiative has taken the lead on developing 15 residential solar systems generating 10 kilowatts each, a 100-kw system at a school in Busby, Mont., a 25-kw system at a head start school and a 25-kw system at a water pump.
By far the most prominent part of the project is a large-scale solar farm, which will generate 1 megawatt of power and potentially provide the tribe some revenue through energy offtakes.
"This is a chance for the tribe to really measure the benefits of solar in these three forms, and be more informed on future investments," Indigenized Energy Initiative co-founder David Riley told Tribal Business News. "All three projects are going to give the tribe a chance to try solar on different scales and observe the different kinds of economic benefits from those different kinds of projects."
While the tribe may generate some revenue through its solar farm, the partners are focused mainly on creating potential savings to offset increasingly expensive utility costs.
Riley pointed to the residential systems as an example. Currently, many residents of the Northern Cheyenne Reservation pay nearly 12 cents per kilowatt hour for electricity, which can prove prohibitively expensive for older tribal members on fixed incomes.
"One of the economic benefits of solar is the immediate cost savings," Riley said. "When we put these at a residential site, it offsets the electricity they use. It doesn't offset all of it, and it depends on the house, but it helps save them money."
That's why the 15 residences selected for the initial project belonged to tribal elders, who often can't afford to lose power for their medical equipment, said Otto Braided Hair, Jr., co-founder of the Indigenized Energy Initiative and a Northern Cheyenne tribal citizen.
"Each (home) was carefully selected by the tribe as deserving and in need," Braided Hair said. "This will reduce energy costs for our Tribal elders and some of the systems will include batteries that provide emergency power to homes where elders are dependent on medical equipment that requires electricity."
What Riley described as "medium" systems — the water pump, school, and head start academy projects — would save less per kilowatt hour, but still show some savings for the tribe overall.
Moreover, all of the projects will create both short-term construction and long-term maintenance jobs for tribal members. According to the Indigenized Energy Initiative website, the White River Community Solar Project will create "over a dozen" permanent jobs.
"We're coordinating the workforce piece in a way that maximizes opportunities for members of the tribe to work on the project," Riley said. "The smaller-scale projects are more labor-intensive, so they'll create more jobs. The amount of money that goes into the hands of a working tribal member has an immediate economic impact."
Kyle Alderman, renewable energy manager for the Northern Cheyenne Tribe, said the White River Community Solar Project provided an opportunity for the tribe to build its own energy resources.
"Solar energy offers us a chance to regain our independence and stop reliance on fossil fuels," Alderman said in a statement. "We're excited to work with IEI, a Native-led initiative committed to energy sovereignty and to honoring the social, economic, spiritual, and environmental concerns of Indigenous Americans."
Never miss the biggest stories and breaking news about the tribal economy. Sign up to get our reporting sent straight to your inbox every Monday morning.
Getting funded
The White River Community Solar Project began as an idea for a large solar farm involving an external developer and the tribe, Riley said. That changed when Indigenized Energy Initiative — formerly known as Covenant Solar Energy — stepped in to guide development, Riley said.
"The cool thing about the project is that it was originally one large solar farm … and about half the money was going to come from an external developer. (The developers) were very happy because the DOE money made that pencil out," Riley said. "The developer was going to take about half the money from that project. When we began to work with the tribe, we helped them reshape it."
The tribe has secured a $3.2 million grant from the U.S. Department of Energy to help pay for the solar installations, but it must come up with a required 20 percent match.
Raising the money for the match has become a major focus for Indigenized Energy Initiative's funding drive this year, Riley said.
The plan is to match up to $400,000 in donations for a total raise of $800,000, completing the requirements for the project. So far, according to the group's donation page, the partners have raised $100,000.
A project of the Earth Island Institute, Indigenized Energy Initiative's funders include the John D. and Catherine T. MacArthur Foundation and founding donors the Pazala Foundation.
"One of the things IEI is doing is helping the tribe raise that money," Riley said. "We're hoping to have the funding in place by the end of July, realistically, and that will allow us to make headway on this project."
Want more news about the $130 billion tribal economy?
Tribal Business News publishes thoroughly reported and well-crafted stories about Native businesses and entrepreneurs, growth and expansion strategies, best practices, economic data, government policy and other relevant business news. Tribal Business News is required reading for tribal council members and leaders of Native businesses, as well as state and federal legislators, policymakers, economic developers, entrepreneurs, bankers, lawyers and anyone interested in doing business in Indian Country.
Sign up for our free newsletter to track Native business and the tribal economy. Or sign up for a premium digital subscription ($99/year or $10/month— cancel anytime) to gain full 24/7/365 access to our business news reporting. Megwetch.