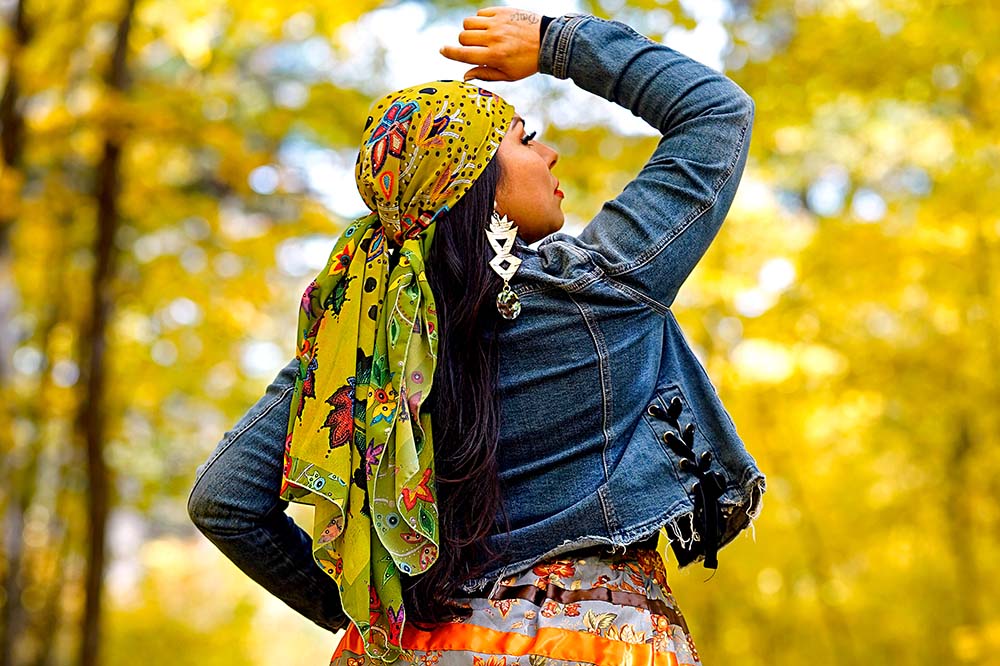 Details

Entrepreneurism
Anishinaabe designer Delina White is still amazed by all the attention her Woodland Wraparound Scarf has attracted.
The product placed second in USA Today's November feature "10 Gift Ideas That are Worth Splurging On," edged out of the top spot only by the Sunflow beach chair.
"We were so close, to get number two is great," said White, who is Minnesota Chippewa and Leech Lake Band of Ojibwe, and lives on the Leech Lake Reservation in north-central Minnesota. "It's crazy to even be in the top 10, but then you get your juices and your competitiveness going, and I'm like, 'I want first place!'"
As she monitored the vote counts and awaited the final results, White's thinking hinged on "let's just make this appearance on behalf of the Native people to show that we're here and we can be competitive in areas like fashion."
For White, a bead artist, jeweler, designer, and founder of the I Am Anishinaabe brand, 2020 has been the year of the Woodland Wraparound Scarf.
The airy polyester chiffon scarves awash with White's woodland-style floral beadwork designs come in six colors, including Swamp Tea green, Smokehide and Moonshadow Black, and can be worn by men or women in an almost infinite array of styles, from a headscarf to a cape to a poncho. They normally sell for $125, but White has them on sale for $99 through Christmas.
The scarf is currently White's hot cult item, but it's only the tip of her talent. I Am Anishinaabe, launched in 2015, also offers contemporary Native haute couture, along with cool T-shirts and jewelry.
I Am Anishinaabe is a known name in Native fashion, and White is gathering honors and recognition. She was just named a 2020 Artist In Business Leadership Fellow by the First Peoples' Fund. In 2019, The Minneapolis Star Tribune named her Artist of the Year.
Tribal Business News chatted with White about having a hit item on her hands, her marketing methods and her fashion philosophy.
How did you introduce the Woodland Wraparound Scarf?
When I first released it in the summer of 2019, I had a brown one and a red one. I only had 100 of each. It was just like testing the market, because it's the first time I had made fabric from my beadwork. I wasn't sure how it was going to work and if people would like it. You just don't know. Then because I promised it was limited edition, as soon as they all sold, it ended. Then I created different colors and I did not recreate the red. Then I had so many people saying, 'Oh, I'd love to have that red scarf,' so I decided to bring it back for one day, and I gave maybe a week's notice that my scarf was going to be sold for one day only and that was the end of it. I sold about a hundred of them.
Did you make a ton of the scarves after the USA Today article was released?
No. Because you never know and you don't want to invest a lot into something if you don't know it's going to sell. The scarves are really expensive to make, so I don't have the resources to make them randomly and have them sitting around, either.
How do you keep up with the demand?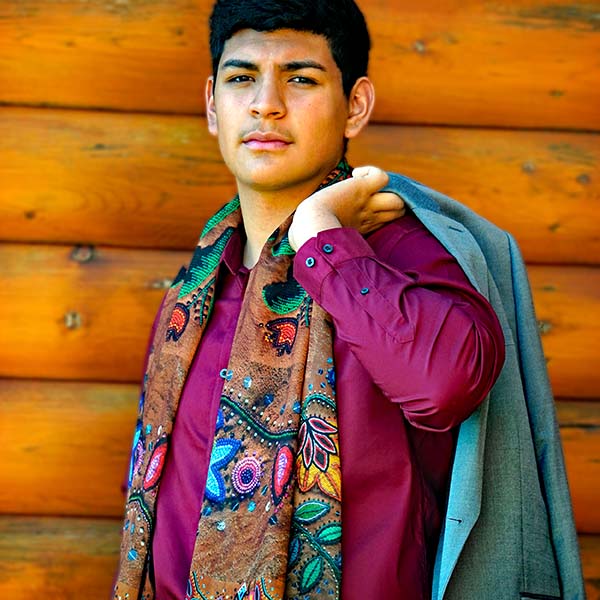 The versatile wraparound woodland scarf in Smokehide by designer Delina White, owner of the I Am Anishinaabe brand. (I Am Anishinaabe)I do try to have some scarves on hand. I have containers of them already sewn and packaged and ready to be shipped out. Those are available any time. The scarves aren't difficult. For clothes, I have to wait until I get an order because I can't have 10 size mediums or extra larges. I just don't have the time or the space. I'll buy the fabric and I'll just buy a minimum amount, and then I'll buy more if I get the orders. All of my clothing is made to order, because I live in a really small house.
Were you able to address any of your space issues with the loan you recently received from the Minnesota Indian Business Loan Program?
I had a shed built and I was able to expand my sewing space and I have storage. The shed is super small. Thank goodness that I got a shed because I was able to have more supplies. I don't work in it. I work in my house and I have a little corner carved out where I've got my computer and my files and materials that I use pretty often. But I do go out to my shed every day. There's always something out there that I need.
How do the scarves fit into your fashion philosophy?
When I first started making fabric and clothing, I really wanted to stay with what I know and who I am, so it was important to create a representation of the Great Lakes woodland tribes. I know Anishinaabe: It's my culture, it's my heritage. It was important for me to say, 'I'm going to get into this industry and I am going to be true to my heritage and I am going to represent the Anishinaabe people.' That's why I call my brand I Am Anishinaabe.
Why is it especially important to establish a strong Anishinaabe presence in the fashion industry?
A lot of people only know the Southwest. It's pretty prominent. Everyone knows the turquoise and silver. The next largest market would probably be the Dakota, Lakota and Nakota, and that's the Plains style. People are not very familiar with the woodland style — the florals and the lakes. That is what my beadwork is all about. I was taught by my grandma. When I was six years old, I started stringing beads.
You mentioned that these scarves are the first pieces you've made based on your beadwork. What is the process?
I'll take photographs of my beadwork and I'm able to capture the beads in detail. It translates to fabric as photographs and you can see the textures and see the shadows and the shapes of all of the beads.
Which are the best-selling scarves?
My most popular one is the sterling silver. It's a special series and it's the only one that comes in satin. I thought it would just be so pretty with silver jewelry. The next one is moonshadow black, and then the forest green. I'm hoping to come out with new colors and designs either this spring or summer.
Do you have a favorite?
I have one that's called swamp tea green, which is kind of like a lime-ish olive green color and it's my favorite. It's probably the brightest of the bunch. Swamp tea is Labrador tea but it's a traditional medicinal tea to the Chippewa people that we call swamp tea. I wanted to make connections that are familiar to Native people so that they can make that cultural connection to my work. Native people need more options on what to purchase because they want to wear items that are significant to their culture and the things that they grew up knowing as being beautiful.
Want more news about the $130 billion tribal economy?
Tribal Business News publishes thoroughly reported and well-crafted stories about Native businesses and entrepreneurs, growth and expansion strategies, best practices, economic data, government policy and other relevant business news. Tribal Business News is required reading for tribal council members and leaders of Native businesses, as well as state and federal legislators, policymakers, economic developers, entrepreneurs, bankers, lawyers and anyone interested in doing business in Indian Country.
Sign up for our free newsletter to track Native business and the tribal economy. Or sign up for a premium digital subscription ($99/year or $10/month— cancel anytime) to gain full 24/7/365 access to our business news reporting. Megwetch.