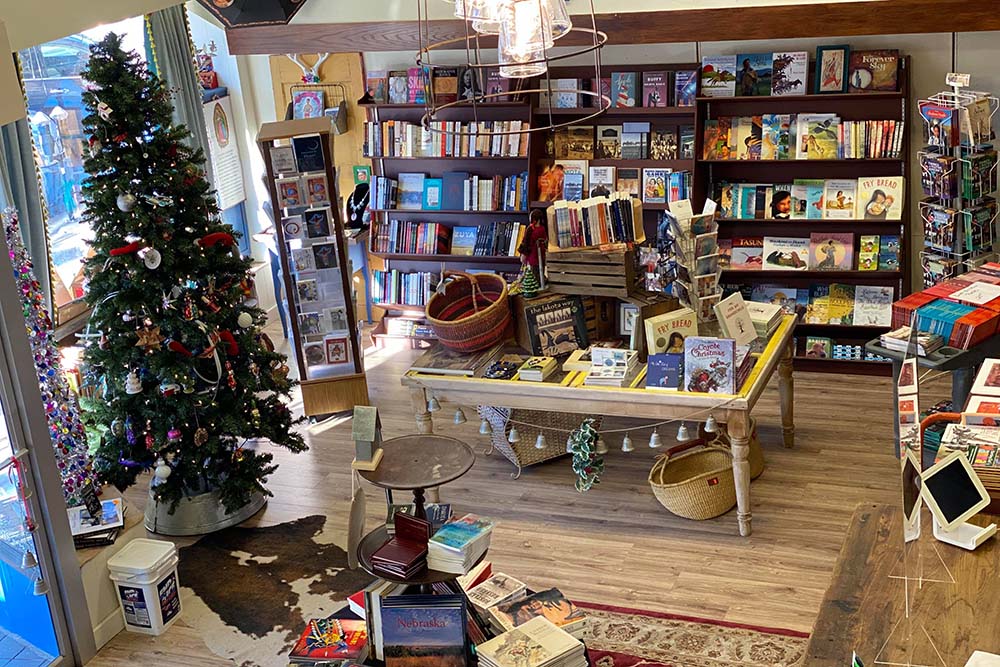 Details

Entrepreneurism
RAPID CITY, S.D. — In Rapid City and surrounding areas, Cheyenne River Sioux entrepreneur Lily Mendoza and the Bird Cage Book Store and Mercantile are the name and place to know for a massive selection of Native books.
For Native literature, art, history, language, rare books and even out-of-print titles, it's a page turner's paradise.
In October, Mendoza moved to her own two-story space at 524 7th St. in downtown Rapid City. For four years, she ran Bird Cage out of the Racing Magpie, a Native art gallery, retail and performance space in the city, which rents artist studios and holds community workshops.
A look at Bird Cage's books
At the moment, two of the Bird Cage Book Store and Mercantile's most interesting finds are an English Lakota Dictionary and "Black Hills Hay Camp" by Dave Strain.
"The dictionary is a hardback and it's probably one of the first dictionaries printed out by the Jesuits," said store owner Lily Mendoza. "We work with the Buechel Memorial Lakota Museum on the Rosebud Reservation and that's one of the books they carry at the museum that we purchase on a regular basis."
Meanwhile, "Black Hills Hay Camp" offers a look back at what Rapid City used to be.
"It has lots of photos and stories from when Rapid City was called a hay camp, back when they had the wagons and there was an area where the Native people would camp out," Mendoza said. "There are probably some places that just have a few copies, but I'm the distributor for that book."
Bird Cage also stocks bestsellers that are a challenge to keep on the shelves.
"The most popular book right now is 'Braiding Sweetgrass' by Robin Wall Kimmerer — it's not going to be available until February, " Mendoza said.
Other top titles currently include "Waterlily" by Ella Cara Deloria, "Black Elk Speaks" by John G. Neihardt, and "anything that has to do with Crazy Horse and anything by the author Joseph Marshall," Mendoza added.
"Those are huge sellers for me," she said.
"When COVID hit in March, the artists had to close down their studios. I just had to rethink how I was going to do business and figure out something to start generating income again," Mendoza told Tribal Business News.
So far, the reception from customers has been positive, she said.
"It's going great. We're so glad we made this move," Mendoza said. "I couldn't do this without the support of our community, especially our Native community."
Mendoza also has a major support system in the form of her large family. They participate in every aspect of business, from picking up books and delivering them to the store, to helping with the Bird Cage's social media.
"They all see the importance of what we're doing here and everybody knows how to do everything here — all my kids and my grandkids," she said.
'VERY FORTUNATE'
The new location is also the headquarters for Mendoza's two other complementary enterprises. One is the wholesale book business Dakota West, which her son Cameron Ducheneaux bought in 2018 and Mendoza reps and manages. The other is Word Carrier Trading Post, a service specializing in bringing books to students on reservations and Native classrooms.
"It's kind of the same concept as Scholastic except for Native American literature.
We would go into schools and take in at least 600 titles and be able to fill orders right on site for teachers, so they can have resources for their classrooms and for the library," she said. "We also went into communities, like to a tribal office or a community college. We were very community-based. Families were very excited to see Native American books. Sometimes they would be able to see their relatives on the covers."
Travel to schools is on hold for Word Carrier, but Mendoza is still filling online orders from Bird Cage, which is requiring masks and following COVID-19 safety protocols. She believes her commitment to caution and protection is paying off.
"I have a lot of customers that shop here just because of that," Mendoza said of the store's safety precautions. "The state does not mandate masks. Some businesses do and some don't."
Bird Cage is currently doing equally well with both online and in-person sales, according to Mendoza. She's faring better than most independent booksellers in the age of COVID. According to the American Booksellers Association, since the beginning of the pandemic, at least one independent bookstore has closed each week.
"We were just very fortunate," Mendoza said. "We appreciate it because some wholesale book businesses out there have closed down."
SUPPORTING COMMUNITY
Mendoza said there are many advantages to the new bigger space, which she was able to lease for a very reasonable rate since there are so many empty storefronts downtown.
For instance, the Dakota West warehouse used to be a few miles away in Rapid Valley, and now it's right on site.
Mendoza also has a stage for readings and performances and plenty of room to promote her other passions, including boosting Native women artists and entrepreneurs by featuring their products in the store and spotlighting their work in the upstairs art gallery.
"It's really important for me to support Native and Indigenous women in the work that they do and our women's cottage industries," Mendoza said. "I do that by selling their goods. "
Mendoza also founded the Red Skirt Society, which raises awareness for and assists Missing and Murdered Indigenous Women and their families. She finds ways to blend her activism into the Bird Cage.
"It's just not about selling books. It's about community and providing that space for people to come in and feel comfortable," Mendoza said. "Upstairs we have a reading nook and our healing center with red dresses and an altar. Many people come in and they go upstairs and they spend time in prayer."
Still, books are Bird Cage's bread and butter, and with years of experience working for Borders as a community relations representative and Mendoza's own publishing industry pursuits, she has the knowhow and contacts to source and supply virtually everything an individual, classroom or Native historical site could want or need.
One of the sites Mendoza supplies is the Crazy Horse Memorial in Custer County, S.D. The Memorial — as well as many of the schools and other organizations she works with — trust Mendoza so much that they leave the curating to her.
"They say, 'You tell us what needs to be here. You're in charge of it because we don't really know what we need to be carrying,'" Mendoza said.
REVIVING RARITIES
One way Mendoza satisfies her customers is by offering out-of-print books. She noted that other bookstores provide the same service, but she's an expert in sourcing rare Native books and reviving them. University of Nebraska Press has one of the best Native American collections, according to Mendoza, and she often works with the company.
"A lot of the books that I carry are what are called print on demand, which actually means that they're out of print," Mendoza said. "I'm able to order books and have them printed up specifically for me."
Although Mendoza does carry bestsellers like "Braiding Sweetgrass" and other books readily available in other bookstores and online, the out-of-print titles and other rare books she offers are the type you can't find on Amazon.
In fact, sometimes Amazon comes calling when they need a title their customers are seeking, she said.
"Amazon will put up a book online that they don't have, and once somebody orders it then they start looking for it," Mendoza said. "There were a few times in the past where Amazon has contacted the person that we bought Dakota West Books from and said, 'Could we buy a copy of that book from you?' And he would say no, because they'll mark it up like crazy and say it's a rare edition. They're not going to call a distributor and ask them to print up a copy."
The power of print on demand also allows Mendoza to create copies en masse for educational purposes.
"Say for example Oglala Lakota College orders from me for their bookstore, and they need to have 60 copies because there's a teacher that wants that as a resource," she said. "I have all of those printed up and then I'm able to wholesale that book to them so they can sell it."
Want more news about the $130 billion tribal economy?
Tribal Business News publishes thoroughly reported and well-crafted stories about Native businesses and entrepreneurs, growth and expansion strategies, best practices, economic data, government policy and other relevant business news. Tribal Business News is required reading for tribal council members and leaders of Native businesses, as well as state and federal legislators, policymakers, economic developers, entrepreneurs, bankers, lawyers and anyone interested in doing business in Indian Country.
Sign up for our free newsletter to track Native business and the tribal economy. Or sign up for a premium digital subscription ($99/year or $10/month— cancel anytime) to gain full 24/7/365 access to our business news reporting. Megwetch.