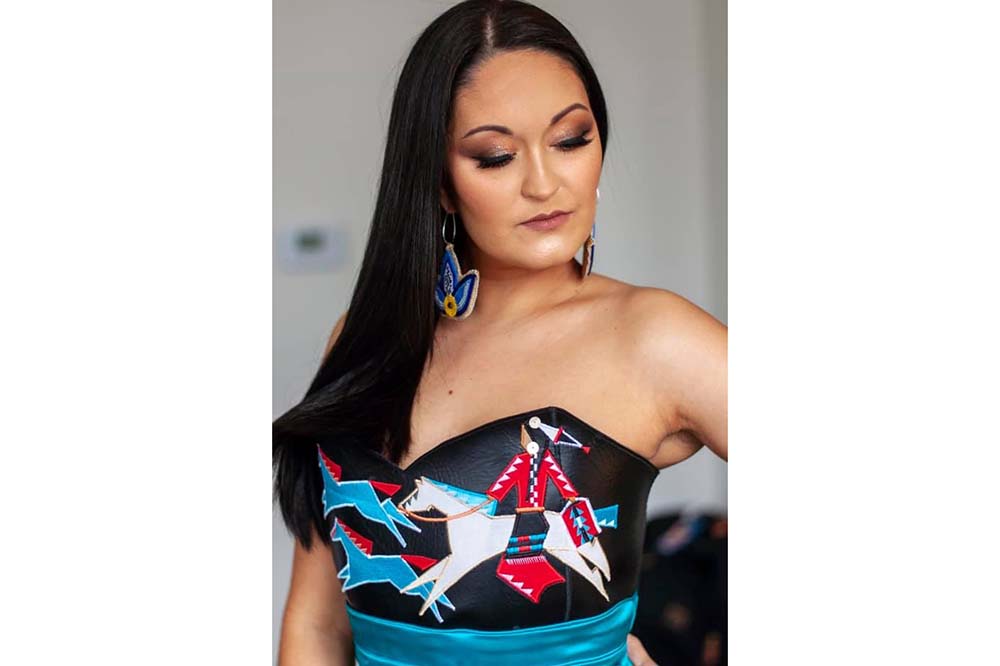 Details

Entrepreneurism
NEW TOWN, N.D. — When the spotlight shone on teen Standing Rock Sioux activist Alice Brownotter during the 2018 Academy Awards, it was a breakthrough moment for Indigenous causes — and couture.
Brownotter's black dress with a dazzling dentalium shell corset was made by Norma Baker-Flying Horse of Red Berry Woman, the first contemporary Native American designer with a dress at the Oscars.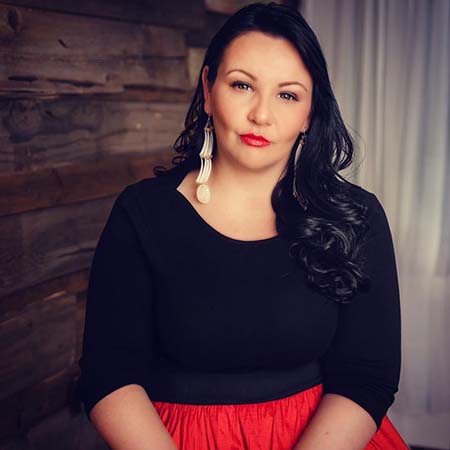 Hidatsa, Dakota Sioux and Assiniboine designer Norma Baker-Flying Horse, owner of the Red Berry Woman fashion brand. (Red Berry Woman)"I didn't know Alice was going to be on stage, so here I am watching the Oscars thinking, 'Oh, I hope I get a glimpse of her walking by or something,'" said Baker-Flying Horse (Hidatsa, Dakota Sioux and Assiniboine).
When Common and Andra Day performed the song "Stand Up For Something" to honor a group of activist guests, Baker-Flying Horse was stunned by what appeared on stage.
"Next thing I know, they're lighting the stage up and there's one person at a time walking out … and boom, there's Alice. I freaked out," Baker-Flying Horse said. "I already had been doing fashion shows and whatnot, and that just pushed it further for me. It really put me out in the spotlight. It was amazing."
Additionally, Baker-Flying Horse also has dressed attendees at the Grammys, The Indspire Awards and other awards shows, and has presented at Paris Fashion Week. Her clients include Miss Indian World Cheyenne Brady (Sac and Fox, Cheyenne, Tonkawa) and 2015 Miss Universe, actress and activist Ashley Callingbull (Cree).
But you don't have to be an Indigenous "it girl" to get that ravishing Red Berry Woman look.
After a long career in her tribal court system and government before recently going full-time with fashion, Baker-Flying Horse is making her move into reasonably priced ready-to-wear items.
"My whole thing going into this was just to create beautiful clothing and to create something that people wanted to wear," said Baker-Flying Horse, who lives on the Fort Berthold Reservation in North Dakota. "It started out with individualized customers and now it's growing to a whole on-demand thing."
Tribal Business News spoke with Baker-Flying Horse about her brush with Project Runway, her secret business weapon and her signature design, known as The Red Berry Woman Riders.
Say I want to order a Red Berry Woman original. How much should I expect to pay?
The custom-made gowns range anywhere from $800 on up depending upon how much detail goes into them.The highest I've sold a gown for is about $3,500. (It's not a lot) for the amount of work that goes into them and the fact that you're wearing a one of a kind. I'll never duplicate that again. There's a lot of work in the detailing. And at this point, people are pretty much buying my name as well. It's so funny for me to say that.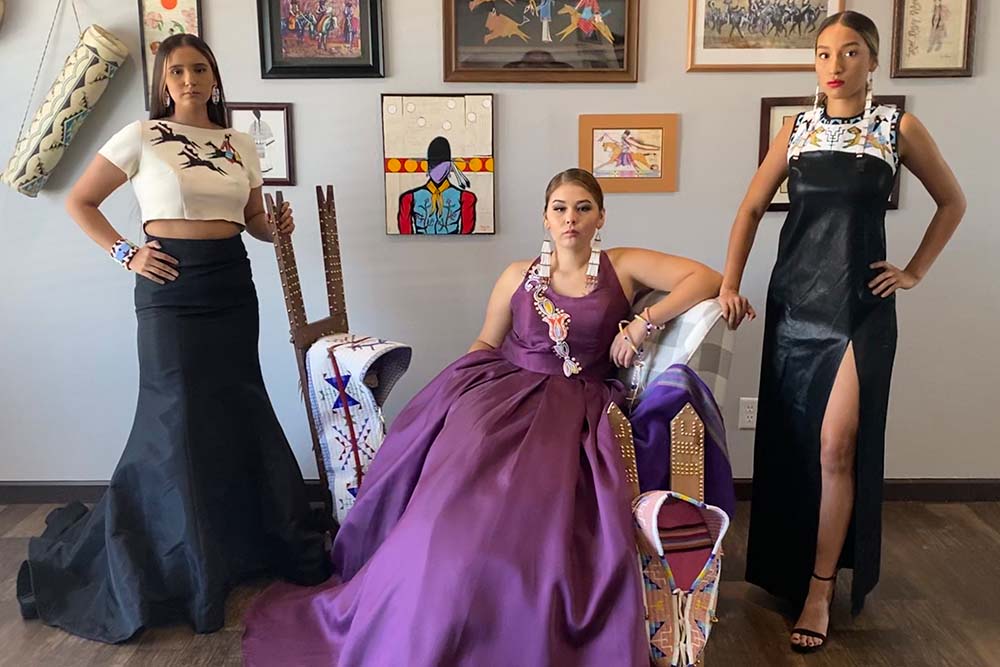 A trio of custom-made gowns by Red Berry Woman. (Red Berry Woman)
How did you choose the name Red Berry Woman?
It's actually my Native name. It's my Indian name. Our names carry our spirit — who we are and what we are. They mean a lot. With everything I do, I'm giving a piece of myself to somebody, a culture, my culture, things that I've learned, things that were taught to me by my grandmother that I cherish and I'm passing on to my children. That's why I call my brand Red Berry Woman. You're getting a piece of who I am.
You worked outside of fashion for so many years. Was the desire to play some part in the fashion world always there?
I loved fashion since I was a little girl. I was the type that would buy the little fake toy high heels at Kmart, and I somehow found a business suit at the age of six at a secondhand store. It was a little pencil skirt with the blazer. I was living with my grandparents who own a ranch down in Mandaree, and here I am trying to walk around in toy high heels and a business suit.
Did you dream of becoming a designer?
In my family, we didn't really wear our hearts on our sleeves. We didn't really share our feelings, our ambitions, anything like that. It was always just an unspoken thing that you needed to work hard at whatever it was you were doing and support yourself. I never shared with my parents or with my grandparents that I wanted to do this stuff.
I really didn't know what I wanted to do with fashion. I didn't even know it was a thing. Fashion school … and being a designer was for other people. I didn't think I had the talent. It never dawned on me that I could be one of those people, that I, in fact, was one of those people.
I've spent more time admiring others than I did chasing after anything for myself, which now I regret being almost 40. I regret not doing the things that would have really helped me today with what I have going on.
Don't beat yourself up about that. There are contestants on Project Runway who are older than you are.
It's funny because I actually did audition for Project Runway.The producers reached out to me in summer of 2019. I got a message on my Instagram from a man saying, 'I'm with Project Runway. I love your stuff. We all love it. We want to see you. Would you be willing to come to Portland and audition?' I'm thinking, 'Oh yeah, right. Whatever.' So, I ignored it thinking it was spam. Unless you're from a Native organization, I think you're spam. Then he emailed my business page, and I looked him up and he was legitimate.
How did it go?
I went out there and during the first round of interviews, the judges — some of them were past winners — were talking to me, and of course, they kept bringing up Patricia Michaels, a Native American designer who was a finalist on season 11. They were talking about her being Native American and whatnot, and I tried to explain to them that Native American fashion is different because it's not just fashion, it's who we are. It's representing us. I made it to the second round, but I didn't make it past that. But I went farther than a lot of people.
When you started selling your work, how did you approach the business end?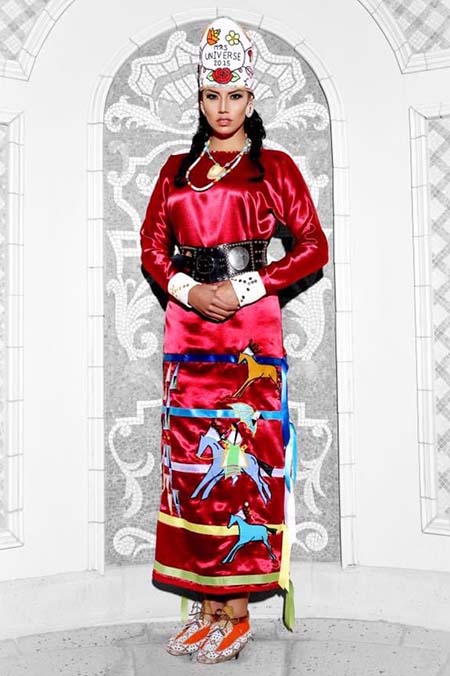 Miss Universe 2015, actress, and activist Ashley Callingbull in a Red Berry Woman original. (Red Berry Woman)Really, my business started up as me doing what I know culturally. I've been beading and sewing my own outfits my entire life, for as long as I can remember. My grandmother taught me to bead and my mother taught me to sew at a very, very young age.
This wasn't, 'I'm going to put this model together and this is going to be my business and this is how I'm going to fund it and this is how I'm going to have clients.' It was people coming to me asking me to do the things that I've been doing since I was 12, 13 years old, creating garments, creating cultural pieces.
I would sell things here and there and make money that way. I'm not a businessperson at all. I'm definitely a creative head. I hate numbers. It was more like, 'I got paid today and all my bills are paid, so I'm going to go to Hobby Lobby and buy a ton of ribbon.' Back then, we had a trading post and I would go and splurge on beads and not eat for the rest of the week.
Who attends to the commerce while you cover the creating?
I have a best friend who has a master's in business and she's been my girl. She's been the one who's helped me out. She helped me get a business loan from my tribe — the Three Affiliated Tribes: the Mandan, the Arikara and the Hidatsa. We're three different tribes under one government. In recent years, we've had an oil boom here on our reservation and we were fortunate to come into quite a bit of money. When that happened, our tribe developed a small business loan program to try to enhance our economic development here on the reservation. I really wanted to do Red Berry Woman full-time because I had gotten my business loan and I really wanted to move forward. So now, here we are.
How are you transitioning into a full-time fashion career?
I'm just hitting the ground running. Right now, I'm working on small pieces and jewelry pieces. At the same time, I'm working on a ready-to-wear line that I'm hoping to launch in the spring. I'm not really a ready-to-wear designer. That's not really my forte, but I have a lot of people who are constantly asking me to design ready-to-wear because they would love to buy something that isn't custom. All the ready-to-wear will be online, and I'd like it to be affordable to everybody. I'm still learning the business aspect of all of this.
How are you going to adapt your haute couture style to ready-to-wear?
A lot of it has to do with prints, like you see with other designers who are converting their detailed finished work to print on material. I'll be converting my design work and ledger art work. I'm really known for the Red Berry Woman Rider on the horse. I design each rider to represent the person I am creating for, or a cultural meaning, movements or even symbolic reasons. With my custom work, I try to give a piece of myself, and I also put in something representing either the event my client is going to or themselves.
Ashley Callingbull wore your ribbon dress featuring four Red Berry Woman Riders at the 2018 Indspire Awards. How did you tailor the riders to her?
Ashley wanted to represent Missing and Murdered Indigenous Women when she received her Indspire Award and I immediately thought of the Red Berry Woman Rider. I wanted four women on four horses for four directions. One represented the woman warrior, one represented the mother, one represented the teacher and then the other was the young woman (representing) the youth, our young women.
I noticed handprints on one of your Red Berry Woman Riders bodices. Is that also a nod to MMIW?
No. It's my Dakota Sioux background. We use a lot of hand prints because we would trace our children's hands and then we would bead them. We're really into hand prints and that represents our youth, our children. A lot of my design work comes from my Dakota Sioux side, which was my mother's mother's tribe.
Do you feel like Native designers approach the fashion business from a different perspective than the competitive way it's always portrayed?
It's not the same kind of competition in Native fashion that it is in the mainstream fashion world. A win for one is a win for all of us. We admire one another because we're not all the same type of designer. We come from different walks of life, different walks of tribal backgrounds and historical backgrounds. In anything we do, we celebrate one another's uniqueness. We're such small communities and we know each other, and if we don't know each other directly, we're connected somehow one way or another. What affects one of us affects all of us, and that's not just in the business world. When one of us knocks down a wall or gets our foot in the door, we're doing it for so many other people, not just ourselves.