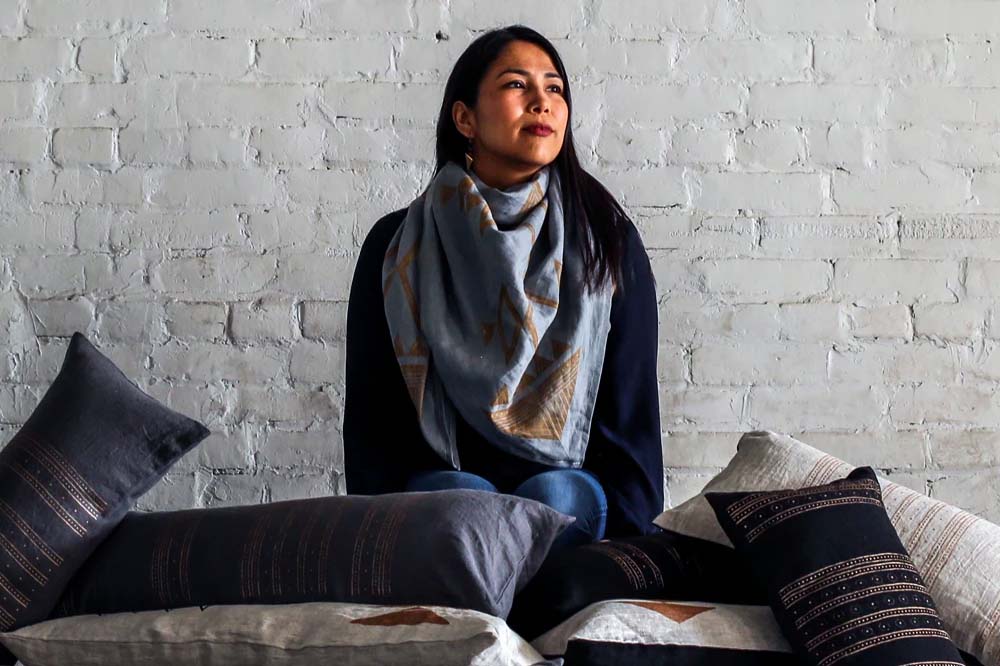 Details

Entrepreneurism
WINNIPEG, Manitoba — Home décor firm Indigo Arrows recently turned its textile expertise to creating masks in partnership with garment manufacturers Freed and Freed.
The masks feature a traditional Anishinaabe pattern: four sharp arrows pointing downward, four pointing right. Freed and Freed and Indigo Arrows have donated 100 percent of the masks' proceeds to a Winnipeg-based afterschool program for young girls and Two Spirit youth called The Butterfly Club. The arrangement has raised $20,000 so far.
Anishinaabe Native and Indigo Arrows owner Destiny Seymour said she draws her inspiration for the patterns on her company's textiles from Anishinaabe pottery and bone tools. The patterns range from 400 to more than 3,000 years old.
"In southern Manitoba, our rivers have a lot of clay sediment, so we have a very rich history of ceramics in this territory, and this is where my family, my ancestors were from," Seymour said. "When I was visiting our local museum, this was about six years ago, that's when I came across all these pieces, and the patterns were just so beautiful."
Seymour decided she needed to bring the patterns to a different medium: textiles and home décor. In 2014, she started with taking silk screening classes in the evenings, when she wasn't working at her day job as an interior designer for commercial projects.
By 2016, she was ready to launch Indigo Arrows, offering products like tea towels, table runners, napkins and pillows through her website. Seymour recalls feeling scared at the thought of breaking away from the architectural firm where she worked in order to launch her own company.
"I have two little girls, and I still remember telling my husband, 'I'm going to quit my job to make tea towels,'" Seymour said. "It was very scary but so exciting."
GROWING PAINS
Seymour's gamble paid off. In 2020, Indigo Arrows has proven so successful that Seymour is seeking quicker and more expansive production methods to keep up with demand.
That tracks with trends in the global home goods industry, which posted a 51 percent digital sales boost in the first quarter, according to a shopping index published by Salesforce.
Global Industry Analysts Inc. estimates the global home décor market at $98.4 billion in 2020, and projects the sector to grow to $348.3 billion by 2027.
When she spoke with Tribal Business News, most of Indigo Arrows' stock had sold out, according to the company's website. She plans to address that by migrating her business from two smaller garment makers to a larger garment factory, all while keeping production local.
"That's very exciting for me because I will have stock again. I'm just working out the details for that," Seymour said. "It's all still locally made in Winnipeg, it's just now I'll have access to a bigger team."
Seymour hopes what she describes as "slow, steady" growth will continue. She bootstraps her textile business with proceeds from her day job as an independent commercial interior designer, where she works primarily on Indigenous projects.
"I guess the lucky thing with that is that I don't have debt, and I'm growing kind of in a slow, sustainable way," she said. "I would love to eventually have a bigger space and hire people."
For those looking to follow in her footsteps and achieve similar growth, Seymour advised budding Native entrepreneurs to identify a need before starting their business.
"For me, my business solved a problem, so it would be looking at your idea (and asking): Is it improving something? Is there a need for it? Because that's going to determine how far you can go with that idea," she said.
FINDING A PATTERN
Seymour first discovered a market need for authentic, Native-inspired décor during her work with an architectural firm. To that end, those products were nearly impossible to find, she said.
"It was challenging to find products and finishes that represented local Indigenous people in Manitoba in the prairie region territory," Seymour said. "Nothing existed — fabrics, wallpapers, rugs, furniture that I could put into daycares and schools, offices. … Seeing this gap and seeing this lack of representation, I wanted to start making my own textiles."
Turning to her ancestry for inspiration has not only been successful from a business standpoint, but also in positively representing and teaching others about her culture, Seymour said. Presenting ancient patterns in a new format provides an opportunity for others to learn about Anishinaabe traditions.
For example, many of Indigo Arrows' products use Anishinaabe language as names, such as the words "Behzig" or "Niswi."
That's important to Seymour, who says the patterns represent a way for Indigenous people to see themselves reflected in the world around them.
"As a mother of two young Indigenous girls, my daughters see their patterns in their home — this is a new normal," Seymour said. "To them, they see all these patterns by their ancestors here in their home on pillows everywhere, tea towels, table runners. They see themselves in their space, and I think that's what we need for our loved ones and our spaces.
"We need to see ourselves and celebrate our history."