Details

Entrepreneurism
MOORHEAD, Minn. — Navajo shoe designer Dewayne Dale is done with the mainstream footwear industry's mockery of the moccasin.
His mission: to reclaim the moccasin as a Native American footwear.
Shaped by his Navajo Nation upbringing, three years of experience as an in-house designer and an instinct for innovation, Dale has emerged as a freelance footwear designer bringing a vitally important voice and vision to an industry that generally ignores input from Native creatives and customers.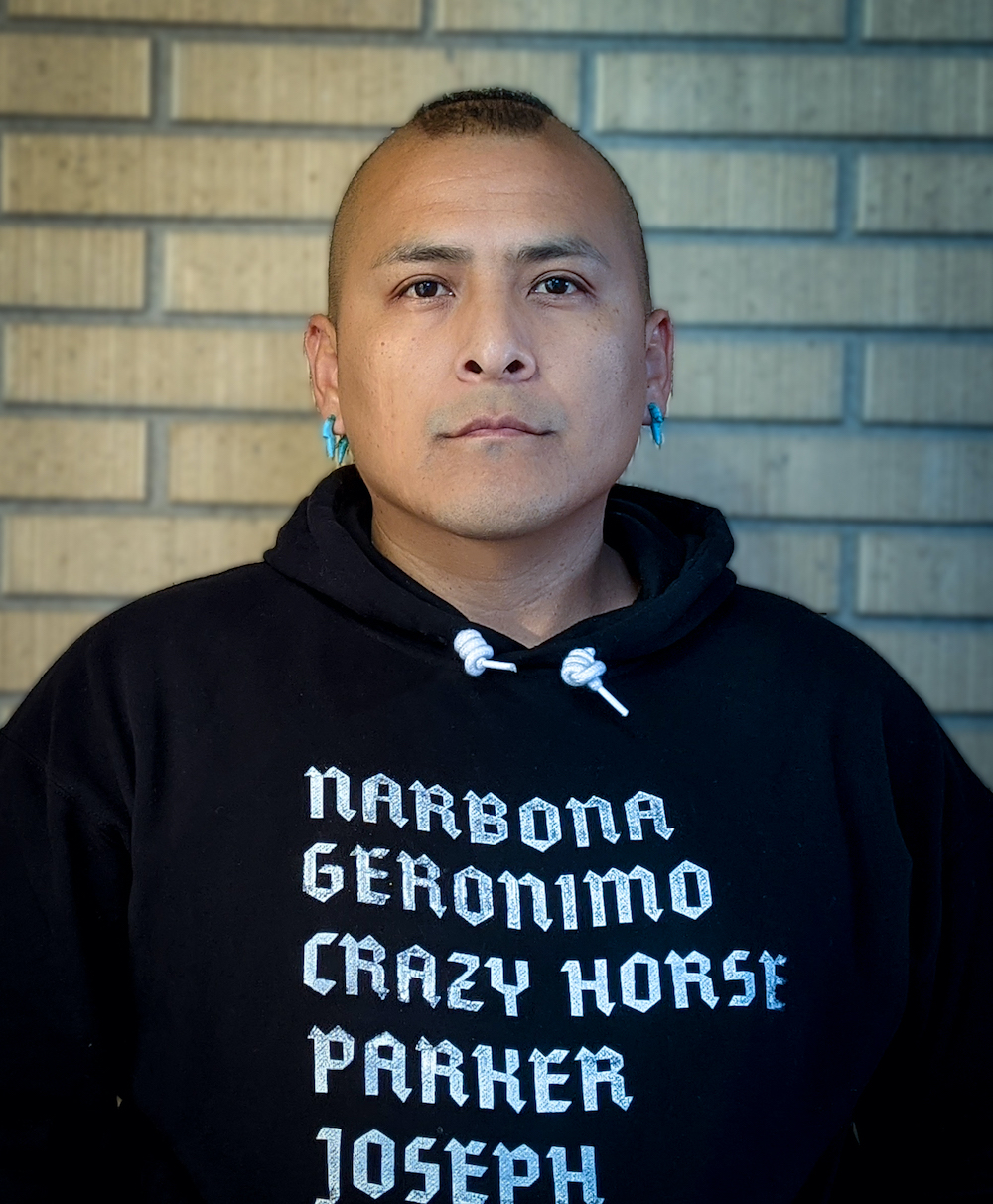 Dewayne Dale"I want to take the moccasin back, not for me, but for the sake of every person and every tribe that probably had some influence on it and never even knew about it," Dale told Tribal Business News. "There are a lot of footwear companies that will basically remake a moccasin, and there's no tie to authenticity. I want Native people to know that they can take it back."
Dale channeled his moccasin consciousness into the limited edition M.1., the debut shoe from his footwear company The Fifth, which he launched last summer.
With a coppery earth-colored suede upper, sleek bright white bottom, rawhide laces, plastic turquoise toggle, and symbolic geometric details, the M.1. is a thoroughly modern moccasin with a message.
"People are going to start finding these little Easter eggs," Dale said. "I didn't want to lay everything out. I wanted it to be an experience. No one's really looked at footwear like that and tried to tell a story."
Too often, the footwear industry takes a generic "Native-inspired" approach to the moccasin, he said.
"It really turns into more of a vibe. 'Oh, Native Americans: These guys are kind of a vibe,'" Dale said. "We're not a vibe. We're not a category of a footwear company. We're not a color story. There's so much more that we have to offer in footwear. Now is the time for people to see it."
A powerful pair
Dale's M.1. has hit the ground running, and it hasn't even been released yet.
With more than 500 of the 800-pair limited run already pre-sold at $134.99, both Native and non-Native customers are seeing and scooping up the shoe before the pre-sale concludes on Feb. 28.
The popularity has been powered by the fresh footwear industry pairing of The Fifth and RockDeep, a Black-owned Washington, D.C.-area company that manufactures and markets the shoes.
Founder Rocky Parrish, who previously worked as a consultant for Nike, explained that RockDeep needs at least 300 pre-sales for a shoe to go into production. He added that "limited edition" may not be so limited, because he and Dale want everyone who's excited about the shoe to be able to get a pair.
"We're not going to keep making them and making them. You do have to kind of cap it and move on to the next one," Parrish said. "We'll probably add an extra 200, because there's going to be (a surge in interest) once they hit people's feet."
Parrish has his own line of footwear and athleisure clothing, and is always recruiting exciting and unique talent outside of his own brand to promote.
Dale and Parrish said they bonded over their experiences being overlooked and underrepresented in the industry and their passion for pushing functional and meaningful footwear to the forefront.
"We've been through a lot of the same things," Parrish said. "We're treated in the same manner in boardrooms and meeting rooms. This collaboration means a lot to me all the way around."
Parrish said the M.1. ties in perfectly with RockDeep because of the reasonable price point, the authenticity and its integration of style and substance.
"It's not just about the shoe," Parrish said. "It's the story behind it."
Mountains of meaning
The tale told by the M.1. begins with a high cultural concept.
"The Navajo have four sacred mountains," Dale said, noting the landmarks are featured on the Navajo Nation seal. "When you go off to college or somewhere else, the elders will tell you that you will never truly feel at home unless you're within these mountains. The idea behind my brand The Fifth is you're the fifth mountain."
Black triangles strategically placed at the heel, toe and below the central turquoise toggle suffuse the shoes with a sense of place and belonging.
"The idea is, when you look down at your shoes, you're kind of like that middle triangle. With every step, you're always in the middle of these four mountains," he said. "That's the mindset I wanted to push. There are also five circles on the side, so everything kind of ties in with five."
The number's influence on the brand and the designer's inquisitive imagination goes even deeper.
"In Navajo mythology, we're currently living in the fifth world," Dale said. "I like the idea of, if we're in the fifth world now, then what comes after?"
In the world of The Fifth, the next chapters are the Baby M.1., which Parrish said social media commenters are clamoring for, and a new incarnation of the original.
"We have really got to start thinking about when we're going to show the next shoe," Parrish said. "This was the trail shoe. The next one is the lifestyle version of this one and it's going to be unbelievable."
The Freelance Footwear Life
For Dale, connecting with companies with a kindred spirit like RockDeep takes precedence over courting the industry's major brand names.
"Everyone wants to collaborate with New Balance and everybody wants to do something with Nike. I'm not just going to take any contract, even if it's with the biggest company. It has to fit the story that I want to tell," Dale said. "As a designer if you're in it for the money, you could be very successful if you just want to create iconic designs. But for me, it's bigger than that, and that helps me direct where I put my energy and who I work with."
The chance to work with a variety of lines and take creative control of his work drove Dale to leave the security of his full-time footwear job last spring.
"As an in-house commercial designer, you're getting a design brief. You're getting a box to design within. They'll say something like, 'Here's last year's model. For next year, we want to change it by 15 percent.' That change could be a different material or a different color. That was fun for a bit, but my drive is more forward-thinking," Dale said. "Not every hot shoe that comes out was done in-house. Most of the time, there are tiny little teams, or even just well-known designers" that contract with the companies.
In 2016, equipped with degrees in exercise science and industrial and product design, Dale joined the innovation team at California-based Fuerst Group Inc., the parent company of Chrome Industries and KEEN Footwear. Two years later, he started working exclusively for KEEN and was tasked with drawing in younger customers
"I met people there who were doing things for bigger companies and helping them grow," Dale said. "I kind of wondered if there was an advantage to having that freedom of working with, say, five different companies instead of just one."
When Dale set out on his own, he reached out to all his contacts and made sure to explore and acquaint himself with niche markets, like hunting shoe companies, that may be a good match. His strong sense of his brand's mission, smart networking and open mind clicked quickly with potential collaborators.
"There are always opportunities. You've just got to ask at the right time," Dale said. "I might have a contract coming up this month that goes six months, but even within that six months, I could do another contract, just as long as I'm not burning myself out."