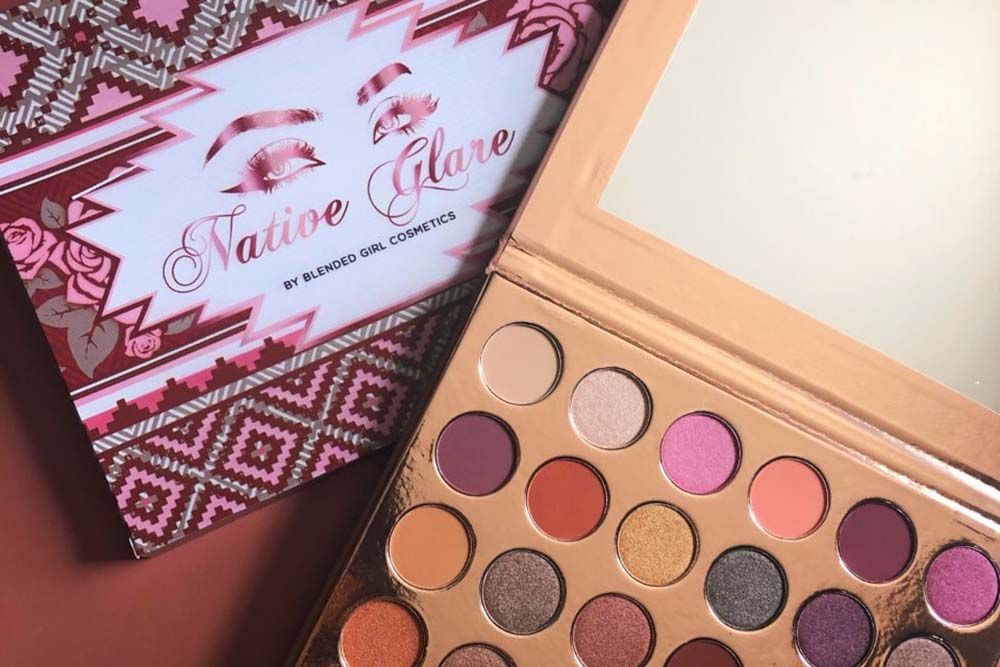 Details

Entrepreneurism
Navajo entrepreneur Shi-Fawn Chee is pumping out palettes as fast as she can. The themed eyeshadow collections are the must-have items in her Blended Girl Cosmetics line, and they require constant restocks.
Decorated by Native artists, the palettes are just as attractive and inviting on the outside as the inside. Carefully textured with cultural details, and bearing names like "Resilient" and "Turquoise Dream," the palettes exemplify Chee's makeup mission. The company also offers eyeshadows, false eyelashes and makeup brushes.
"There are so many brands out there that just put out just regular makeup items with a simple logo, but I love bringing the culture into it," said Chee, who grew up on Navajo Nation in LeChee, Ariz. and currently lives in the Seattle, Wash. area.
"With my Resilient palette, I wanted to put out a product that would make people think of their resilience and their ancestors," Chee said. "The Turquoise Dream palette might make you think about somebody in your family that has turquoise jewelry. My jewelry is very important to me because a lot of it is passed down to me from my grandma and my late aunts."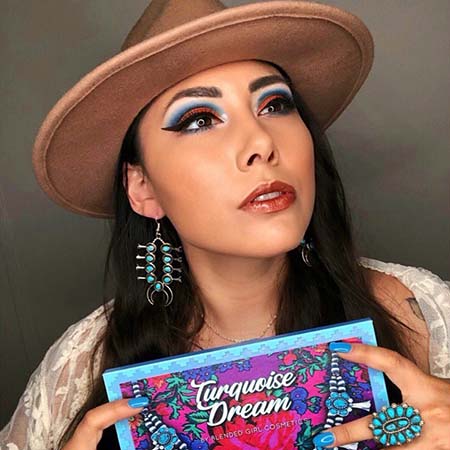 Navajo entrepreneur Shi-Fawn Chee, owner of Blended Girl Cosmetics, poses with one of her popular eyeshadow palettes. Featured by the likes of Women's Health and Cosmopolitan, Blended Girl joins a growing number of Indigenous companies making their beauty mark on the cosmetics industry. By focusing on Indigenous and mixed skin tones and incorporating cultural touches, they are centering a market that isn't represented or targeted at your average department store beauty counter or Sephora-like cosmetics chain. As well, the companies are making Native make-up mavens pretty proud in the process.
"I was so happy to see representation from not only another fellow Indigenous girl but a Navajo girl just like me," said Navajo makeup artist Marley Max. "Shi-Fawn is such a sweet and well driven Indigenous entrepreneur who is pushing for representation among the beauty/cosmetic industry. We as Indigenous people are always pushing for representation within our country, and Blended Girl Cosmetics is making that one small step for our people. "
Max said she is enamored with the Blended Girl palettes.
"The first eyeshadow palette that I was in awe of was the Resilient palette. It is such a good everyday eyeshadow palette and the meaning behind the name reflects our Indigenous people today," Max said. "Since then, I have purchased almost every product like her Skoden brushes, Asdzaan Glow highlight palette. The eyeshadow names are unique and humorous, and any Navajo that hears a word or phrase of the shade will laugh or can relate to it."
During the pandemic, interest in Blended Girl has increased at such a rapid rate that Chee, who was laid off from her orthodontic assistant job last year, is totally taken aback.
"My business really actually helped me through the pandemic. I just never really thought that would happen. I'm still kind of shook," Chee said. "Before COVID, we were just getting our name out there by going to events and stuff like that. Then once COVID hit, there was just this explosion that happened due to more people being at home and wanting to support small businesses."
Chee wants to make it clear that even though her palettes are all the rage among her customers, she isn't a makeup mogul quite yet.
"A misconception is that since I sell out and do so well, that I'm a big business, but I'm very small. I work out of my own house," Chee said. "I was able to hire an assistant to help me through this recent restock because I'm in school right now for makeup artistry. I just want my skills to be on point and I want to be even more knowledgeable."
Makeup wasn't on Chee's mind much when she was younger. She'd put it on for special events and picture days at school, but she didn't deeply connect with cosmetics until she joined the Army as a mechanic straight out of high school.
"I never really wore makeup until I was around 20 years old. One of my friends from basic training introduced me to foundations and blushes and all that stuff," Chee recalled. "She'd come over to my barracks room and then we would get ready to go out and she would do my makeup. I thought, 'This is actually kind of cool.'"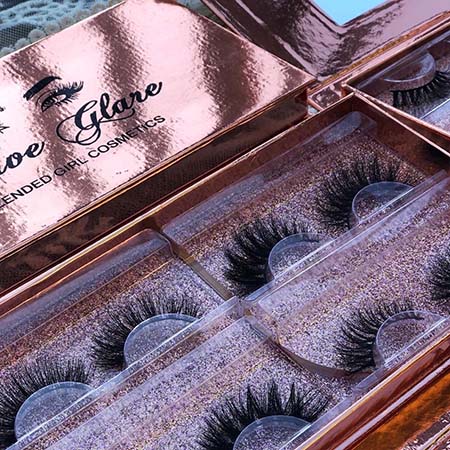 False eyelashes from Blended Girl Cosmetics, owned by Navajo entrepreneur Shi-Fawn Chee.When Chee left the Army after eight years, she started participating in Native American fashion shows and events to practice her makeup skills and plug into the Indigenous fashion and beauty scene.
"I fell in love with makeup and I was thinking that there weren't really any products that are catered toward Native Americans," she said.
In 2018, Chee launched her line under the name Shi-Fawn Cosmetics. She rebranded to Blended Girl in 2019.
"I thought that it would be more relatable than just my name," she said. "Whenever I post online, I just refer to myself as Blended Girl."
During the days of Shi-Fawn Cosmetics, Chee learned valuable lessons about strategically narrowing down her stock.
"I used to sell foundations, setting sprays and more lipsticks, but sometimes you've got to take a step back and see what's actually selling," she said. "I still have some things from Shi-Fawn cosmetics that never sold."
When Chee emerged as an entrepreneur, she had enough resources and support to go about her business without applying for any loans or grants. To date, she's been able to bootstrap her business.
"It has all been my own money. My boyfriend and my family like to call themselves sponsors, and they'll donate here and there if I'm short on something," she said. "But now that the business has grown so much, I don't need any help from anybody. It's pretty much keeping itself alive and I'm able to restock and invest more into it."
The brand's success has empowered Chee to donate to causes like Black Lives Matter and COVID-19 relief on the Navajo Nation, and to pump up palette production in a major way. She said when she started offering the palettes, which are manufactured in Canada and China, she could only afford to produce about 20 of each at a time. Now, Chee can order ten times that amount, "and they usually go pretty fast," she said.
Once she had built some momentum, Chee was able to draw more Native talent into the mix by commissioning Native artists to design the palette cases. Her first collaborator was the artist behind Oregon-based, Navajo-owned Salty Black Sheep Creations, who decorated the Resilient Palette.
"I love helping out Native artists and also getting their name and their art out there as well," Chee said. "They just bring what I'm thinking in my mind for a palette art and then they just bring it to life on another level. I'm really thankful for that."