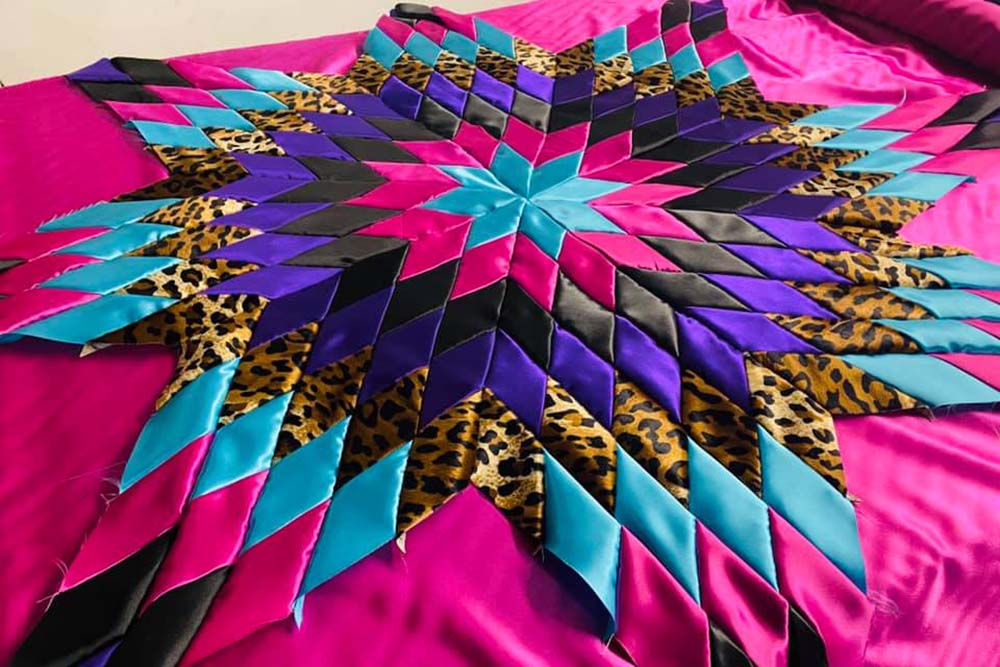 Details

Entrepreneurism
ALBUQUERQUE, N.M. — Every Friday night, it's War Party time on the 3 Feathers Star Quilts Facebook page.
Hundreds of fans drop in to witness Cheyenne entrepreneur Benjamin Leedom, who is known to appear under the guise of anything from Buddy the Elf to a zebra. Leedom hosts virtual variety shows featuring interviews with notable Native performers and artists, musical guests and gameshow-like giveaways.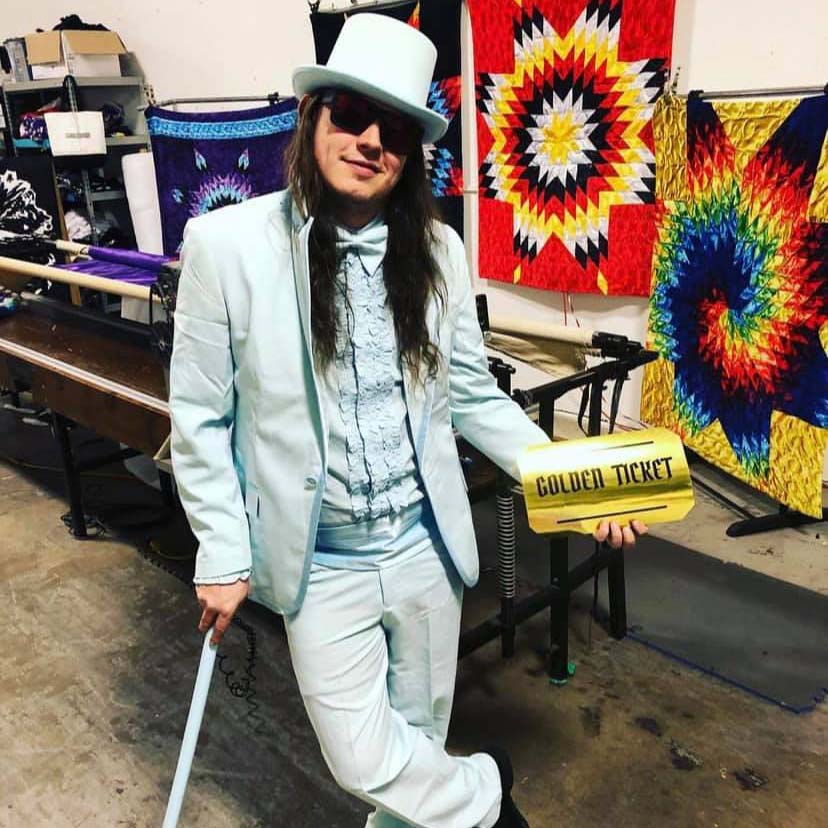 Cheyenne entrepreneur Benjamin Leedom of 3 Feathers Star Quilts dressed up for a Golden Ticket giveaway."I like getting into a character like Will Ferrell or Jim Carrey. It's my chance to kind of be like them because they're hilarious. I feel like I can convert it to my viewers and it'll make them laugh," said Leedom, who hosted in-person War Parties before the pandemic hit and said he will resume them once it's safe to gather.
"People say I'm goofy and I'm crazy, but I couldn't care less," Leedom said. "It's making a lot of people smile right now and that's what we need. I'll do anything. My dancing's terrible, but I'll bust a move."
A slew of new products and Leedom's online antics, which also include daily Joker Board drawings, have kept 3 Feathers Star Quilts thriving during the pandemic.
"It's amazing how far we've come since COVID hit," said Leedom, who spent his childhood on the Northern Cheyenne Indian Reservation in Lame Deer, Mont. and now resides in Albuquerque. "We made a positive out of it. You either could swim or you could sink, and we just got really good at swimming."
With a six-person team assisting with everything from sewing to social media, the Navy veteran and former high school basketball player is exploring new territory after 11 years in the star quilt business.
Although he has been making star quilts since he was a teenager, Leedom only last year started spinning his swirling, star-bursting candy-colored quilts into a collection of accessories, clothing and art including hoodies, backpacks, pillows, basketball shorts, flip flops and ready-to-hang quilt canvases. The quilts also feature nostalgic pop culture names like Miami Vice and Purple Rain.
Tribal Business News spoke with Leedom about the perks of giveaways, the art of diversifying and coping with the COVID-19 pandemic.
You give away about 12 quilts a week through War Parties and the Joker Board. How do people get in on the games?
With the Joker Board, if you buy anything from our website and you use your promo code, you automatically get your name on the board and you have a chance to win a free quilt. To win a free quilt during a War Party, all you have to do is be live with us and I'll find ways to put your name on our wheel. I spin the wheel at the end, and if you're with us live, you win the quilt and it's just absolutely free.
How does giving away quilts help the business?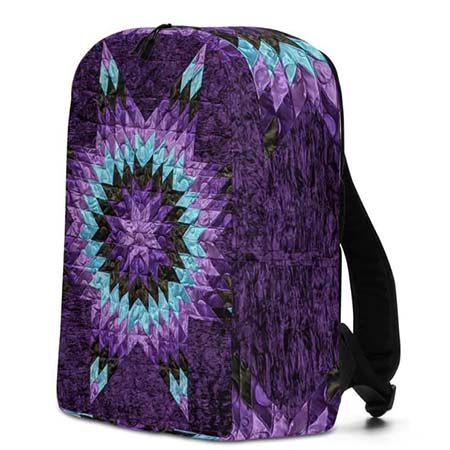 A star quilt backpack from 3Feathers Star Quilts, owned by Cheyenne entrepreneur Benjamin Leedom.The Joker board is helping tremendously with driving traffic to the website. It's keeping us alive. It's what has let us keep the building we're in. We just got this building when COVID hit and I lost two workers because we were so slow and the big orders stopped.
How many orders are you used to handling?
Normally, we'll get anywhere from 100 to 300 quilt orders at a time, and we're never caught up. One of the first things I realized when COVID hit is we caught up. Then the Joker Board started and it just took off and we turned into a different kind of business.
With all of the events and contests and regular check-ins, you really bring people into your personal and business worlds. Why is it so important to let customers see you just being yourself in that environment?
Being real is a big part because I've seen a lot of fake people and I want to encourage everybody to try to just be themselves because so often we try to be somebody we're not just to either fit in or to be liked by a certain group. I've done that myself and it's not worth it. I try to get on throughout the day just to say hi and show everybody what's going on. Then at
night, it's usually the Joker Board. Honestly, it's just like fishing. I need more views because I have a lot I'm going to do once we get bigger and I need their help. We're constantly trying to come out with new products now that we're not just quilts.
How did you manage to add so many new products in such a short time?
All our printed stuff, like our fleece, pillows and backpacks, are done by our manufacturers in the U.S. with a printer that can print on anything. It's the printing machine that's doing all the work. They're six-figure machines and my goal is to buy our own. I also want to get these printers and put businesses on our reservations so we can make our own products like basketball shorts and leggings. That's what all the Natives wear. We could help provide other artists with another extra income and help build their followings.
You've really been developing your box sets of matching items. How do they enhance your brand?
One great thing about the box sets is I'm able to sell things that don't sell well otherwise. For instance, we don't sell a whole lot of socks on our website, but every box that we sell comes with socks. … And, why just sell a hoodie when you can buy the hoodie with a matching shirt, matching shorts, matching socks, and it's the whole package? Why sell one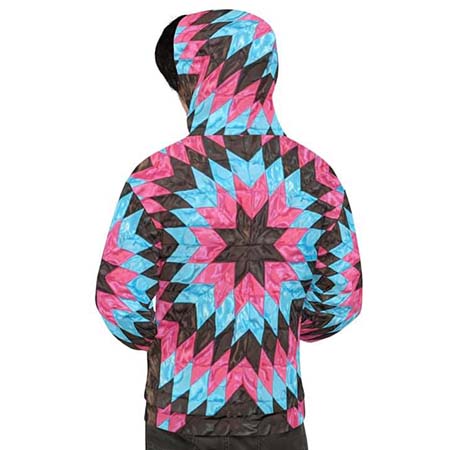 A star quilt hoodie from 3Feathers Star Quilts, owned by Cheyenne entrepreneur Benjamin Leedom.product when you can sell five at a time to one person? Now the boxes look way better than we've ever had. They look official. They come with tissue paper, and they give that experience of getting a gift.
What are you doing to build interest in the box sets?
If you buy a boxed set specifically, you can win a golden ticket. I'll dress as Willy Wonka and do a golden ticket drop. I'll put all the box sets together and I'll dance around and just try to look ridiculous. The last person that won the golden ticket got a king size star quilt, basketball shorts, a hoodie, a canvas, a T-shirt and a box set of sliders. We're about to do it again. This time, we have way more box sets — 300 of them. We've got new designs coming out. It's going to be a two-week thing. And I think we'll break records as far as our income and our viewers.
Even though you've added so many products, star quilts are still the heart of 3 Feathers, and are traditionally given to commemorate life events or to show gratitude. Have they taken on any special meaning in the age of COVID?
We get a lot of orders for COVID funerals and that's tough. The funeral department is definitely a lot of our business and it's just so sad. It makes me realize how precious life is and how all this nonsense of hate and division is completely worthless and meaningless. It seems like the more quilts a deceased person gets, the more the respect the person got. The family puts the quilts around the coffin, and once the burial is done, the family gives a lot of them away to people that have been a big part of their lives.
What's a happier occasion you're able to help celebrate with your quilts?
We give quilts to all the graduates of my hometown high school in Lame Deer, Montana. They're the Morning Stars. We've been doing that for the last four years and I eventually want to do it for a lot of other high schools. My high school couldn't afford to buy quilts like that. There's no way. And it's such a special event for me because that's their first stepping stone, and a lot of them don't make it. If the odds are completely against it, I hope maybe one day they'll think, 'I'm going to finish because I'm definitely going to get that cool quilt.' If that has to be the reason they graduate, so be it.
What are you most looking forward to when the pandemic passes?
I can't wait to do live War Parties again. Now we're in the biggest space we've ever had, and the next War Party is going to be massive because so many people are starting to know who we are and we're always trying to bring big names. I can't wait for events and powwows to come back and to see what it's like for our sales, because so far, I've only sold quilts when I go to powwows. Once we're able to get out there, it's going to be a night-and-day difference in how much we grow. The sky's the limit. We feel it. And we're ready.