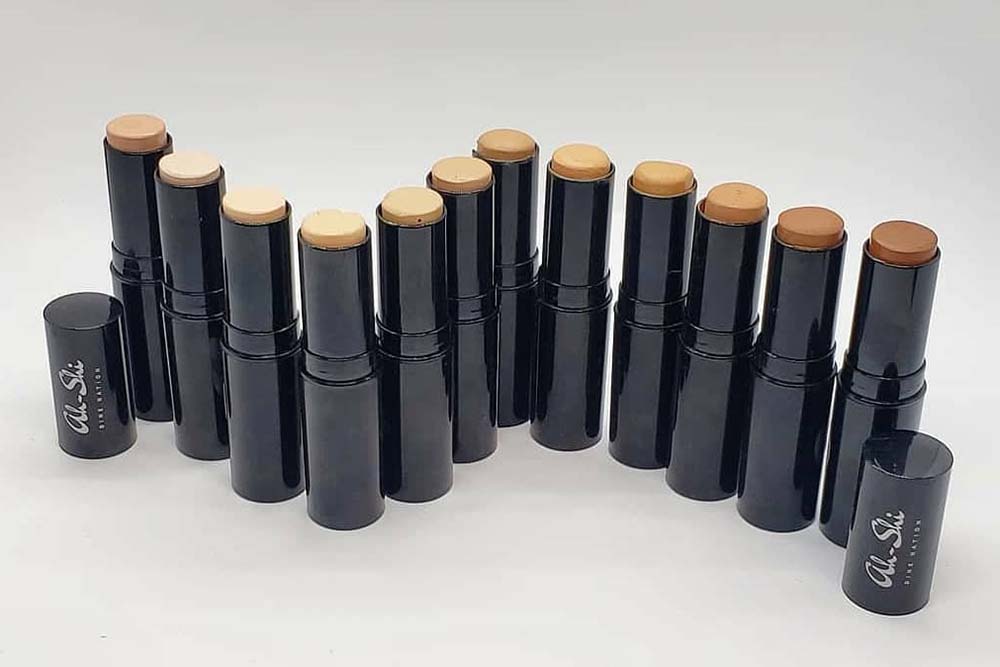 Details

Entrepreneurism
WINDOW ROCK, Ariz. — In early March 2020 at a triumphant ribbon-cutting ceremony at Navajo Nation Shopping Center, Ahsaki Baa LaFrance-Chachere realized her vision of opening a beauty store on the reservation.
The pandemic, which had just begun to invade the Nation, promptly put her dream on pause.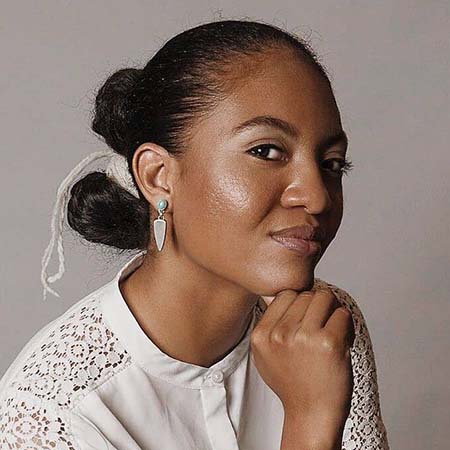 Navajo and Black entrepreneur Ahsaki Baa LaFrance-Chachere, owner of Ah-Shi Beauty."I was only open for one week. Little did I know what was going to happen," said LaFrance-LaChachere, the Black and Navajo entrepreneur who launched the Ah-Shi Beauty brand in 2018. "I just had to pull back. I cannot be a brand for the people if I put my people in harm's way. I can always reproduce products. I can't reproduce a human life."
The new store and Ah-Shi Beauty's Gallup location are both shuttered indefinitely, but the brand continues to progress. The company's complete line of skincare and color, featuring exfoliants, cleansers, toners, dozens of foundations, brilliant eye-shadows and glittery lip glosses, has picked up speed during the pandemic, and is expanding into new ground like coffee and candles.
LaFrance-Chachere said she is driven to create the next timeless and iconic Estee Lauder or Lancome-scale cosmetics empire, which means appealing to the widest audience possible.
But when she reaches that stage, she wants to be clear that the brand was born on Navajo Nation.
The word Ah-Shi is Navajo and translates as "this is my beauty." Additionally, Ah-Shi's packaging proudly proclaims: Diné Nation. Other than that, there are no direct references to Native culture.
"The product itself is not very traditional. I'm the one that makes it Native. I'm a beauty brand owner who happens to be Navajo," she said. "I grew up on the reservation and can understand the struggle of living on the reservation. I want to create generational wealth in the Indigenous community. That's what we need. What are we going to leave for our children's children? That's where the brand comes in."
LaFrance-Chachere spoke to Tribal Business News about pandemic-related business challenges, her bestselling products, and what it takes to make it in the cosmetics world.
Why were you determined to open a store on Navajo Nation?
It was a dream of mine since I launched the brand to open a store at home. Opening a business on the reservation involves a lot of red tape, but we need our own businesses. Most enterprises operating on the Nation are owned by non-Natives and nothing goes back to us. So for me to change that, I needed to open my store here. It didn't look like your regular rez store. When people walked in, I wanted them to be in awe and feel like they were going to Macy's or Sephora. I really created that. The vibe was at peace and everybody felt welcome.
What kind of sacrifices did you have to make when your stores closed?
I had to let go of all my sales associates. We had ten in Gallup and ten in Window Rock. I'm back to having my family and close friends working for me at the moment, because I'm hanging on to stores I can't even open. I'm paying rent and utilities and overhead, so I could not afford to keep the people that I had. It was so heartbreaking.
An eyeshadow palette from Ah-Shi Beauty, founded by Navajo and black entrepreneur Ahsaki Baa LaFrance-Chachere.How did you build the skills and develop a business plan to become a beauty entrepreneur?
I studied physiology and biochemistry at the University of Arizona and I'm also an accountant. In my early 20s, I did a lot of international financing. So everything comes full circle with my science and finance backgrounds. As a cosmetics entrepreneur, you've got to know both. A lot of thought and research was put into the brand and understanding the industry. There was a lot of product development, a lot of meetings with different manufacturers, hiring the right color chemist, and going to conventions.
When everything was in place, how did you make your market debut?
The first products that we launched were skincare. I'm big on skincare. You cannot apply color cosmetics until your skin is in good condition and your face is prepped. Everything starts off with skincare and ends with skincare. I really want to push that in Indigenous communities. In other cultures, like for instance in Asia, they're really big on skincare first, before color. In Indian Country, we put makeup first. Avon and Mary Kay have been on reservations for a very long time. Most people, when they think of beauty products, they skip skincare. It's more popular to put on a beautiful foundation and eye color and everything. But we're hurting ourselves. My brand is more about embracing our natural features. That means skincare first.
What are the top priorities for Ah-Shi Beauty in terms of business practices and encouraging customer loyalty?
I invest in making sure that I can control my production level and I'm really big on consistency and the quality and the performance of the products. If you've found your perfect foundation shade, I am not going to discontinue it. Thanks to COVID, we've got to wait a little longer for some things, but I'm not going to switch it up. We're actually completely out of exfoliant because we're waiting for raw ingredients. I do not substitute anything. When it's out, it's out until I get every ingredient. I keep it consistent.
What are your most in-demand items at the moment?
The Hydrate face cream, our Hi-Def liquid foundation, which was featured in Harper's Bazaar, and our Foundation Stx, because they're very versatile and easy to apply. Our signature products are our foundations. We actually match Indigenous pigments. Before, we never were able to find our own foundation shade. We were forever just settling for something close to it. We've never been able to be spot on.
You aspire to be a Lancome-level brand. Why aren't there any iconic international Native-owned cosmetic companies right now?
First off, it's super expensive. If you want to play in this game, you've got to save up a lot of money or take out a huge loan. It's very, very competitive and you're up against some huge odds. But I don't really fall for competition. There's enough room for everybody to win. I know what I'm bringing to the table, and I know that the industry needs me. I fill a void. I'm authentic. I'm a rez kid at heart. You cannot take that away from me.