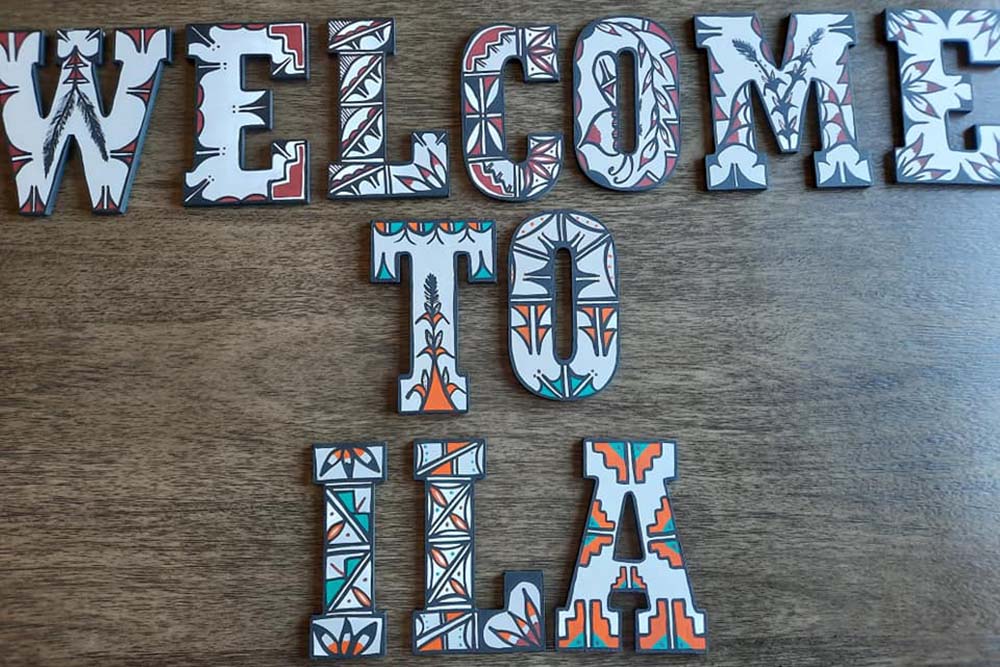 Details

Entrepreneurism
KEWA PUEBLO, N.M. — A one-woman home shopping network for Native jewelry, Jan Tenorio is invigorating the art economy on Kewa Pueblo and beyond with her marathon Facebook Live sales.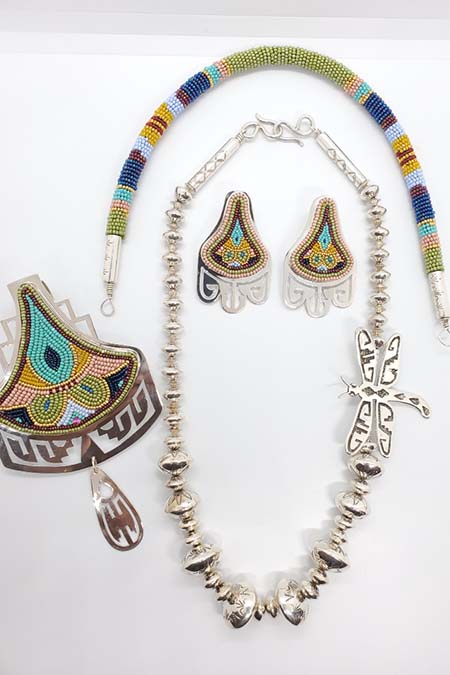 This multi-part piece Joe and LeJeune Chavez of Kewa Pueblo was sold during a Facebook Live sale hosted by Kewa Pueblo artist and entrepreneur Jan Tenorio of Indigenous Legacy Arts. (Courtesy photo)"Everybody says it's like a QVC, but unlike QVC, these pieces are one of a kind, they're not mass produced," she told Tribal Business News. "That's the genuine part of my shows."
During the highly watchable sales events that include a bell ringing for every purchase, the oohing-and-aahing input of Tenorio's daughter and virtual comedy sidekick Francesca behind the cellphone camera, Tenorio plays up the arrays of turquoise, silver, and spiny oyster adorning the display table for up to nine hours, nearly nonstop.
In between the bell-ringing, bantering and answering the inquiries of the hundreds of shoppers and artists who tune in, Tenorio regularly reiterates the mantra that makes her popular among artists: "Don't sell wholesale. I want you to get what you're worth."
Artists putting their trust and pieces in Tenorio's hands are seeing the results of the magic she works by combining her passion for promoting her fellow artists, her wide network of artists and collectors, and her deep knowledge of Native art cultivated by her own practice and her years of experience working at a popular Albuquerque gallery.
Tenorio's Kewa Pueblo neighbors, LeJeune and Joe Chavez, who are known for their signature pieces melding LeJeune's beadwork and Joe's silversmithing, were floored by how much they netted from a recent sale. LeJeune Chavez said their take was comparable to profits from a major art market.
"I almost fell over when Jan told me how much we sold. I couldn't believe it — I started crying," she said. "When I told my husband, his eyes got big and his jaw just dropped. Jan doesn't want her Native people to be used and exploited. She wants them to be able to earn, make the money and that's what it's all about. She's very kindhearted. She always has a smile on her face. She's one of a kind."
With Kewa Pueblo still on weekend lockdown because of COVID-19 and most of the artists uncomfortable with being on camera anyway, Tenorio and Francesca are on air managing the live market.
On occasion, the featured artist will join the duo. LeJeune Chavez attended her recent live sale in person, putting a face to the fine jewelry and offering potential buyers the kind of insight into the inspiration and creation of the work that adds value and interest.
"It was fun, it was exhausting," Chavez said. "But we made it through and Jan just kept on going like the Energizer Bunny."
EMPOWERING ARTISTS
A middlewoman with a genuine interest in empowering Natve artists, Tenorio puts her money where her mouth is.
Deeply dispirited by businesses and middlemen that take up to 60 percent from artists, Tenorio split from the gallery where she worked for four and a half years because she thought the owner was exploiting Native artists.
Although the job ultimately did not fit with Tenorio's values, her time at the gallery provided her with the tools to break out on her own. It was at the gallery where she began doing live online sales and honed her skills.
Last October, she started doing the sales independently. Since then, she's conducted lucrative sales for 10 artists.
"I'm a voice for the people right now because I don't like the fact that people profit from Native artists" without paying them fairly, she said. "It's like, 'Come on, if it wasn't for those artists, you wouldn't even have a gallery. You wouldn't have a jewelry shop. Support them. Pay them more.' I've always preached that for the longest time."
With her live sales, she has created a more moral model that earns artists nearly as much as they would by selling directly, and puts some money in her pocket as well.
Tenorio takes 20 percent from each sale, which she and her artists agree is far less than the average gallery's slice. For that 20-percent cut, artists get access to a simple and easy process, Tenorio said.
"You don't have to worry about anything. You just hand me your jewelry and I take care of it all for you," she said.
'SHE'S GOOD AT IT'
Orlando and Joann Crespin of Crespin Native Arts are also enjoying the perks of working with Tenorio.
"The first show we did with her we did really well. Orlando had been wanting a new tractor and he was able to make a down payment on one," said Joann Crespin, who lives with her husband on Kewa Pueblo. "If more people could embrace what she's doing and just trust her, they would really be making a nice living from this because she's got so many viewers watching the sales. We are so busy making orders that it's crazy. We can't even keep up."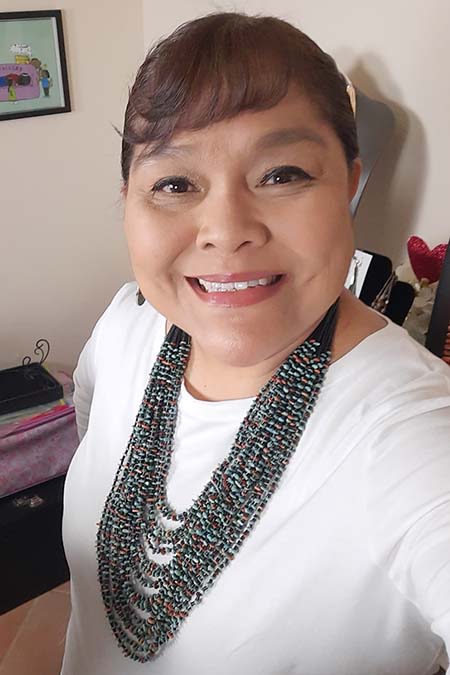 Kewa Pueblo artist Jan Tenorio hosts Facebook Live jewelry sales that earn thousands of dollars for her fellow artists. (Courtesy photo)The husband and wife jewelry-making team known for their spectacular inlay work in pieces primarily made from silver, spiny oyster and turquoise, appreciate Tenorio's pleasant, professional presence and selling style.
"She's just being herself. She knows what she's doing and she's good at it," Joann Crespin said. "Her personality draws in the people because she's true to herself and true to what she's doing. I watch all the live shows that she does and she and her daughter are so funny."
Now that the Crespins know their profit potential, Tenorio's anti-wholesale ethic is starting to sink in.
"Now, I'm so spoiled; I don't think I want to go that route anymore," Crespin said of the wholesale process. "She's had to reteach us and pound it in our heads."
The Crespins also appreciate Tenorio's thorough understanding of the time and money that goes into creating quality handmade one-of-a-kind pieces with real silver, shells and stones.
Tenorio's familiarity with the economics of authentic art stems both from her gallery experience and her decades creating and selling heishi jewelry, traditional Kewa Pueblo pieces made with shells that are drilled and ground into beads. Recently, she has also taken on silversmithing.
Although all-natural materials are pricey, Tenorio maintains strict standards for the work she's willing to sell because authenticity is key to her mission.
"Everything has to be handmade, with natural stones and shells," she said. "That's one of the things I do want to keep. I want to make sure it's going to be that way and the artists need to know."
She said some young artists who use reconstituted plastic stones, known as block, have approached her to do a sale, and she can't accommodate them. But Tenorio, who is also interested in mentoring and marketing young artists, encourages them to invest the extra money for natural materials to increase the integrity of the pieces and the prices.
SPREADING OUT
Tenorio said artists who follow her guidelines are lining up for live sales. Her growing recognition and reputation as a powerful advocate for Native artists prompted her to undergo a branding transition.
Earlier this year, she changed the title of her enterprise encompassing both her own art and the live sales from her own name to Indigenous Legacy Arts, which she eventually plans to convert into a nonprofit.
"I picked that name because Indigenous people are making a comeback in all senses," she said. "I've learned so much from my people and we want to keep that legacy going. This is what was passed on to us, and this is for our future."
In the near future, Tenorio plans to expand the reach and subjects of her live sales.
"Right now, we're pretty much local. My next thing is looking for pottery makers and rug weavers," she said. "I know most of the weavers are going to be from the Navajo Reservation. I have a few Navajo artists that really want to do a live show. Navajo Nation is on strict lockdown so I told them they can use Zoom and we can still do a show, and I can do it with them."
Making artists feel at ease and delivering for them during a difficult period in the Native art world provides Tenorio with rewards far beyond her cut of the sales.
"It's nice when you hand that check to that artist and they're so happy and they start crying, and they say it wouldn't have happened without me," Tenorio said. "I'm happy for that — just to hand that check to them."