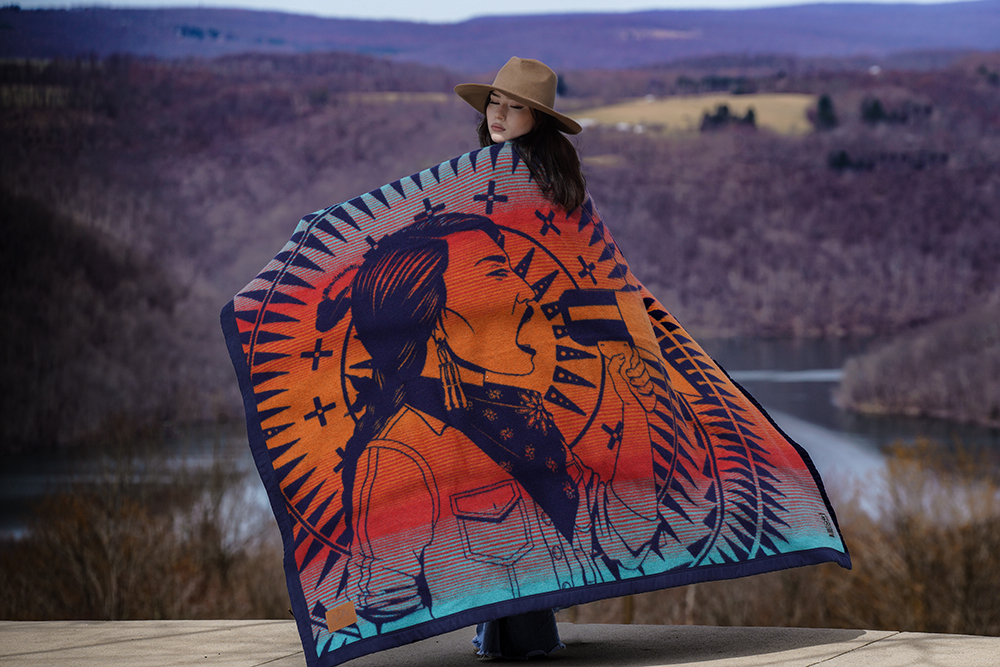 Details

Entrepreneurism
WASHINGTON D.C. — Anishinaabe photographer Nedahness Rose Greene is currently in the nation's capital capturing a watershed moment in Indigenous activism.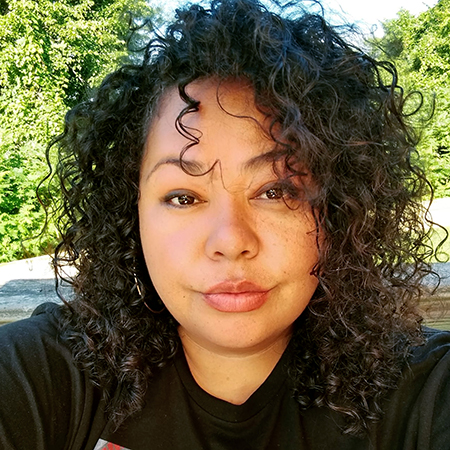 A self portrait of Ojibwe fashion and social justice photographer Nedahness Rose Greene. She traveled there with the Indigenous Environmental Network along with youths from the Standing Rock Sioux and Cheyenne River Sioux tribes to petition President Biden to stop construction on the Enbridge Line 3 pipeline in Minnesota.
Greene's role: To document the trip in photographs.
The owner of Greene Photography LLC also hopes to get a "small photo session" with new Secretary of the Interior Deb Haaland or Vice President Kamala Harris.
"I'll be here until Friday and hopefully it will work out," Greene said. "If it does, I'Il be super nervous. Anytime I meet somebody with stature like that, I just get really nervous."
Greene's own status as a sought-after activism and fashion photographer is on the upswing.
With a blend of cultural, social justice and commercial fashion work she gains from contracting with nonprofits championing Native and black causes, and collaborating with major Indigenous designers like Sarah Agaton Howes of Heart Berry and Delina White of I Am Anishinaabe, Greene is enjoying maximum exposure.
Framing Native fashion through a cool, contemporary lens is an opportunity Greene relishes.
"I feel good. I feel honored. I feel excited just to even put it across that it's OK to wear our designs and make it a cool and a trending thing, because you don't see much of that," said Greene, who grew up on the Leech Lake Reservation in Minnesota. "You see all the same fashion designers and all the same clothing, and just to see ours make heads turn is beautiful."
Greene also channels her talent into powerful images drawing attention to causes from Black Lives Matter to Missing and Murdered Indigenous Women and Relatives.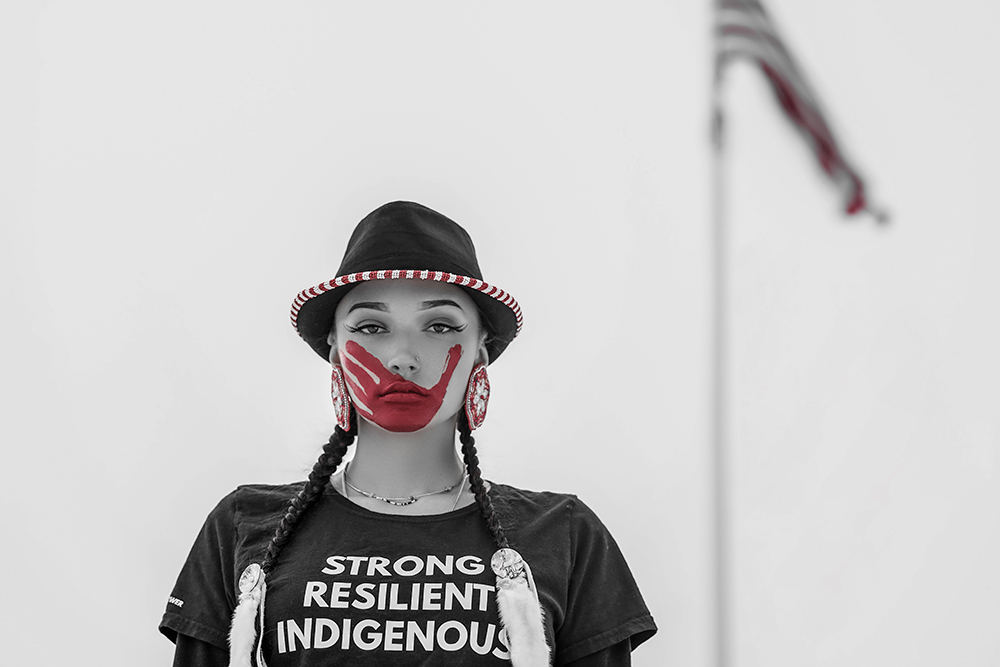 One of Anishinaabe photographer Nedahness Rose Greene's many images drawing attention to Missing and Murdered Indigenous Women and Relatives.
Currently, her work is the focus of the show "Mashkawiziigag (They Are Strong)" at the Watermark Art Center in Bemidji, Minn.
Greene spoke with Tribal Business News about the finer points of the photography business, her clever COVID-19 pivots and moments of inspiration.
How was your photography career born?
I didn't even pick up a camera until December of 2017 and it wasn't even a camera, it was an iPad. I started doing little shoots for friends and relatives and people liked the pictures and I just started having people believe in me. My cousin invested in a little $300 camera from Walmart for me. Two or three years ago, I started seriously pursuing it and trying to learn and teaching myself off of YouTube, and it just went from there. I really grew to love it and have a passion for it, and it's become my main source of income.
Are there any particular issues you think Native entrepreneurs face when trying to merge art and business?
As Indigenous people, we tend to hold back a little bit and we don't charge what we're supposed to. It wasn't until I started dealing with bigger organizations that people started saying, 'Nedahness, you have really got to value your work.' I was talking with Simone Senogles, my boss at Indigenous Environmental Network, the other day. Simone is amazing and she really tries to put me out there and I appreciate her so much — like, she doesn't even know how much. She said they were trying to get me more money because I deserve it. We laughed and we decided I am the most well-known sought-after most broke photographer. I'm not a ballin' photographer yet, but hopefully I will be soon.
How did COVID affect your business in the past year?
It was harsh. I was hustling, doing whatever I had to do to feed my children. Last year was supposed to be my biggest year. I had all these events lined up. I was supposed to be traveling to conferences for Minnesota Indian Women's Sexual Assault Coalition and the National Women's Indigenous Resource Center. That was one of the largest contracts I had ever landed. And they both got canceled. I was also supposed to do the NDN Collective employee photos and that got canceled.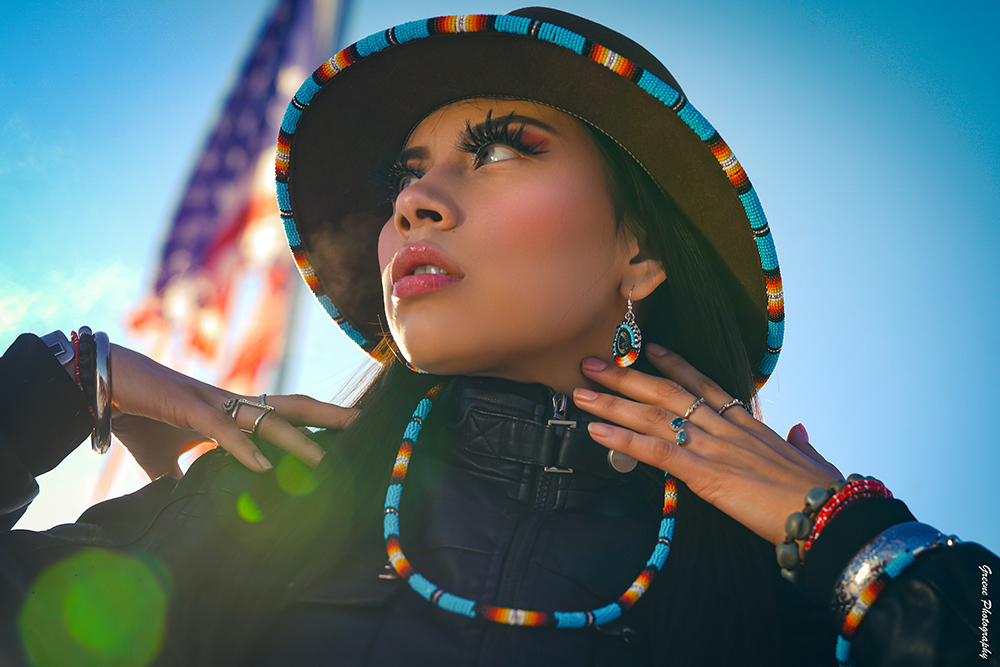 Flashy fashion photography from Anishinaabe entrepreneur Nedahness Rose Greene.
Give me an example of a photographic venture you devised to make ends meet.
I had a lot of youth, mainly from Leech Lake Reservation, who I've worked with, and they were bumming out because they were missing their prom. So I did a prom portrait series. I told them 'You can wear your mask. Let's still do this. You still deserve to be seen in your dress. You should have a memory to look back on.' Twelve girls came out at different times and we did everything socially distanced and it turned out good. I'm glad I was able to make that memory for them.
What are some expenses you have to consider as a photography entrepreneur that people wanting to get into the business may not think about?
If you want to get deep into it, you need insurance. Let's say we have a model posing on a bridge and something happens at the shoot. You have to start thinking about scenarios like that and I'm an overthinker. But I try not to put anybody in a position where they might get hurt.
How did you learn about running a business?
I've only been an LLC for five months and I have a team that's helping me. I'm learning all the back-end things of building a business and being a proper business, learning how to properly do my taxes, invoices; all of that stuff. It's kind of stressful. I'm just going from place to place, building relationships with the directors, presidents and CEOs of organizations and 501(c)(3)s and trying to figure it out. Sometimes they'll walk me through it, and sometimes I barter my services for help with my business.
What is your steadiest income stream as an independent photographer?
When organizations hit me up for my images to use as stock photos for their websites. I think here needs to be a lot more photos of different tribes available online. When you go to Getty images or other major online photography sources, you only see Navajo or Sioux designs. There are so many more. And that's one thing I love about working with Delina White and her brand, I Am Anishiinabe. She's actually putting our Anishinaabe and floral designs out there for people to see. We aren't all the same. We have different designs and we have different cultures and beliefs.
One of my favorite photos of yours is of Delina White's daughter Lavender modeling one of her mom's woodland wraparound scarves, surrounded by trees and sunlight. How did you capture that exuberant shot?
Honestly, I think Delina's daughters would look good in anything. We were driving to a lake because Delina wanted water scenes. I was in her passenger seat, and before we got to the lake, I saw some trees, and I said, 'Delina, stop right here. These trees, remind me of your scarf. Let's try to do a shoot right here. Trust me.' So we stopped. And the photos turned out great. They're like a breath of fresh air.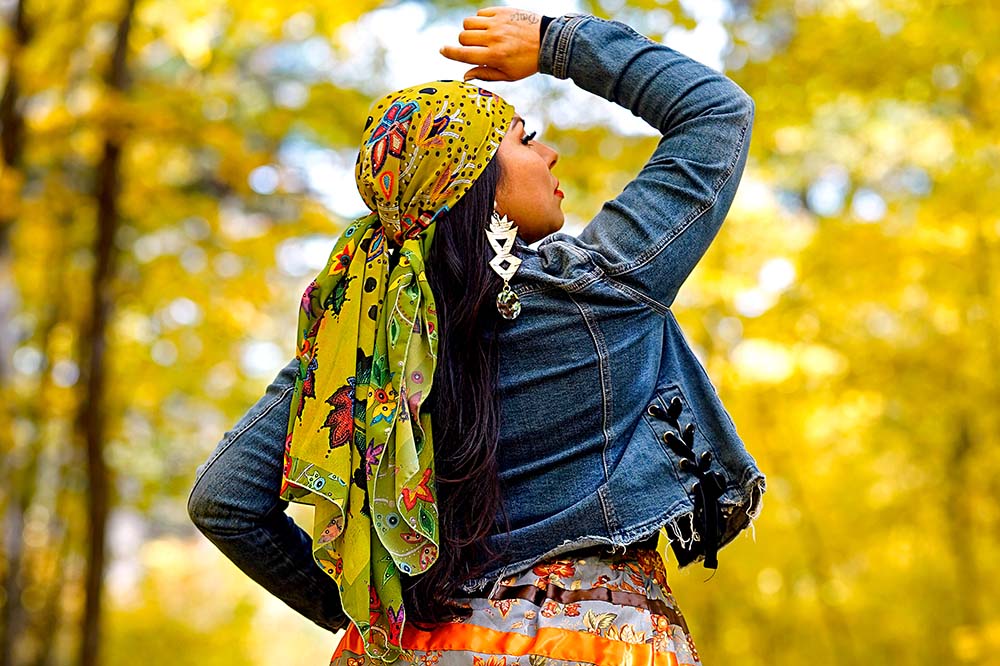 Anishinaabe designer Delina White's daughter Lavender models White's wraparound woodland scarf in this inspired image by Anishinaabe photographer Nedahness Rose Greene.
How did you fall into becoming a go-to photographer for some of the top Indigenous fashion brands?
Honestly, I have no idea. I just started doing little fashion shoots and then the next thing you know, Sarah Agaton Howes from Heart Berry and Delina contact me. They're like, 'Oh my gosh, I love your photography.' I always want to make a statement with my work. I'm not very good with my words. I'm not a public speaker. I don't like to speak. I can show my thoughts and viewpoints more with pictures that I can with my words.
What are your current photography goals?
I want to primarily focus on portrait photography in different cultures. I would like to travel around, but that's probably not going to happen because my car just broke down. My goal right now is to get a vehicle so I can take me and my boys on the road and visit different tribes. I think I have a gift to find the different within each tribe and to highlight and focus on that particular thing. I see a lot of photographers traveling to different tribes and it's almost like they just randomly grab somebody to photograph. I always go in deeper. I'll ask things like, 'Who do you guys look up to as a role model?' or 'Who's the important elder?' I like to actually know what's going on and who I'm working with.