Backed by a new philanthropic donation, four Native-focused nonprofits in the Southwest are exploring better ways to collaborate and share resources rather than compete against one another for the same pot of funding.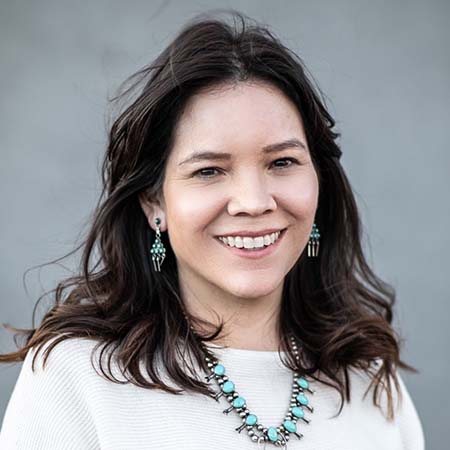 Heather Fleming, executive director of Change Labs, a Tuba City, Ariz.-based business incubator, recalls forging a relationship with other Native nonprofit executives in April 2020 as COVID-19 first started to spread.
What began as Zoom calls to share information about the effects of the pandemic became weekly meetings during which Fleming discovered kindred spirits in the leaders of Native Women Lead and New Mexico Community Capital, both based in Albuquerque, plus Pueblo of Laguna-based Native Community Capital.
All four organizations shared a similar goal in supporting Native entrepreneurship, and the executives realized during the meetings that they were often competing with one another for grants and other scarce resources.
Moreover, since all four groups were located in the southwestern U.S., they often shared clients, who in turn had to sign up and participate in competing programs to cover all their bases, according to Fleming.
"At the end of 2020, we'd been meeting for six to seven months straight and we began to ask ourselves the question: Why haven't we been collaborating more?" Fleming (Diné) told Tribal Business News. "How do we join forces so we don't have to compete with each other so that we could share resources, so that we could be eligible for some of the larger funding? With our shared clients, could we be doing a better job of helping them?"
After identifying the need for better collaboration, the executives sought funding to help them do it, ultimately securing a $3 million grant from Battle Creek, Mich.-based W.K. Kellogg Foundation.
The grant will help establish a "shared entity" that will serve as the driver for all four organizations. The new entity will help manage and share fundraising, legal, data and marketing and communications resources between each of the organizations.
"$3 million is not a small chunk of change for any of us," Fleming said. "Each of us probably have program budgets under $1 million. The point of the grant is for us to have the financial resources and everything that comes with those resources, like hiring creatives and start establishing a plan for how we're going to join forces."
While the exact structure of the new entity remains in the planning stages, Fleming cited a shared grant writer and I.T. resources and establishing a single financial education curriculum across all four organizations as examples of potential uses of the grant.
"We know there's ways to make this beneficial, but we haven't done this long enough to say specifically what it's going to be," Fleming said. "We just know that as leaders of our respective organizations, we spend way too much time competing against each other and not enough time working together."
Elizabeth Gamboa, a member of the Apache tribe and executive director of New Mexico Community Capital, said in a statement that the Kellogg Foundation grant will enable the four organizations to build upon their "shared mission."
"This joint-initiative by our four organizations will empower our and other Native-led organizations to cultivate economic opportunity within our communities, from the ground up," Gamboa said. "The Kellogg Foundation's recognition of our deep local ties, knowledge and expertise, and its generous support, enables us to build upon our shared mission to foster Native American self-determination and promote a thriving economic future in ways that align with our communities' cultural values."
Addressing a broken system
The effort builds upon previous collaborations among the four groups, which have joined forces on the Co-Op Capital microlending program. As well, two of the partners — New Mexico Community Capital and Native Women Lead — launched "The Future Is Indigenous Womxn" initiative, which last week was selected as a winner in the annual Equality Can't Wait Challenge. The selection comes with a $10 million award.
[RELATED: The Future Is Indigenous Womxn secures $10M award from Equality Can't Wait Challenge]
The Kellogg Foundation funding and the new shared entity will fortify and improve the organizations' collective efforts, said Jaime Gloshay, co-director and co-founder of Native Women Lead.
"This effort is an opportunity to strengthen our ability to create and expand new finance models," Gloshay said in a statement. "The capital access system is broken. To invest in the agency of Native entrepreneurs, we need to develop products and processes that meet entrepreneurs where they are, while acknowledging how capital has historically excluded Indigenous people."
The Kellogg Foundation, founded in 1930 by breakfast cereal magnate Will Keith Kellogg, upholds racial equity as one of its chief goals. The group was "grateful" to support Native-led nonprofits in building a shared backbone for their work, Program Officer Natasha Hale said in an announcement of the grant.
"They understand nation-building in the context of cultural entrepreneurship and economics," Hale said. "We have full confidence in their vision of the work and their ability to accelerate this critical work, especially since they have co-designed these entrepreneurship models and programs alongside Indigenous communities."
Persistent challenges
The funding comes at a time of upheaval and challenges for Native-led nonprofits.
According to the Charting a Path Forward report created by Longmont, Colo.-based First Nations Development Institute, nearly 70 percent of Native-led organizations anticipated a drop in revenue as a result of COVID-19, while 43 percent of those respondents expected a loss of 25 percent or more, as Tribal Business News previously reported.
Another report from nonprofit organization Native Americans In Philanthropy found that Natives American nonprofits received less than 0.4 percent of philanthropic dollars between 2002 and 2016 despite ​​Natives representing 2 percent of the U.S. population.
Chronic under-investment has crippled causes like building out and supporting Native entrepreneurs, who already face infrastructure, cultural and capital-related difficulties, Fleming said.
"The premise to all of this is there is a severe deficit of entrepreneurial support within Native communities," she said. "There's all sorts of resources elsewhere for other people, but when you travel to a reservation, all of it disappears."
Initiatives like the shared entity could help address some of the issues related to the lack of financial support by extending the individual organizations' reach, thereby qualifying them for larger pools of funding. As such, Fleming said she hopes the Kellogg grant and the four organizations' collaborative effort could serve as a model for other Native groups across the country.
"There are so many things we could do if we worked together. We don't have the size, we don't have the expertise to do a lot of those things that, as a group, we just might," Fleming said. "This initiative gives us an opportunity to establish a new baseline that could serve other Native-led organizations, and we are grateful for the Kellogg Foundation's support."