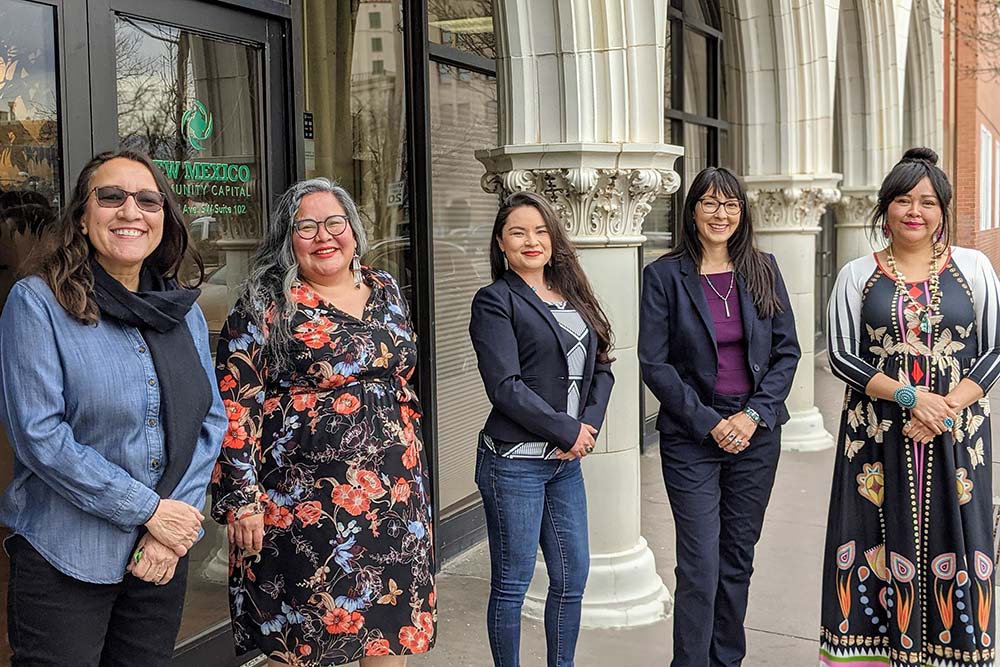 Details

Entrepreneurism
ALBUQUERQUE, N.M. — A pair of Native-led nonprofits will receive $10 million in funding to fuel a coalition aimed at supporting Native women entrepreneurs.
New Mexico Community Capital and Native Women Lead's collaborative "The Future Is Indigenous Womxn" initiative won the funding through the Equality Can't Wait Challenge, an annual competition started in 2020 to help incubate and invest in community solutions for gender equality.
"The Future Is Indigenous Womxn" intends to build a support system for Native women entering the business world through fellowships, training and direct funding and loans. Moreover, the project will help bring more Native American women into the finance industry, creating a "cyclical economy" that will see Indigenous women supporting other Indigenous women, said Jaime Gloshay, co-founder and co-director of Native Women Lead.
"We really looked at how our community can essentially come into these spaces not often meant for us and hold that decision-making power and be able to give back," Gloshay told Tribal Business News. "We believe economic agency and empowerment can lead to safety and healing for women and their communities."
The $10 million in funding will support operations and programming for the initiative, Gloshay said. Part of the plan includes buying a retreat center to serve a projected 3,000 women over the next five years.
The initiative's fact sheet breaks down its strategies into three pillars:
• Community table building — providing peer network activities, workshops, training events, and annual business and wealth summits, as well as co-designing resources with program participants
• Circle of support — offering "culturally aligned" digital media training, access to mentorship and technical assistance for borrowers
• Indigenous Womxn's Fund — serving as a capital fund for entrepreneurs in need of direct financial support and as a pilot program for the Indigenous Capital Innovators Fellowship to bring more Indigenous women into financial support spaces.
Native Women Lead will manage The Future Is Indigenous Womxn's capital fund, community building, and the program's fellowships. New Mexico Community Capital will take the lead on technical assistance.
"The amazing thing about this is that it really reaches people who are on opposite ends of the spectrum," said New Mexico Community Capital Executive Director Elizabeth Gamboa. "They could just be starting out, or they've been around for five years and they're ready to grow."
The Future is Indigenous Womxn currently focuses its efforts on Arizona, New Mexico, Michigan and Oklahoma, and proposes to expand into Alaska, according the fact sheet.
Gloshay said the idea of winning $10 million for the initiative was still "setting in." She noted that the award represented the largest single investment either partner organization has ever received.
"We got to learn a little bit about it just recently, and we were in tears of joy and excitement and happiness," Gloshay said.
Gamboa echoed the sentiment, saying it was "emotional" to discover the project would come to fruition. The funders originally announced The Future Is Indigenous Womxn was a top 10 finalist for the award in late March, as Tribal Business News reported at the time.
"We have visions of, 'If we have this money, we can do all these things.' We have spent almost a year from the time we saw the posting for the grant and went, 'What could we do for five years?'" Gamboa said.
'Game-changing ideas'
The Equality Can't Wait Challenge aims to "accelerate the pace of progress toward gender equality in America." The challenge is hosted by Pivotal Ventures, the investment firm of Melinda French Gates, and supported by MacKenzie Scott and Dan Jewett as well as Charles and Lynn Schusterman Family Philanthropies.
Lever for Change, an affiliate of the John D. and Catherine T. MacArthur Foundation, manages the funding challenge, which drew 550 applicants from around the country. The organization selected four winners to split $40 million in funding.
"The overwhelming response to the Challenge proves there's no shortage of transformational ideas about how to accelerate progress for women and girls," French Gates, founder of Pivotal Ventures, said in a statement. "The next step is to make sure those game-changing ideas get the support they need to become fully realized and improve people's lives. We can break the patterns of history and advance gender equality, but we must commit to lifting up organizations, like the ones receiving awards today, that are ready to lift up women and girls."
The Equality Can't Wait Challenge is the latest in a series of high-profile philanthropic donations to Native causes in recent months. That includes an unrestricted gift to the American Indian College Fund, a $3 million unrestricted donation to the Institute of American Indian Arts Museum of Contemporary Native Arts, and an unrestricted gift to the American Indian Higher Education Consortium, all of which Scott and Jewett announced in June.
Generational investment
This latest award for Native Women Lead and New Mexico Community Capital comes on the heels of a $3 million racial equity grant from the W.K. Kellogg Foundation, which enabled the two organizations to join with Native Community Capital — a Native community development financial institution — and business incubator Change Labs to build a "backbone organization" to help share curricula, programs and resources between the four organizations.
The influx of funding into Native organizations is "long overdue," Gloshay said.
"As the original people of this land, I definitely feel these resources are needed, and a lot of the wealth that has been built in this country is off the backs of Black and brown folks. I'm incredibly grateful for this award and what it means to provide critical resources to Native women entrepreneurs," Gloshay said of the Equality Can't Wait Challenge funding.
Gamboa said the latest funding could have a positive generational effect as each dollar supports the communities where they are spent.
"I hope funders can truly see the results of that funding and see how it influences and touches multiple generations," she said. "It's also just not about money. That dollar gets infused in their communities, it supports other businesses."
Gloshay said that the aid was a necessary step in the right direction towards equity — ultimately, for everyone.
"That's true equity when you can support those most marginalized, those most invisible, those most vulnerable," Gloshay said. "If you can demonstrate that you can see those most unseen and uplift them, you can uplift everybody."