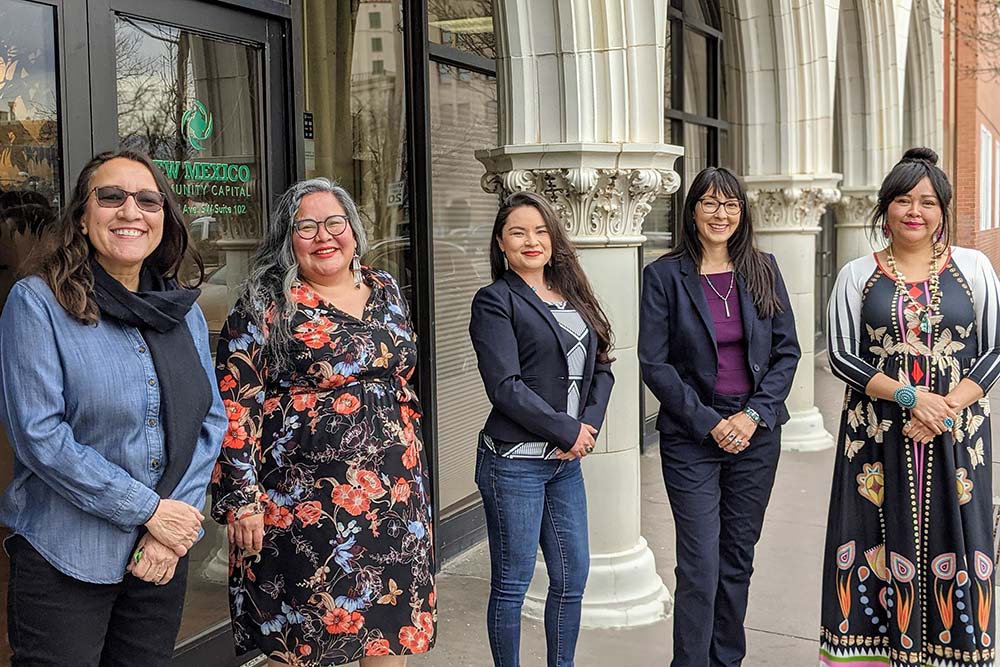 Details

Entrepreneurism
ALBUQUERQUE, N.M. — A proposed investment fund for Native women has become a finalist in a nation-wide competition for millions of dollars in grant money.
The Future Is Indigenous Womxn is a collaborative effort between entrepreneur-building organization Native Women Lead and Albuquerque, N.M.-based Native-business focused nonprofit New Mexico Community Capital. The collaboration will create an investment fund that can supply capital, technical assistance and investment training for up and coming Native women entrepreneurs.
The initiative is one of 10 proposed projects selected as a finalist in the Equality Can't Wait Challenge. The competition, which attracted 550 national applicants, was launched in June 2020 by Melinda Gates-led organization Pivotal Ventures to "accelerate the pace of progress toward gender equality in America," according to a statement.
The challenge will award three winners $10 million each in grants, then distribute a final $10 million among the seven remaining finalists. For The Future Is Indigenous Womxn — the only Indigenous-led finalist — that money will go toward building up Native women-led businesses.
Plans for collaborative initiative include technical assistance programs, financial literacy and business basics programs, microloans, and supporting women as investors through money management training.
"It's mentorship, it's programming, it's the investment fund, and it's also supporting women's wealth management," said New Mexico Community Capital Executive Director Liz Gamboa. "We want to help discover and find more women entrepreneurs, more women-owned businesses."
The Future Is Indigenous Womxn aims to address some of the biggest challenges Native American women face when starting a business: namely, access to credit and access to information.
Inadequate access to credit poses a chronic challenge for Native American businesses, as Tribal Business News previously reported. From a lack of financial institutions on reservations to inaccessible federal programs, Indigenous entrepreneurs often struggle to find money to start businesses.
In a November address to the National Congress of American Indians, Lael Brainard, a member of the Federal Reserve's Board of Governors, cited data that showed 16 percent of American Indians and Alaska Natives were "unbanked" as of 2019 and just one in three Native Americans had a strong or very strong relationship with a lender.
"Access to capital is a huge problem," said Alicia Ortega, executive director for Albuquerque, N.M.-based Native Women Lead. "Most (Native entrepreneurs) have a really hard time getting funding. It's really hard to build credit when you're on the reservation."
Through solutions and programs like The Future Is Indigenous Womxn, Native Women Lead and NMCC hope to create resources for new companies to buck that trend.
"Native women are investable, and we're working to help provide these solutions to help them access credit," Ortega said.
The two organizations' collaboration on The Future Is Indigenous Womxn is the latest in a longstanding partnership focused on the advancement of Native businesswomen.
"We are proud to be a partner with Native Women Lead on this groundbreaking path forward. Our organizations go way back as a majority of the co-founders went through our Native Entrepreneur in Residence (NEIR) accelerator program," Gamboa said in a statement. "We're so incredibly happy to see them thrive. To continue to plant seeds together is next level amazing, and we're looking forward to contributing and creating this regenerative system wholly led by Indigenous womxn."
Native Women Lead has been planting those seeds since 2017 via its programming, which includes annual summits, virtual retreats and information sessions.
In fact, shades of The Future Is Indigenous Womxn can be found in the group's Matriarch Response Loan Fund, which is a zero-interest character-based loan, and the Matriarch Up Together Fund, which provides grants.
The organization's central goal remains to empower and advance Native business women, who are often the economic pillars of their communities, Ortega said.
"Native women are often breadwinners for their families," Ortega said. "They serve a lot of roles in the community and in their families. Really, by empowering these women who are matriarchs in our families and communities, we are essentially empowering our families and communities, and those effects ripple out from community to society to the world.
"(The Future Is Indigenous Womxn) is really just getting these women the resources and tools they need to be able to do that."