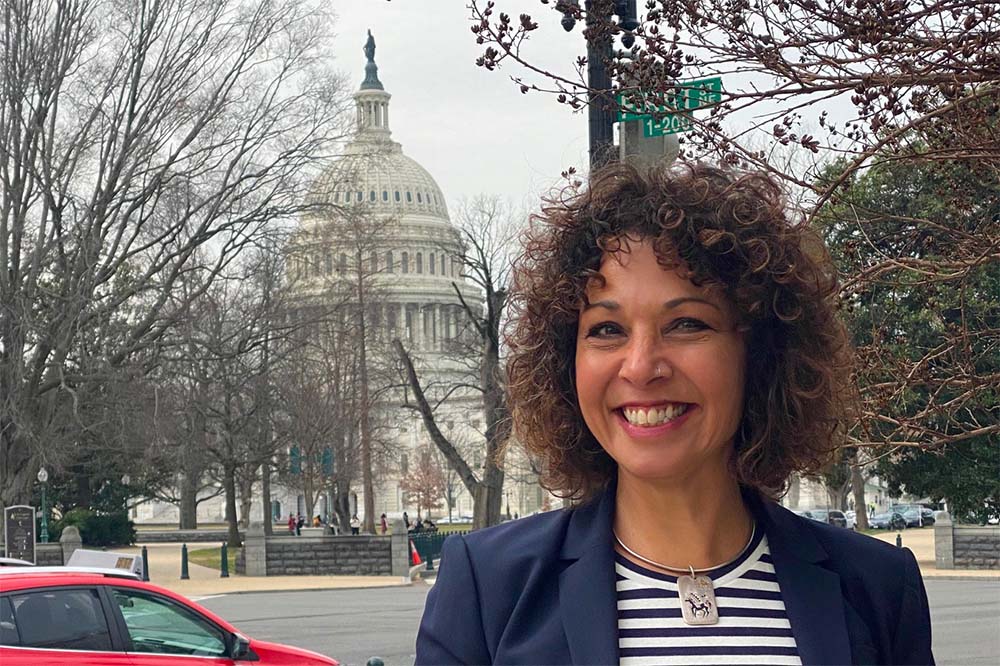 Details

By

Jenna Kunze

Finance
KYLE, S.D. — Like most Native lending institutions, Lakota Funds was boxed out of distributing federal small business loans to its clients based on criteria set by the government.
Executive Director Tawney Brunsch (Oglala Sioux) knew the certified Native community development financial institution (CDFI) on the Pine Ridge Indian Reservation in South Dakota was still in a position to help clients get needed resources, so she got creative.
"We created our own relief program," Brunsch said.
Lakota Funds partnered with two other Native CDFis in the state, Mazaska Owecaso Otipi Financial and Four Bands Community Fund Inc., to administer mortgage and business relief funds through the South Dakota Native Homeownership Coalition.
"As Native communities, we're used to having to do it by ourselves." Brunsch said.
In early January, the U.S. Small Business Administration (SBA) rolled out its second round of funding for the Paycheck Protection Program, aimed to assist small businesses amid the coronavirus pandemic by doling out potentially forgivable loans to keep employees on payroll. The program drew criticism from the Native community in its first round because it required a lender to meet a minimum of $50 million a year in business, effectively boxing out small Native lenders like CDFIs, and thus many Indigenous small business owners across the country.
In January, the SBA decreased that threshold to $10 million to reach "minority" communities, but most Native CDFIs still didn't qualify.
Even though Lakota Funds wasn't able to benefit directly from PPP loan distribution, the organization found several other ways to help Native businesses across the state, including assisting tribal members to apply through another financial institution, administering its own relief fund with other Native CDFIs, and partnering with a bank to help package applications for clients.
"We created our own criteria and set the maximum at $2,000," Brunsch said of Lakota Funds' in-house relief program that it funded through various funding groups. "We decided to use it across the state of South Dakota for mortgage relief, business relief and just weren't as picky about what was going to qualify … because we have the benefit of knowing our borrowers."
In the joint relief program, the group deployed more than $100,000 to assist 53 small businesses and 67 families with mortgage payments.
BUILDING RELATIONSHIPS
Still, Lakota Funds staff members thought they could do more for their community.
Late last month, the Native CFDI partnered with Great Plains Bank in Aberdeen, S.D., to bring in its Native business owners and help package their PPP applications to submit to the bank for approval.
"In the matter of two weeks, we have closed 77 PPP applications totaling $846,000," Brunsch told Tribal Business News on Wednesday. "That's how much we can do and that's with three of us (on staff). I'm super excited to have those kinds of numbers, so I can tell SBA, 'This is what you're missing out on by not including us,' because Lakota Funds is only one example of how a Native CDFI serves our community.
"If you made it available to the other Native CDFIs across the whole nation, can you imagine how much more impact that would have, especially in the lowest income communities where it's needed the most?"
Bruce Jones, an agent for the Great Plains Bank that sought out partnerships with embedded Native CDFIs like the Lakota Funds, told Tribal Business News the bank missed reservation-based clientele in the first round of PPP funding because of a lack of relationships.
"Clearly, what we were missing was that local partner who understands the local economy (and) who has relationships with individuals who need to access the PPP program," Jones said.
Great Plains Bank also has formed partnerships with two other Native CDFIs — on Cheyenne River Reservation and Standing Rock Reservations — to originate PPP loans for their clients.
"This isn't about keeping Native CDFIs out of the SBA programs, but really it's saying, 'Hey, we have a few weeks here to make a difference in a lot of people's lives, and this is the way that we can accomplish that,'" Jones said.
He added that if the federal government wants to provide financial support in the pandemic, it needs to engage with community-based financial institutions like Lakota Funds.
"Without those organizations, without those relationships, the banks really have no opportunity to meet that need," he said.
SBA representative Charles Abell told Tribal Business News last month that the $248 billion in relief funding is expected to last through the end of March.
COMMUNICATION BREAKDOWN
Of the 69 certified Native CDFI lenders as of last December, only two applied to be lenders in the second PPP rollout, said Native CDFI Network Executive Director Jackson Brossy. Just one, Bellingham, Wash.-based Lummi CDFI, has received SBA approval so far.
Earlier this year, Brossy advocated to the SBA that more Native CDFIs should qualify as PPP lenders. He said he was told by SBA that Native CDFIs should submit an application even if they did not meet the $10 million threshold and they would likely be approved.
However, Native Partnership for Housing Inc., a New Mexico-based Native CDFI that submitted the other known application, is still awaiting word on whether it can participate in the program.
"We took the SBA at its word that Native CDFIs should apply back at the beginning of January," Brossy said. "Some of our members did, and they're still in limbo nearly a month later."
SBA spokesperson Shannon Giles told Tribal Business News the administration "does not comment on individual lenders."
Rollin Wood (Cherokee), executive director of Native Partnership for Housing, said his company was on track to be certified through regular dialogue with SBA and the Treasury Department, until the change in administrations shook up communications.
"It seemed like a light switch that turned off the day of the inauguration," Wood said. "There was no further communication, and Biden is supposed to be reaching out to the underserved communities."
Wood said he feels betrayed by the federal government that was ushered in, in part, by the Native vote for Biden in Arizona.
As a result of a lack of federal support, the Navajo Nation — hit hardest by the pandemic than any other community in the country in May, according to reports at the time — is losing out on money that could help some business owners stay afloat.
"Some of them could be going out of business," Wood said. "Their ability to support their families and their employees is totally eliminated, so you have people in despair, they're not making their payments, their credit has been destroyed. They can't buy a home, they can't buy groceries, they can't make their truck or car payments. It's just a devastating impact."
'CLOCK'S TICKING'
Despite the delay, Brossy said he's hopeful Native Partnership for Housing will receive certification from the SBA. "But the clock's ticking," Brossy added. "The businesses that need support are still being held back by the pandemic."
On Feb. 2, former president Bill Clinton hosted a discussion through his nonprofit Clinton Foundation about CDFIs in a series on "Building Inclusive Recovery" in the wave of the COVID-19 pandemic.
Clinton pledged to do whatever he could to help change the SBA's minimum and allow Native CDFIs to do more to service their clients.
"You shouldn't be too small to get this money," he said.
Want more news about the $130 billion tribal economy?
Tribal Business News publishes thoroughly reported and well-crafted stories about Native businesses and entrepreneurs, growth and expansion strategies, best practices, economic data, government policy and other relevant business news. Tribal Business News is required reading for tribal council members and leaders of Native businesses, as well as state and federal legislators, policymakers, economic developers, entrepreneurs, bankers, lawyers and anyone interested in doing business in Indian Country.
Sign up for our free newsletter to track Native business and the tribal economy. Or sign up for a premium digital subscription ($99/year or $10/month— cancel anytime) to gain full 24/7/365 access to our business news reporting. Megwetch.