WASHINGTON — Native American arts and cultural organizations could get additional relief funding under a new round of grants from the National Endowment for the Arts.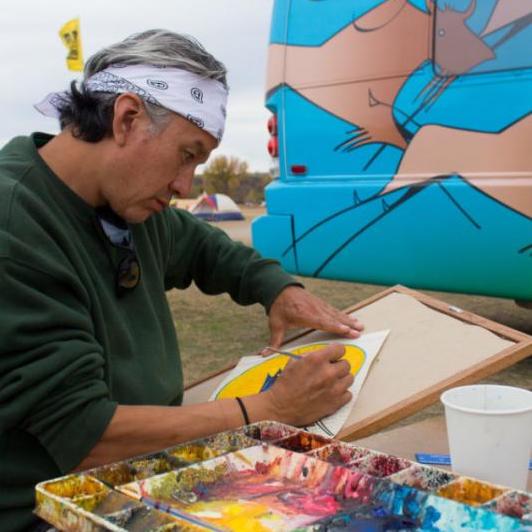 The NEA last week announced guidelines for its second round of American Rescue Plan funded grants aimed at getting art institutions back on their feet after the pandemic, this time with an $80 million infusion in two categories: local art agencies and tribes officially designated to operate on behalf of their local government, and nonprofit arts and cultural organizations seeking a boost after the pandemic.
Selected organizations can spend the grants — available in amounts of $50,000, $100,000 or $150,000 — to fund salaries, facilities costs, organizational operations, or health and safety supplies.
NEA Chief of Staff Ra Joy told Tribal Business News that the agency's two goals with American Rescue Plan dollars is to deploy COVID relief funds to help arts organizations rehire and reopen, and to expand its reach to include underserved communities, including Native Americans.
"We know that before the pandemic hit, the arts and cultural sector was approaching a $1 trillion industry that directly supported 5.2 million jobs and indirectly supported millions more," he said. "We know that cultural organizations were among the first businesses that were forced to close their doors at the start of a pandemic, and we know that they'll be among the last to fully reopen."
As a stopgap measure to help struggling industries, President Biden signed into law the American Rescue Plan (ARP) on March 11, the second largest stimulus package in legislative history. Included in the legislation was $135 million for the National Endowment for the Arts.
The first round of NEA's two-phase grant cycle was announced on April 29, and included $52 million in funding to state arts agencies and regional arts organizations.
With the second round, Joy said the agency is placing a heavy emphasis on flexibility and eligibility.
"Unlike in prior years for prior initiatives, organizations can apply for American Rescue Plan funds, even if they've never received a grant from the Arts Endowment, even if they've never received a grant from the federal government," Joy said.
Another big change for the agency was its introduction of the local art agencies sub-granting program, where local art agencies can participate in spreading the wealth.
While there isn't earmarked funding set aside for specific groups, NEA staff is all but ensuring more equitable representation in grant recipients through campaigns and outreach, including at the upcoming Association of Tribal Archives Libraries and Museums webinar on July 15, during which NEA will present a workshop specifically explaining ARP funding.
"Our big focus now that the program has been announced is to get the dollars out the door," Joy said. "And my hope is that we reach more Native-led museums and cultural organizations as part of this process."
Clifford Murphy, NEA director of Folk & Traditional Arts who also oversees tribal relations, has been working for the last five years to better engage Native communities. Although the agency hasn't historically tracked data on grant recipients' racial statistics, Murphy said it's not proportional to Natives' population sizes.
In February 2020, NEA held the agency's first national convening of elders and leaders from the Native arts sector, in partnership with the National Endowment for the Humanities, and the Native Arts and Culture Foundation, to learn about structural barriers and ways to improve community outreach. For the first time this year, the agencies are guiding the application process with twice-weekly question and answer sessions and translating grant materials into multiple different languages.
For application resources and eligibility requirements, visit the arts and culture organizations page and the local arts agencies subgranting page. Local Arts Agencies for Subgranting applications are due July 22, and Grants to Organizations are due August 12.
All applications will be reviewed by a diverse group of panelists, and that process will start on Jan. 1, 2022 at the earliest, according to the agency's website.
Speaking directly to Native art institutions eligible for NEA's grant funding, Murphy said: "We see you. We see you as people of great diversity of language, of history, of cultures and geography and experience.
"We see and acknowledge that Native arts take a multitude of forms, from traditional to contemporary and everything in between, and we are committed to serving you."