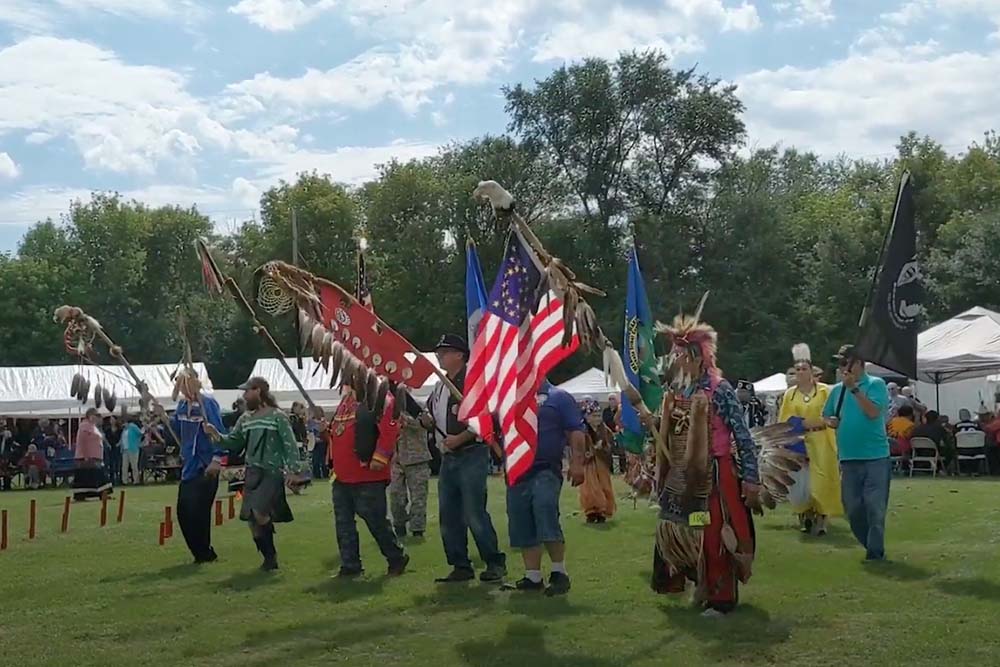 Details

By

Jenna Kunze

Sovereignty
MENDOTA, Minn. — At the confluence of the Minnesota and Mississippi Rivers in the heart of the Twin Cities exists the Mendota Mdewakanton Dakota Tribal Community (MMDTC), a 125-member group who can trace their ancestry in the area back to the mid 1700s.
But because of issues stemming from the U.S.-Dakota conflict in 1862 when the federal government dissolved treaties with the Dakotas and drove most of them out of the state, MMDTC says it has been dispossessed of its land and federal tribal status.
Now, for the second time in 25 years, the Mendota Mdewakanton — a word to describe a number of Eastern Dakota or Sioux people — is seeking federal acknowledgement from the U.S. Department of the Interior.
"It's very important," said Chairwoman Sharon Lennartson, 74, who has led the MMDTC nonprofit entity for a decade and a half after helping the group organize in 1995. "We've wanted this since day one when we started our community."
Like other Mendota Dakota descendants of mixed-blood ancestry coming from the French fur traders, Lennartson grew up out of touch with her Indian heritage.
"I wasn't raised Native," she said. "I never got to dance with my aunties and uncles. That was all taken from me."
In the late 1990s, groups of Mendota families organized to take back their identities. Their awareness came from the nearby Shakopee Mdewakanton Sioux Community, which put an ad in the paper looking for descendants. Lennartson's grandfather was granted land to farm in Shakopee, and her cousins are enrolled tribal members. But Lennartson and several others didn't qualify for membership under Shakopee's bylaws.
"Where we really belong is in Shakopee," said Richard LeClaire, MMDTC's oldest member and Lennartson's cousin. "They wouldn't let us in. They cast us off and told us to go start your own club. And that's exactly where we are today."
Lennartson said the main push behind federal recognition hinges on reclaiming historic properties once belonging to their ancestors, including the DuPuis House where her grandparents once lived. The house is currently owned by the state and operated by the Minnesota Historical Society, which gives MMDTC permission to host monthly meetings there.
Additionally, federal recognition would allow MMDTC to apply for certain federal grants and pools of money to help fund programs, such as Dakota language classes, and the group's annual powwow.
Mendota historian and MMDTC member Greg Strandmark said he feels confident the tribe will meet the Department of Interior's seven mandatory criteria to gain federal recognition, despite the tribe's ill preparedness in the process decades earlier.
The group didn't follow through on its 1996 petition past the "technical assistance" phase because it didn't have enough research to make its case to the Department of the Interior's Office of Federal Acknowledgement, which determines if a petition will move through the process of acknowledgment.
"It was a fairly incomplete petition back then," Strandmark said.
A technical assistance letter from the Office of Federal Acknowledgements informed the MMDTC at the time that "these materials do not provide an adequate basis on which the (Assistant Secretary – Indian Affairs) could make a determination concerning federal government acknowledgment under all seven criteria."
However, after several trips to the National Archives in Washington, D.C. and Kansas, plus more information being made available online, the group is ready to submit a petition once again.
Arlinda Locklear, an enrolled member of the Lumbee Tribe of North Carolina and an attorney practicing federal Indian Law for 35 years, said the process of filing a petition presents "a quadruple whammy" for tribes.
The process of meeting all seven criteria requires a "high burden of proof" that necessitates expert analysis, which is expensive especially for resource strapped unrecognized tribes. On top of that, the people who could provide oral testimonies and documentation that might help prove certain criteria for a tribe are aging, Locklear said, noting the federal recognition process can take a generation to complete.
"You have this really awful evidentiary requirement placed upon people with no resources, but at the same time they're trying to comply with that, they're losing generations of people who have access to some of that information," she said. "It's not uncommon for tribes to spend 20 to 30 years … in the preparation of and in following the processing of these petitions."
According to Locklear, garnering the extensive documents and expert analysis needed for a strong petition could cost tribes close to $1 million.
For MMDTC, which has existed entirely through volunteers, the petition has cost $500,000 in time and money, according to Strandmark's estimates.
Challenges from Indian Country
Beyond meeting the onerous criteria from the federal government, the MMDTC also faces challenges from other tribes. To that end, the nearby Shakopee Mdewakanton Sioux Community disputes Mendota's legitimacy as a tribe.
At the crux of the argument, the Shakopee contend that when Congress bought land for Dakota communities in the 1800s, the Mendota were left out, unlike the other three recognized Dakota communities in Minnesota.
"Land was purchased at Prairie Island, Lower Sioux, and Shakopee," the community wrote in a statement to Tribal Business News. "Land was never purchased at Mendota. Based upon our understanding of the tribal recognition process, there is no factual basis for a tribe to secure recognized government status at Mendota."
A letter from a BIA agent to the commissioner in 1888 noted that land wasn't purchased for the local Native community in Mendota because it was significantly more expensive than what the agency was willing to spend. The cost at "$500 per acre" in Mendota compared to $15 an acre elsewhere, likely because of the proximity to St. Paul and Minneapolis.
Locklear noted that federally recognized tribes can oppose the recognition process of other tribes as a means of self-preservation and staving off competition for gaming ventures in many cases. For the Shakopee specifically, the tribe's existing casino would inevitably be threatened if the Mendota were to open a casino less than 10 minutes from the Minneapolis-St. Paul International Airport.
"A lot of recognized tribes have a policy of opposing the recognition of any tribe in their vicinity," Locklear said. "I've seen it in (the) Northwest, I've seen it on the east coast. It happens all over the country. It happens when there is potential for gaming competition. It happens when there is potential for participation in a pro-rata share of treaty fishing rights. It happens when there is concern about sharing limited Indian Health Services appropriations.
"A lot of these reasons … relate to there being too little resources on the table in the first place for Native communities."
Kevin Washburn (Chickasaw Nation of Oklahoma), the former Assistant Secretary of Indian Affairs at the U.S. Department of the Interior and current dean at the University of Iowa College of Law, said that in some cases, the challenges from one tribe group to another goes beyond economic considerations.
"If there was no gaming in the world, I'm not sure that the opposition would go away," he said. "It goes to the core of identity in some cases."
'Generational' process
Ultimately, MMDTC members expect the road to federal recognition will be a long one. Currently, the BIA has six petitions "in process" that have each been submitted as far back as 1994, with no time limit set for a decision. An additional five potential tribes are in the pipeline once they supplement their petitions.
"Most of these tribes that have gone through federal recognition, they've been going through it for decades. It's generational," Strandmark said. "If we get federal recognition, I'll go to the spirit world knowing that 100 years from now, the community will still be there. It won't be forgotten in history."