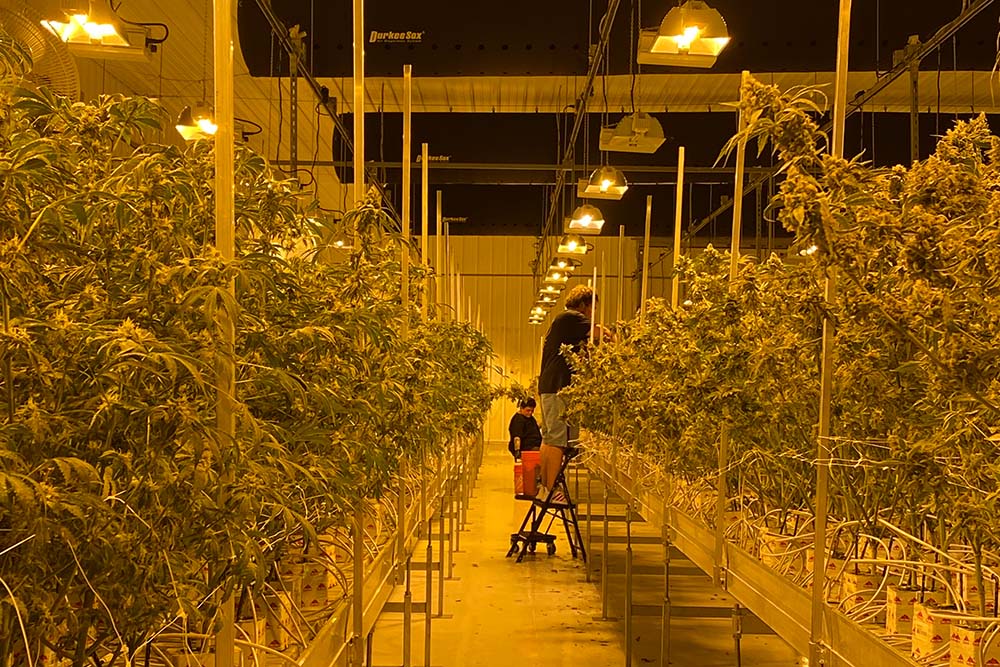 Details

By

Jenna Kunze

Economic Development
FLANDREAU, S.D. — The Flandreau Santee Sioux Tribe is uniquely poised to open the first dispensary in the state of South Dakota on July 1, the same day the state Legislature will legalize medical marijuana.
The tribe announced last Friday that its new business venture, Native Nations Cannabis Dispensary, will open today under a wholly owned limited liability company. The dispensary — which also includes 10,000 square feet of space for cultivation — will occupy a newly remodeled building within the tribal reservation, said Seth Pearman, the tribe's attorney general.
"The tribe's leadership has seen this as a very viable economic development opportunity," Pearman said. "It's been looking forward to being able to capitalize on this plant, much like a lot of other jurisdictions have."
While state agencies have not yet refined their marijuana regulations, the Flandreau Santee Sioux Tribe began issuing medical marijuana licenses on Monday. To qualify, tribal and non-tribal people suffering from chronic illnesses such as AIDS, arthritis, cancer and migraines must fill out an application and get it signed by a medical professional. The tribe will also honor valid medical marijuana cards issued by other tribes, states, territories or countries.
While asserting its sovereign rights to grow and sell cannabis on its reservation, the tribe also delayed the opening of its dispensary to correspond with the state's July 1 legalization to avoid putting customers at risk of arrest from the state law enforcement upon leaving the reservation.
South Dakota's eight other tribes will likely follow suit and capitalize on the medical marijuana industry in the coming months following approval by state voters in 2020. However, industry watchers in South Dakota say no tribe is better positioned than Flandreau.
"Kudos to Flandreau," said State Rep. Ernie Otten, who also serves on the Medical Marijuana Study Subcommittee within the state Legislature. "Flandreau is leading the pack in what they're doing, but they've been ahead of the game on this for quite some time."
In fact, this latest venture is the tribe's second in the marijuana industry.
In 2015, following a memorandum from the U.S. Department of Justice in which the federal government said it would take a hands-off approach to prosecuting marijuana laws on tribal land so long as tribes comply with certain federal priorities, Flandreau became the first tribe in the nation to legalize medical marijuana. But the tribe suspended its grow operation and burned down its crops five months later when rumors circulated of an impending federal government raid on facilities, Pearman said.
"Because marijuana is still federally illegal, it gets to be kind of a gray area of the law," Pearman said. "So after discussion with other jurisdictions — including the federal government and the state government — the tribe's Executive Committee decided to take down the crop until everybody was comfortable with the tribe's development, mostly the federal government."
As of this past May, 36 states and four territories allow for the medical use of cannabis products. Additionally, seventeen states, two territories, and the District of Columbia have legalized small amounts of cannabis for adult recreational use. The wave of new businesses in the sector has effectively paved the way for tribes like Flandreau to follow tried and tested best practices from other regions.
But in South Dakota, some questions over recreational cannabis still remain.
While voters in 2020 also legalized recreational marijuana, South Dakota Gov. Kristi Noem is attempting to overturn that decision on constitutional grounds. Noem argued that legalizing marijuana via the state constitution elevates the Department of Revenue — the agency tasked with regulating recreational cannabis — to a fourth branch of government. The state's high court, which heard oral arguments in April, has not yet announced its decision on the challenge.
Rep. Otten noted that if recreational use is struck down, tribes like Flandreau can still go ahead with it because of tribal sovereignty. However, the state will have to create specific regulations for enforcing tribal and non-tribal citizens to remain on a tribal reservation while using recreational marijuana.
Pearman told Tribal Business News that if the Supreme Court approves recreational marijuana, Native Nations Cannabis Dispensary will be ready to sell cannabis for recreational use to visitors.
For now, the tribe doesn't anticipate any problems with state or federal agencies.
"The activities that we're contemplating on the reservation are not contingent on what the state is doing," Pearman said. "But, eventually the tribe would participate off-reservation at other locations, too, so that would be relevant for those off-reservation development activities."
Peter Lengkeek, chairman of the Crow Creek Sioux Tribe, said his tribe is waiting on the state to nail down its regulations to determine what role it wants to play in the market. While tribal sovereignty exempts tribal nations from complying with state laws on medical marijuana, if a tribe wanted to sell or move products off its reservation, it would have to comply with state regulations.
"We're kind of waiting on the state to see what they set down," Lengekeek said. "Then we're going to take that and build off of that and go from there."
Kevin Killer, chairman of the Oglala Sioux Tribe and former state legislator, said his tribe is taking a more individual approach.
"It's great to see Flandreau move ahead in their process," he said. "You have Flandreau controlling the whole process, but we're more interested in working with the individual growers. Because our community is so big, we want to make sure we give as much of an opportunity as we can."