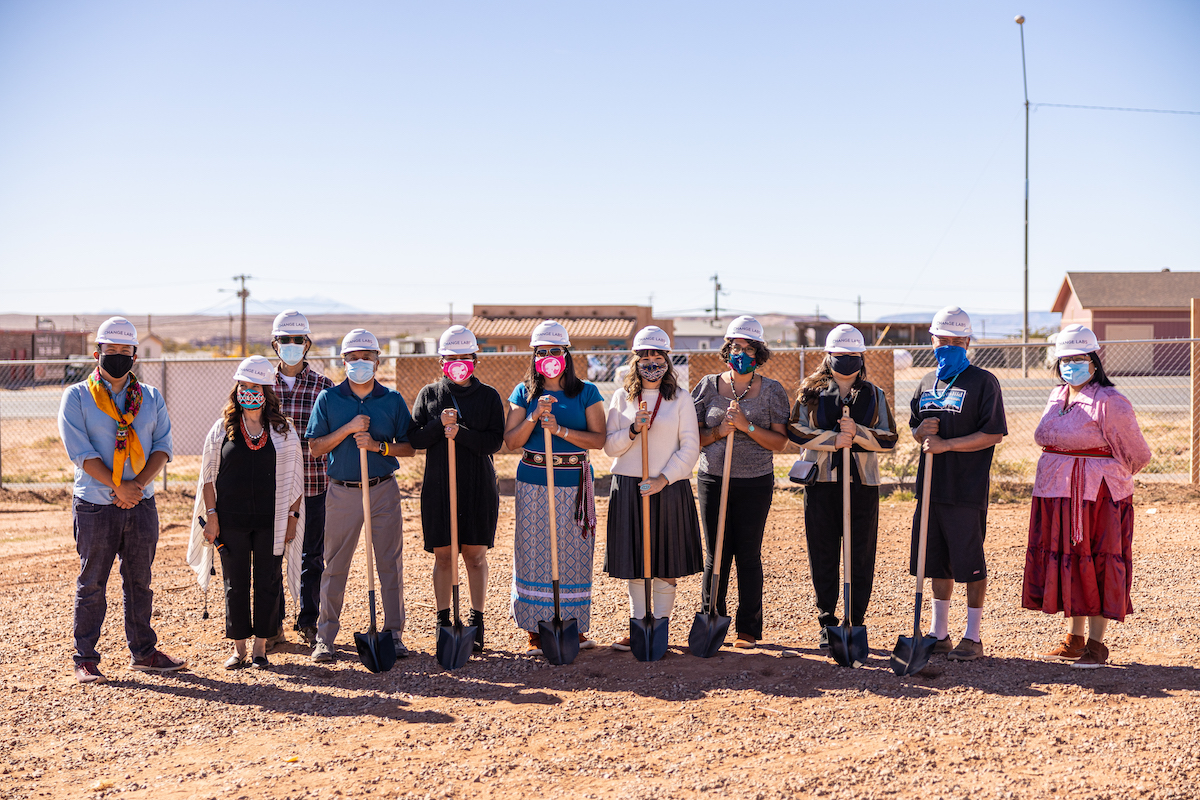 Details

By

Tribal Business News Staff

Entrepreneurism
TUBA CITY, Ariz. — A project four years in the making took another step toward completion in mid-November as business incubator Change Labs broke ground on its new headquarters.
The new 2,000 square-foot building, aiming for completion in late 2021 or early 2022, will serve as a "communal space for the public."
Community members and incubator cohort participants will be able to use workspace, micro retail storefronts, a coffee bar and conference space, as well as community gardens.
Providing multifunctional office space will help get Navajo entrepreneurs out of their homes and into more public spaces, which will solve an array of problems. The new location will also allow them to store work equipment like printers and marketing tools, separate their work from their homes, and network with other business owners, Change Labs Executive Director Heather Fleming said in a statement.
That new center aligns with Change Labs' mission to support and educate Navajo entrepreneurs on everything from bookkeeping to marketing to web design through an annual cohort program and kinship loans.
"I think in order to create this new narrative about what it is to be a Native American entrepreneur, we have to build that presence in our communities and one of the best ways to do that is through a physical building. So, this is a huge deal for us," Fleming said.
Work on the new headquarters follows a four-year process of trying to obtain land on which to build, as Tribal Business News previously reported. Multiple plans and approaches to open a new headquarters fell through, which led Change Labs to the "verge of giving up."
"We went through plans A, B, C, D and E," Fleming said for the prior report.
Eventually, local Navajo government chapter To'Nanees'Dizi intervened to give Change Labs the land it needed. The chapter provided roughly 0.85 acres of land through a land use agreement to the organization.
"We are so grateful to them for basically taking charge of the situation," Fleming said in a statement. "I understand how difficult it could be for them to make this decision because land is so valuable on Navajo."
Since 2019 the business incubator has been headquartered in a location provided by Moenkopi Legacy Inn and Suites while officials hunted for more permanent arrangements. That allowed Change Labs to stay on Navajo land in Tuba City rather than taking opportunities in border towns like Page and Flagstaff, which went against Change Labs' mission.
"The whole point of Change Labs is to foster a Native economy, and it wouldn't be the right message if we said, 'We're going to foster Native economies in border towns,'" Fleming said.
Since the advent of COVID-19, much of Change Labs' work has been digital, easing the process of transitioning into the new space, according to Fleming, who noted the new center will help improve services to clients.
"Infrastructure for us is infrastructure for the entrepreneurs in our community," Fleming said.