Osage designer Dante Biss-Grayson will be heading east in early February for New York Fashion Week, where he will send his bold dresses, cowboy shirts, trench coats and urban styles down the runway.
While some more easily distracted designers may get swept away by soirees and spectacle around the semi-annual event where international fashion collections get shown to buyers, the press and the public, Biss-Grayson is unperturbed by all the activity. Instead, he is firmly focused on what really matters for him, his family, and his Sky Eagle brand, which he and his wife Yanti launched in 2020.
"A lot of people think runway shows are just for fun, which is great, but we're in it for the business," said the Osage designer based in Taos, New Mexico. "We want to go for buyers and to find that one partnership where we can really scale up some of these items."
In addition to showing at New York Fashion Week, which runs Feb. 10-15, Biss-Grayson is juggling a bounty of projects. He's getting ready to launch his dreamy Valentine's collection, featuring pocketed lace overlay ribbon skirts; prepping shows at the Cannes Film Festival and Bishop's Lodge in Santa Fe; and looking forward to a major movie moment.
'We're the New Warriors'
Biss-Grayson is veteran, artist, activist and designer with a background in fine art and degrees from the Institute of American Indian Arts and Rietveld School of Art & Design in Amsterdam
He didn't become so in-demand for his innovative, modern garments by just hoping for the right eyes to fall on his fashions — he invested his time in networking, sought input from family and community, and built strong social media and e-commerce platforms.
"Don't wait for somebody to discover you," Biss-Grayson said. "If you're waiting on that, you're going to be waiting forever. You've just got to get out there and do it."
Never miss the biggest stories and breaking news about the tribal economy. Sign up to get our reporting sent straight to your inbox every Monday morning.
Biss-Grayson offers an entire wardrobe for whom he has dubbed the "New Warriors"
His ambitious designs, detailed with Osage orthography and more symbols of his heritage and Pueblo culture, range from deconstructed ribbon skirts to bright and playful Wow-Pow streetwear and dramatic capes honoring MMIW.
"We're the new warriors," Biss Grayson said. "Native men and women are in boardrooms, they are teachers, leaders, representatives of their state. I envision those people wearing one of my ties or wearing one of my dresses in those arenas because it makes them feel powerful.
"That's the philosophy I've been infusing into the whole brand. It's new Native fashion that people can feel good about. The core of the business is being able to give back and inspire future generations."
Biss-Grayson's concentration on future generations was sparked by the birth of his daughter, Ella Sky Eagle, in 2019. Her arrival prompted Biss-Grayson, who was already a professional artist, to take an interest in the social issues facing Indian Country, and he committed to empowering and inspiring Indigenous people through fashion.
He began his new wearable art enterprise slowly and thoughtfully.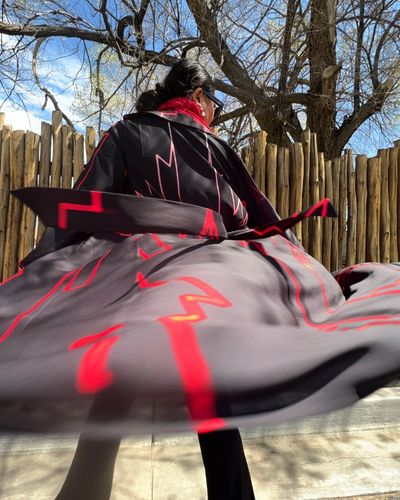 Biss-Grayson designs are for whom he dubbs "New Warriors." (courtesy photo)
"It was like a new canvas to me," Biss-Grayson says. "I just did a few pieces and people said they loved the clothes and felt really good in them. And this was right when the pandemic started, so I really just pivoted and did a deep dive because I was at home all the time in the studio reflecting and focusing on it."
He invested $5,000 in savings to start the family business with his wife, Yanti, taking on the role of stylist and sounding board.
"I've got to be humble too, because as much as I like to have bold designs, not everything's a home run," he expressed. "I need her feedback and input. It's been a good kind of yin-and-yang balance. It really takes a team. We're a small business, and we do everything from promotion to taxes to bookkeeping."
Soon after displaying his work online, his brand started growing and getting noticed.
"It was just the right time with everything locked down and people trying to get into e-commerce," he said. "We were already doing it and using social media as a way to really amplify the voice of the brand. The engagement's been huge and very positive."
He uses his strong social media presence to directly benefit Indigenous people in need. In 2020, he embarked on the 400 Ribbon Skirt Project, for which he created 400 ribbon skirts that he donated to battered women shelters on reservations in the US and Canada.
Elements of Biss-Grayson's approach to running a business come from experiences far removed from fashion and art. Biss-Grayson, who did tours in Iraq, Kuwait, Afghanistan, and Italy, draws from lessons learned in the military to keep his brand and goals in check.
"Strategic planning, like in the military world, is so important," he said. "But have a flexible plan as well, because you're going to let yourself down if you don't achieve all your objectives, but at least you know you're on the right path.
And then along the way, you may get off the path a little bit, but just stay focused and have a written plan, because you can always go back and reflect on it and evaluate yourself."
Biss-Grayson's Oklahoma-based family also contributes to his success. His sister, artist Addie Roanhorse, sells her brother's clothes and displays his art at her Big Rain Gallery in Pawhuska.
"My grandpa used to call me and Addie the bookends because we were always together," Biss-Grayson said. "We were inseparable."
The sibling bookends are also bound by their work on "Killers of the Flower Moon," director Martin Scorsese's highly anticipated film about the 1920s Osage Murders, which premieres in May at the Cannes Film Festival. Roanhorse worked on the production as an art director, while Biss-Grayson did research and helped with special effects.
"I'm in the movie, but I don't say anything," Biss-Grayson said. "I'm credited as 'The Osage Artist.' I did a live painting on camera right next to Robert DeNiro. I had the camera literally like inches from my face when I was painting. So you'll see my big greasy face on the screen."
In keeping with Biss-Grayson's dedication to educating through fashion, he Is creating a series of capes commemorating the murders to show at the Cannes Film Festival
As he moves forward in his exciting and ever-expanding career, Biss-Grayson is taking the advice he would give to any aspiring entrepreneur: "Just focus on your vision and enjoy your brand and enjoy the ride."