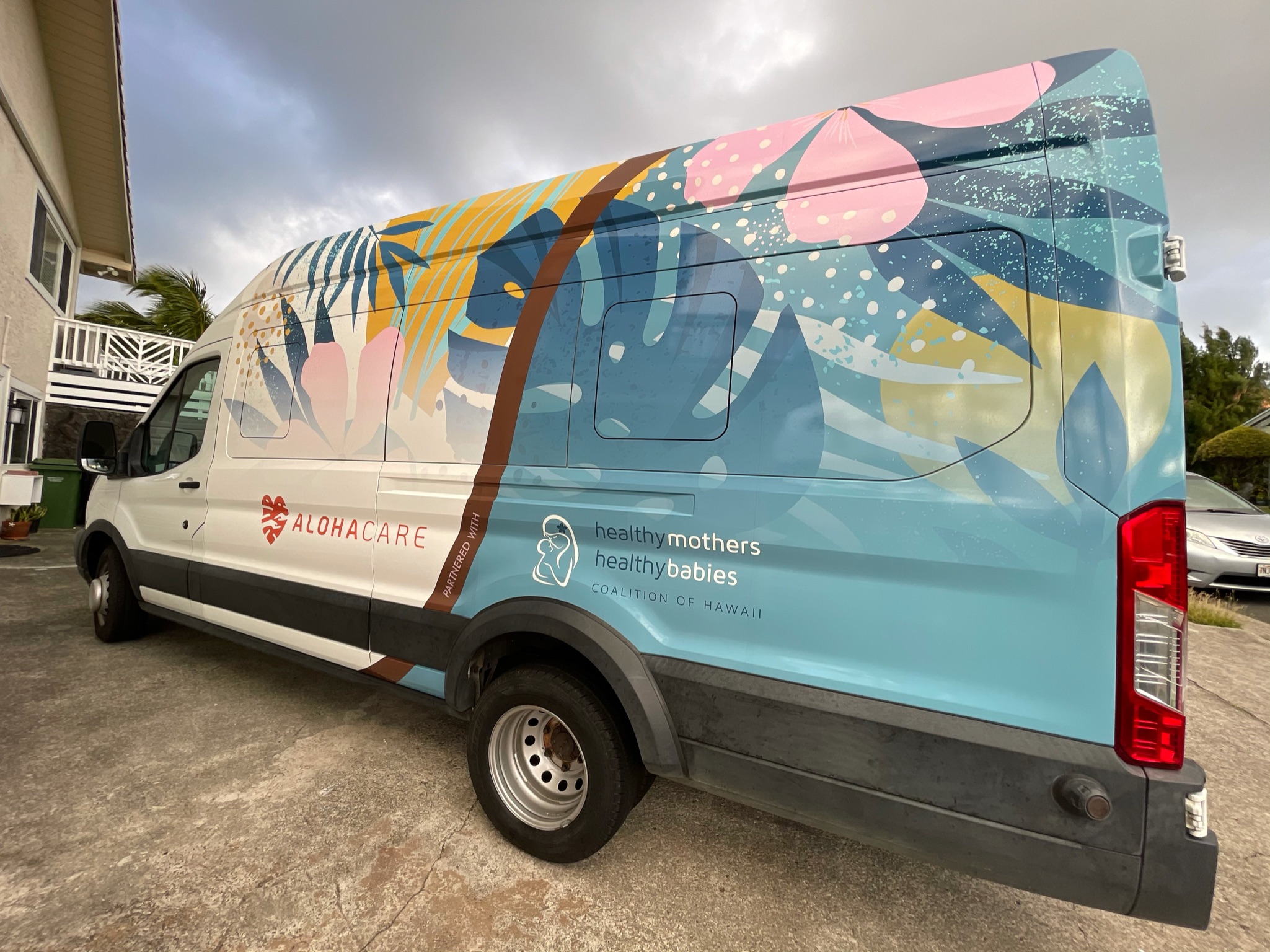 Details

Entrepreneurism
Alaska Native and Aleut tribal member Jacquelyn Ingram knew maternity care was an issue in tribal communities, between frequent financial struggles to receive care, cultural gaps between Native mothers and specialists, and ailing educational resources - all of which were exacerbated by the rise of COVID-19.
The pandemic even halted basic knowledge exchange - but the rise of telehealth in response to wide-ranging lockdowns gave Ingram the idea to bring that education and care directly to Native mothers. She proposed a mobile clinic ran out of a medical van in Hawaii, where she lived, and an intensive telehealth program meant to educate mothers on everything from pregnancy diets to early childhood care.
"I'm a midwife, and there's very few of us in this profession who are tribal, who have that traditional background," Ingram said. "There was an opportunity to tie in technology to that, though, to reach people where there might not be specialists."
That marriage of traditional knowledge and modern technology made Ingram's solution a good fit for the MIT Solve Indigenous Communities Fellowship. She, along with fellow project coordinator Sunny Chen, secured a spot in that fellowship's 2022 cohort to create Mana Mama/Anax Angil (or "breath of a mother" in Aleutic) a technical support network that provides maternal telehealth care in Hawaii and across the mainland.
Never miss the biggest stories and breaking news about the tribal economy. Sign up to get our reporting sent straight to your inbox every Monday morning.
"The support has been really great," Ingram said. "We've had these monthly cohort calls that discuss how to get funding and grant opportunities, support in networking, and check in with each others' progress on our solutions."
With 2022's cohort deep into its first-year support cycle, the Indigenous Communities Fellowship has opened applications for 2023's cohort through May 9. For the first time since the program's inception in 2019, applications are open to Indigenous people in both the United States and Canada.
The fellowship serves as an extension of MIT's Solve program, which aims to meet "challenges facing the world" by supporting leaders, creators, and thinkers in developing and employing tech-based solutions.
For the Indigenous Communities Fellowship, meeting its mission is two-fold, said MIT US Communities Lead Aaron Slater: supporting Native entrepreneurs using modern technology to solve long-term issues facing Indigenous communities, as well as highlighting traditional knowledge and practices still used today.
"We're looking for tech-enabled solutions that are community-based solutions from within these communities — we believe fundamentally that if we're ever going to be solving challenges in our communities, they have to be from the ground up and not the top down," Slater told Tribal Business News. "We also understand the importance of harnessing traditional knowledge and technology in the solutions themselves — our cultures are truly a protective factor in our Indigenous communities, and they're crucial to maintaining our lifeways in modern existence."
The program will select six to eight projects to support over the course of a year, Slater said. On a broad scale, every solution gets a "minimum" of $20,000 in funding, as well as additional funding tied to specific prizes determined during the application process.
On an individual basis, fellowship participants get an initial evaluation of their needs and how best to meet them. From there, they receive customized support based on that appraisal. That could mean anything from helping project managers find grant funding to connecting people with relevant researchers and labs at MIT — whatever best suits each individual project, Slater said.
"We really want to be able to approach the needs of the individual and how they need to grow their solution, and figure out what the best kind of support we can provide is," Slater said. "Moreover, they're fundamentally joining a peer community of support and Indigenous excellence, which I find to be one of the greatest assets in the program."
The program supports a wide array of project ideas across four broad areas: economic development and opportunity, energy sovereignty and climate resilience, education support, and culturally-driven mental and physical health support, such as Mana Mama/Anax Angil.
Projects outside of those four boxes are welcome but may require additional development to secure a spot in the cohort, Slater said.
"We might like to see the sorts of initiatives we think are really valuable and needed, but we also don't want to be overly prescriptive," he said. "We understand that the best solutions come by and from these communities, and there might be solutions out there to problems we don't even know about."
Slater also encouraged potential applicants to apply even if their solutions weren't rooted in modern technology, but rather traditional knowledge. The program considers Native tools and technology just as valuable and viable as emerging solutions like broadband connectivity and computing, he said.
"Take, for example, the agricultural practices of indigenous peoples, not just in the United States, but around the world, who might be using practices and technologies that are centuries old, but are still bleeding edge and remain sort of the top of the line practices that we can be engaging with," Slater said. "We really put a premium on supporting these Indigenous knowledge systems and the technologies embedded within them."
For Ingram's program, for example, that means combining modern health practices with traditional practices that mothers in Native communities might be more accustomed to. She pointed to her home state of Alaska where she might encourage Mana Mana/Anax Angil participants to include more salmon or local berries in their diet.
That can be important in not only supporting physical health, but mental and cultural health as well, Ingram said.
"I think it's a way to connect people with their culture and make sure they get what they need," Ingram said. "I think using that traditional knowledge keeps people connected with these transformative life experiences they're having."
Partway through her cohort year, Ingram said she's glad for the help and support she has received so far, and encourages Indigenous people with big ideas to reach out and apply for the program.
"We all have these unique stories to add to the richness of life; the solutions won't come unless we've put them out there," Ingram said. "Think about a need."