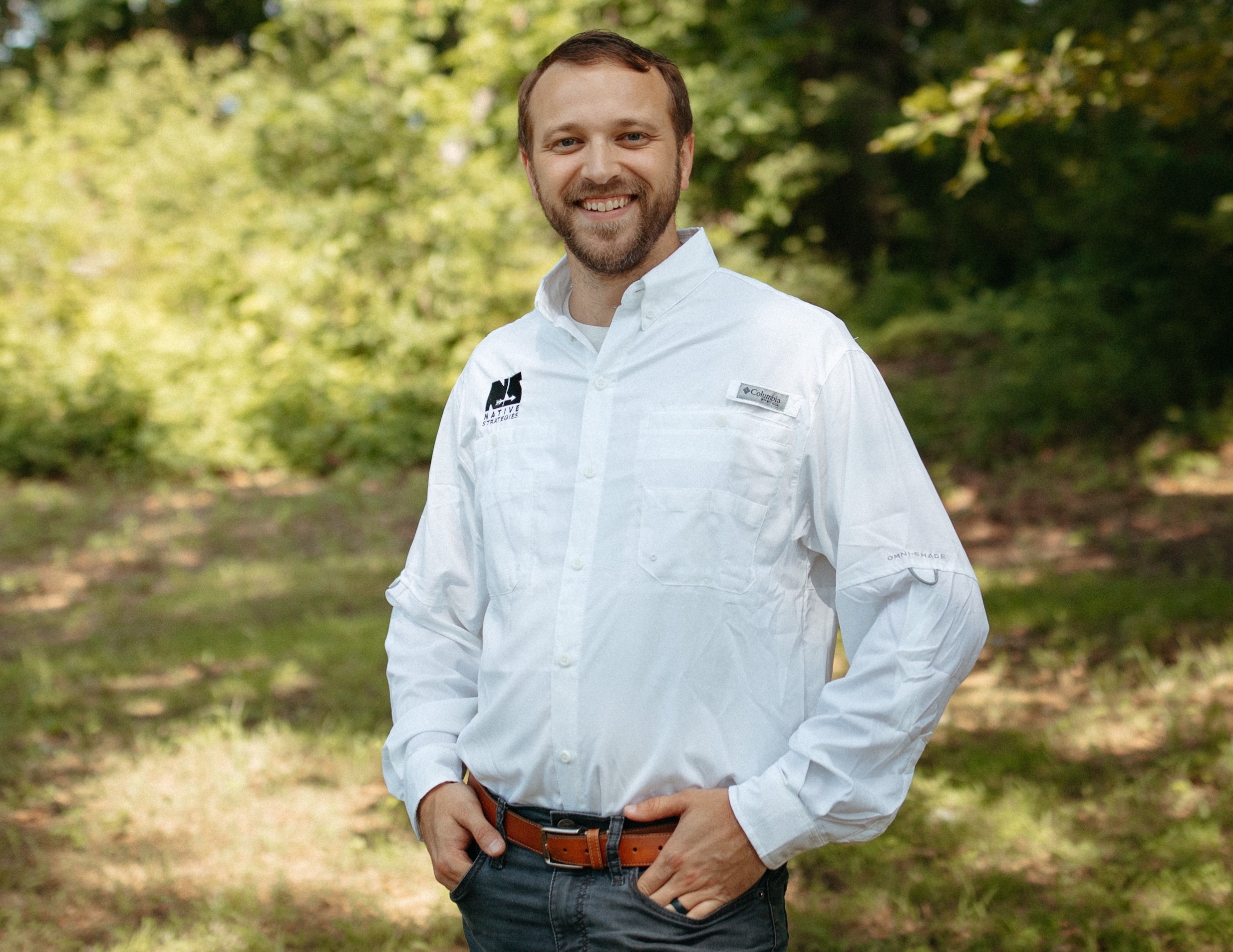 Details

Entrepreneurism
When Steven Hollabaugh (Cherokee) talks about starting his civil engineering and construction management firm at "the right time", you don't expect it when he defines the date: April 14, 2020.
Hollabaugh, who had spent years as a civil engineer working mostly on municipal projects such as street-widening initiatives, admits launching his Native Strategies firm right at the onset of the COVID-19 pandemic made getting things off the ground a tad difficult.
But it also gave Hollabaugh, the sole employee at the time, room to set up shop, refine his Native-centered business plan and start building relationships with tribal leaders. And he was supremely confident about two things: tribes needed help with infrastructure and construction, and they needed it from people who understand their culture.
Never miss the biggest stories and breaking news about the tribal economy. Sign up to get our reporting sent straight to your inbox every Monday morning.
Now, two months into 2023, Hollabaugh employs a 24-person, fully remote team of engineers and managers working on roughly 40 tribal and federal projects across the United States. Their goal is to provide an Indigenous-led perspective in an industry with traditionally small Native participation, Hollabaugh said.
"Really, even with COVID-19 coming around we started at the right time," Hollabaugh told Tribal Business News. "There are a lot of tribes who really need infrastructure work and there's been a lot of tribal and federal support for building out that infrastructure. We've filled this niche that has opened up (opportunities) to meet that need and identify those problems."
Hollabaugh attributes the meteoric growth to two things: a rapidly solidified reputation in Native Strategies' early days among its first clients, and a focus on sustainability and shoring up longtime weaknesses in tribal infrastructure.
While construction management has proven a popular choice for tribal enterprises, Hollabaugh's entry into the industry as an individual entrepreneur is rare for Natives, according to industry statistics. Per demographic data collected on job aggregator Zippia.com, roughly half a percent of engineers they surveyed identified as Native American or Native Hawaiian.
Hollabaugh came to the engineering industry from a background in construction, where he saw a need for a focus on long-term sustainability, he said. While tribal enterprises are increasingly venturing into professional services, Hollabaugh saw "hardly any Natives" providing those services on their own, he said.
That pushed him to open Native Strategies, hoping to provide a Native-led service for tribal projects. Having that Indigenous perspective would help Native Strategies ensure that contractors provided culturally-accurate work that aligned with a tribe's history and values, Hollabaugh said.
"The Native perspective is a different understanding of what the client is looking for," Hollabaugh said. "In a lot of ways, the challenges facing our tribal clients are different — we need to design around heritage, tribal symbols, and so on. We're there to make sure the work doesn't stop at 'close enough' when it comes to these cultural elements."
Hollabaugh pointed to the Peoria Tribe of Miami, Oklahoma as recent clients. The group designed and then managed the construction of a community center and learning center as part of a Peoria push toward building community spaces, he said.
Native Strategies does a lot of the same work as a non-Native construction management firm - what makes the company special, Hollabaugh said, was its insistence on cultural accuracy and respect when building relationships between tribes and contractors.
"It turned out really beautiful," Hollabaugh said. "You've got to be careful because you're designing around a history, and a culture, and you're building something that has to be sustainable for not just this generation, but multiple generations into the future."
Native Strategies' portfolio also includes agricultural and civil engineering work, such as bison management work for "a lot of tribal partners" or water testing management for the Bureau of Indian Affairs, Hollabuagh said.
The BIA contract — about six months into its two-year duration — serves as the company's biggest project right now, Hollabaugh said, testing for water quality and safety across 260 locations that serve roughly 350 tribes in total. The company records levels of lead, copper, and arsenic, and reports back to the BIA so that the agency can work out water safety protocols.
That leaves a lot of money on the table for potential Native entrepreneurs and their communities, according to industry experts.
The American Indian Science and Engineering Society (AISES), a group founded to promote Native Americans working in all STEM fields, found in their 2021 annual report that non-STEM jobs were making roughly $38,000 per year, while STEM careers averaged at $86,000 per year.
The reasons for such vanishingly small participation in engineering industries stem from poverty and a lack of educational access, according to a December 2021 report from the American Society of Mechanical Engineers. Native students, struggling to make ends meet at home, find themselves "stretched between two worlds" attempting the rigors of complex mathematics and engineering classes, writes ASME author Michael Abrams.
A prior story by Tribal Business News reported something similar, finding that Natives were often forced by circumstances to work and earn money at home while trying to go to school, which inhibits attendance. Even gathering data on Native college attendance was a difficult process, given how many reports simply don't factor in smaller Native populations or account for their unique challenges in scholarship programs and support tracks.
Circumstances are improving, per the AISES annual report, however: a range of programs and scholarships are collecting better data and targeting Native students and entrepreneurs with better support.
As new funding, new ideas, and new programs find their way into Native schools and business aspirations, Hollabaugh has one piece of advice: don't give up.
"I came into this because I had a heart for giving back to the community I was raised in on a technical level. I had a passion for it. If you've got a passion for it, don't give up - you've got the skill, you've got what it takes, and you should continue to persevere," Hollabaugh said. "You just have to keep going."
Want more news about the $130 billion tribal economy?
Tribal Business News publishes thoroughly reported and well-crafted stories about Native businesses and entrepreneurs, growth and expansion strategies, best practices, economic data, government policy and other relevant business news. Tribal Business News is required reading for tribal council members and leaders of Native businesses, as well as state and federal legislators, policymakers, economic developers, entrepreneurs, bankers, lawyers and anyone interested in doing business in Indian Country.
Sign up for our free newsletter to track Native business and the tribal economy. Or sign up for a premium digital subscription ($99/year or $10/month— cancel anytime) to gain full 24/7/365 access to our business news reporting. Megwetch.