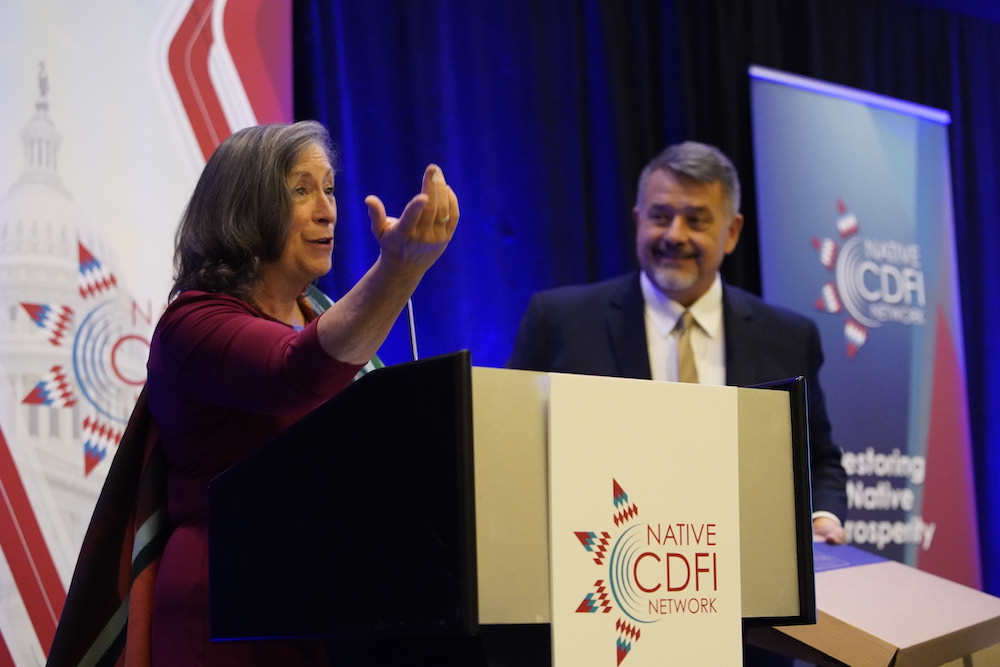 Details

Finance
WASHINGTON — Not long after Interim CEO Pete Upton (Ponca) welcomed attendees to the Native CDFI Network's Annual Policy & Capacity Building Summit in Washington DC earlier this month, he announced a last-minute change to the day's agenda.
Rather than kicking off the conference with the scheduled panel discussion, Upton instead introduced a surprise guest: the newly minted Treasurer of the United States, Chief Mutáwi Mutáhash (Many Hearts) Marilynn "Lynn" Malerba, a citizen of the Mohegan Tribe and the first Native American ever to hold the position.
"Nothing is better than starting my day in a room full of Indigenous people," an energetic Malerba told the audience. "It just is such good medicine for me and it gives me such good energy for the rest of the day."
Over the next 30 minutes, Malerba shared some of that good energy. She praised Native CDFIs for their work, took questions from attendees and shared insights about the work of the tribal teams at Treasury, including the new Office of Tribal and Native Affairs, led by Acting Director Fatima Abbas (Haliwa Saponi).
"It's exciting for the first time ever that we're going to have an Office of Tribal and Native Affairs at the Treasury," she said. "Our goal is to be a strong voice for all the programs that touch tribal nations – the Native CDFIs being a very essential one."
Malerba was the first of nearly 40 speakers and panelists who spoke about the necessity of Native CDFIs in Indian Country, as well as policy challenges and potential solutions, during the three-day summit at the Hyatt Regency Capitol Hill.
The event drew approximately 150 attendees, including executives from Native CDFIs and collaborative organizations, Congressional members, and senior officials from the U.S. departments of Treasury, Interior, Agriculture, and Energy and other federal agencies.
Onna Labeau (Omaha Tribe of Nebraska), director of the Interior Department's Office of Indian Economic Development, delivered what she called her first public speaking engagement since taking the job earlier this year. On the Summit's first day, she talked about OIED's efforts to bring additional capital to Native CDFIs and decrease administrative requirements surrounding lending insurance and audits. She also spoke about the Biden administration's commitment to creating opportunities for Native Americans.
"Economic development in Indian Country is a high priority for the Biden administration … (and) access to capital is a high priority," she said.
Senator Tina Smith (D-MN), a member of the Senate's Indian Affairs and Banking committees, spoke on the Summit's second day about the important role Native CDFIs play in Indian Country, as well as her efforts to advance their work.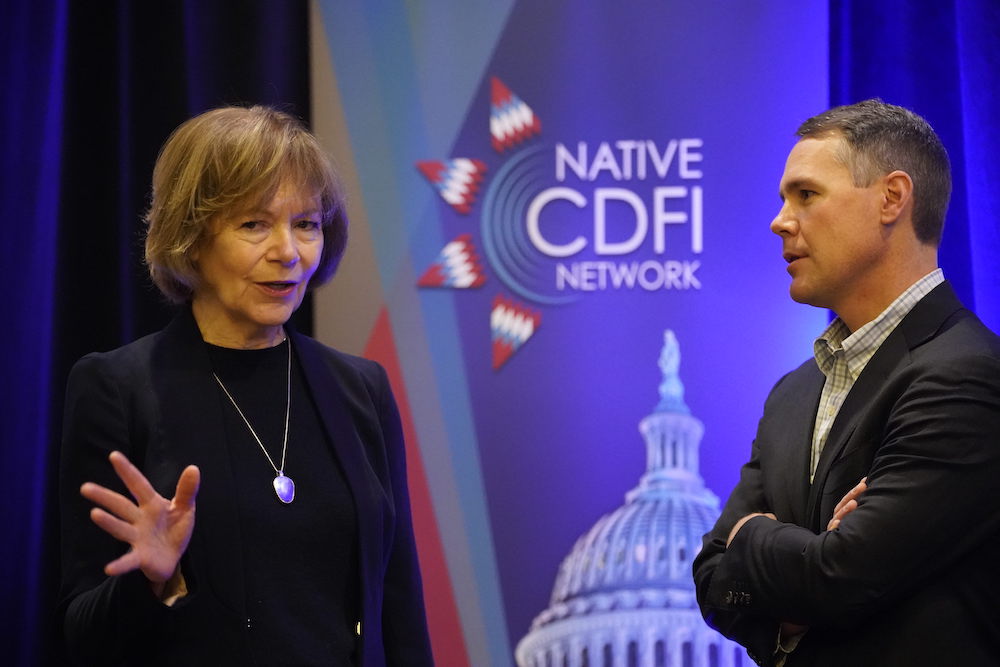 Senator Tina Smith (D-MN) speaks with Casey Lozar of the Federal Reserve Bank of Minneapolis and the Center for Indian Country Development on December 7 at the Native CDFI Network Policy Summit. (Photo: Liz Lynch for Native CDFI Network)"I have seen first-hand that Native CDFIs are bringing capital and financial services to some of the most under-served communities in the country," Smith said. "And these are communities that are so rich in so many ways and have so many assets, but they have been held back by systemic gaps in access to capital, in small business development, in home ownership, and in economic development, including broadband. CDFIs are there … to bridge that gap, and you need the federal government to be a good partner in that effort."
Smith called for fully funding the CDFI Fund's programs and for updating the CDFI bond guarantee program so that it works as a low-cost reliable source of capital for smaller CDFIs. She also pledged to work with Native CDFIs to assure a "strong" set-aside for Native communities in the new market tax credit program.
Later that day, U.S. Rep. Sharice Davids (D-KS), a Ho-Chunk citizen and co-chair of the bipartisan Native American Congressional Caucus, echoed Smith's sentiments in an address to Summit attendees. Like Smith, Davids is working on bipartisan efforts to expand access to capital, Native housing and increased new market tax credit opportunities for Native communities. A member of the House Small Business Committee, Davids has spent the last four years working to ensure that all entrepreneurs, including Native entrepreneurs, have the resources they need.
"There are a lot of unique barriers that we see in Indian Country and that Native entrepreneurs face," she said. "It's part of why I've been a long-time proponent of Native CDFIs, because I know that (you) help Native entrepreneurs succeed and increase access to capital and to credit and other vital financial services."
Davids also talked about the importance of creating more opportunities for homeownership among Native Americans, including those who live on reservations. In 2019, the homeownership rate for Native was 50.8 percent and the rate for white, non-Hispanic Americans was 73.3 percent. "That is a staggering difference," Davids said. Native CDFIs can play an important role in narrowing that huge gap, she said.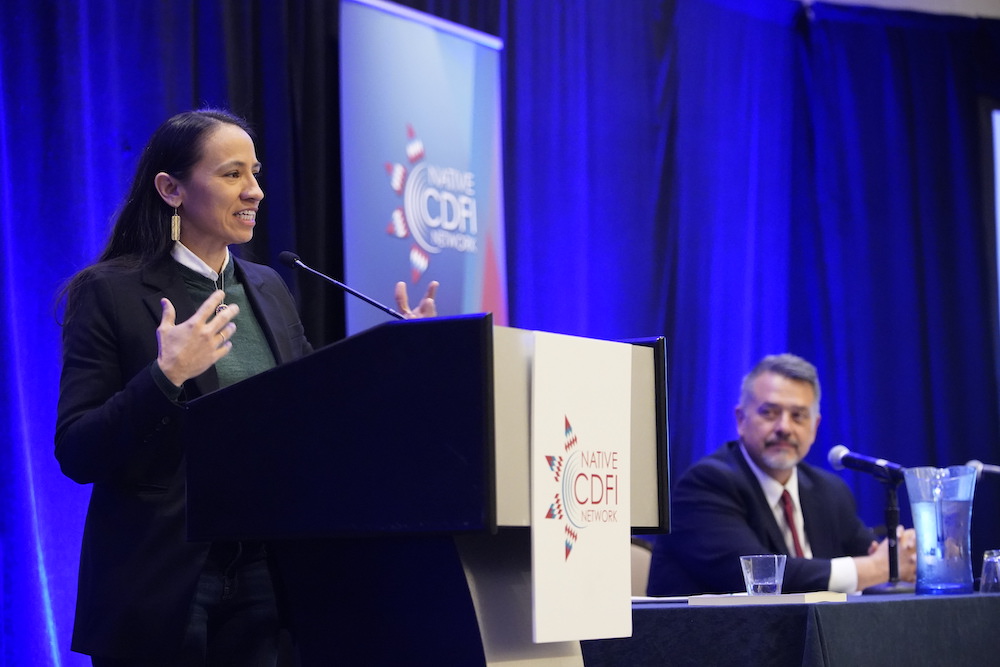 Rep. Sharice Davids (D-KS) speaks at the NCN Policy Summit on December 7 as Interim CEO Pete Upton looks on. (Photo: Liz Lynch for Native CDFI Network)"I think that recognizing that Native CDFIs have that local knowledge, that expertise (and) boots-on-the ground connection with the community to reach Native homebuyers more effectively — especially for folks who are living on reservations — can have a profound effect."
On the Summit's third day, Jody Harris, the director of the Treasury's CDFI Fund, engaged with the Summit audience for nearly an hour, including an extended Q&A session with Native CDFI executives. Harris began her remarks talking about some of the challenges facing her organization, which has seen significant growth in the number of certified CDFIs nationwide and "unprecedented demand" for CDFI program and funding.
The 2022 funding round of the CDFI Program and the Native American CDFI Assistance (NACA) program drew 719 applications for $577 million, which is "a lot more" than is available under the program, Harris said. The volume of applications in the 2022 funding cycle forced the CDFI Fund to stagger the awards decisions for technical assistance and financial assistance.
More than $27 million in technical assistance awards were announced in September, including 16 organizations that received $2.4 million in funding through the NACA program.
The financial assistance awards for the 2022 cycle will be announced during the first quarter of 2023, Harris said, and the CDFI Fund will also be issuing a public comment process so it could look at ways it could update and enhance the CDFI and NACA programs. The CDFI will also be delaying the 2023 TA and FA programs to later in the calendar year, Harris said.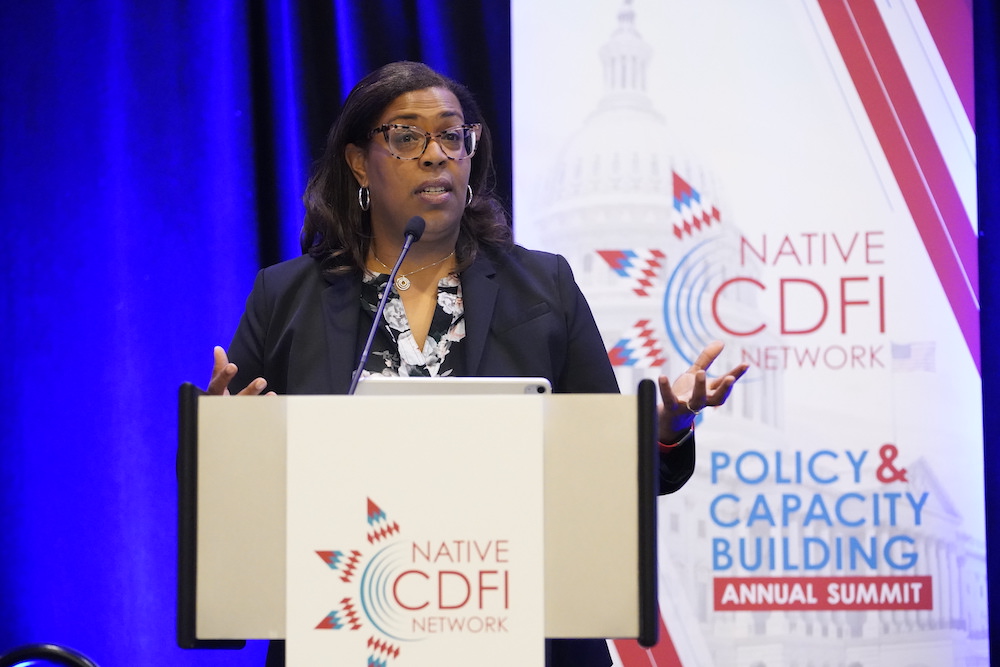 Jodie Harris, director of the Department of Treasury's CDFI Fund, at the NCN Policy Summit on Dec. 8. (Photo: Liz Lynch for Native CDFI Network)"It's a little bit of a shift in calendar, not just to accommodate the work that the programs teams want to do on the policy side of the programs, but also factoring in the other initiative like certification," she said "we want to make sure that groups who are seeking certification and will be eligible to apply will have that time to do so."
The delay in announcing 2022 financial assistance awards has created issues for some Native CDFIs, according to executives who participated in more than 45 minutes of questions and answers with Harris.
"It's really created problems in Indian Country," said Rjay Brunkow, CEO of Little Canada, Minn.-based Indian Land Capital Company (ILCC), a federally certified Native CDFI that provides alternative loan options to Native nations for land acquisition projects.
The NACA Awards are a "direct shot" to ILCC's balance sheet that helps it leverage more investment capital and also helps keep it in compliance on bank loan covenants at year-end when things get tough, Brunkow told Harris. About 60 percent of ILCC's lending capital comes from bank debt and the NACA awards announcement also helps him in planning for the future.
"An award announcement in 2022 allows us to begin that conversation to acquire new debt to get money out to Indian Country," Brunkow said.
Harris also addressed questions about proposed CDFI Fund certification changes that could have a devastating impact on Native CDFIs. During the recent comment period, The CDFI Fund received five times more comments than the previous period in 2020, Harris said.
"We received really substantive comments and will take the time to figure out how to incorporate them," she said.
As the conference came to a close, Upton reflected on the opportunity to bring together so many people who can have an impact on Indian Country.
"As we leave here today, the thing that I want everyone to think about is all the pieces of the puzzle we had here in the room over the last three days, and how they can all fit together to create opportunities for Native communities," he said.