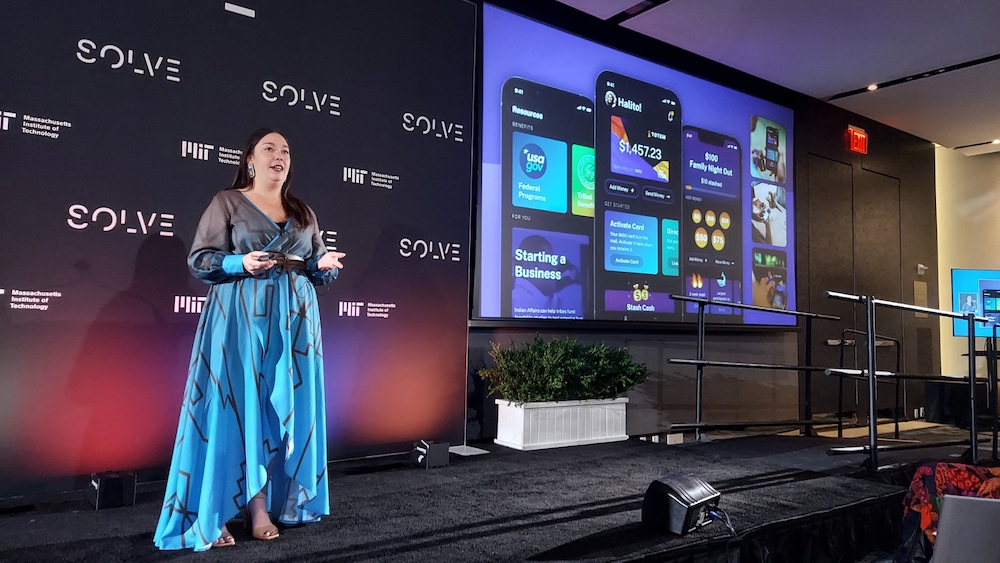 Details

Finance
Native Americans are the most unbanked group in the country, with 16% lacking access to banking services. This can lead to a range of challenges, including difficulty accessing credit, paying for basic necessities, and gaining financial literacy.
Amber Buker, a Choctaw Nation member who grew up in Tulsa, Oklahoma, experienced these challenges firsthand. When she was younger, she made mistakes with credit cards due to a lack of guidance. As she got older and worked to fix her credit, she realized that many banks didn't understand the unique needs of Native Americans.
"There was a really huge invisibility gap which is something that is so common for Native people," Buker told Tribal Business News. "I got curious and I started looking into financial services specifically, and that invisibility carries over into financial services as well. I thought, if they knew some of the lived experiences of Native people, they might make different policies."
In 2021, after eight years in college and a banking gig, Buker, who is also an attorney, founded Totem, a startup that offers a range of financial products and services tailored to the needs of Native Americans. Totem's services are designed to be accessible to Natives who lack broadband or live on reservations or in rural areas that are so-called "banking deserts."
The company, which raised $2.2 million in investment funding last year, launched its new spending account product in July 2023, garnering "multiple hundreds" of users - an "amazing" pace for a small banking operation, Buker said.
"It's been really exciting," Buker said. "We had to sort of stick it to the man and launch our customer accounts July 3, right before July 4. Getting people to change bank accounts is a big ask, and we've been pretty blown away by the response so far. People are already asking us for new things, the biggest of which is business accounts. That's exciting because they want to trust us with the funding for their beadwork side-hustle or their podcast or their cement mixing business."
Totem's Native-centric business model made it a "compelling" opportunity for investors like Raven Indigenous Capital Partners, which led the first funding round with $1 million and has joined a follow-on round with an additional $500,000, according to the fund's U.S. market lead, Garry McBerryhill, a citizen of the Muscogee (Creek) Nation.
"I've had a lot of the same experiences Amber had in struggling with the programs that exist to help us," McBerryhill said. "The way [Buker] brought together her experience, her knowledge about the industry, and this incredibly ambitious vision — we were excited to build up that relationship."
Never miss the biggest stories and breaking news about the tribal economy. Sign up to get our reporting sent straight to your inbox every Monday morning.
Totem's success alsor earned Buker a spot recently among seven new fellows MIT Solve's Indigenous Communities Fellowship, a sub-cohort of MIT's larger Solve program, which provides grant funding, technical assistance, networking, and mentorship to entrepreneurs. Solve Indigenous fellows are chosen through a competitive process to work on solutions that utilize technology to solve social problems.
Totem's technology solution is to deliver banking from the Native perspective, which for now means no monthly fees, no minimum balance requirements, and mailing a debit card where you need it to go. The service also supports Totem-to-Totem money transfers with no fees.
"There's a lot of times where auntie needs 20 bucks, so being able to share funds is super important," Buker said. "We wanted to have a safe, free account that benefits could be deposited into, and we also prioritize features that uphold Native values."
With Totem's spending account product off to a successful kickoff, Buker is turning her sights toward building partnerships with tribes to deliver benefits and citizen payments through Totem, rather than paper checks or prepaid debit cards, which can carry check-cashing fees, ATM fees, or fees leveraged by prepaid card companies.
"When you look at (fees) on prepaid cards, you see that two to four percent of the value on that card ends up lost and never returned to the tribe," Buker said. "At every modality we look at it, the people, the tribal members are not getting the full amount of benefits they're entitled to, because just like Native communities are invisible to retail banks, tribes become invisible to these companies they work with."
Building partnerships with tribes represents one way the company plans to generate revenue, alongside interchange fees on debit transactions, Buker said. But the real benefit is creating a "virtuous cycle" where partner tribes, which also receive a portion of the company's interchange fees, keep money circling around the reservation, rather than bleeding out into the wider economy.
"Basically, what we're doing is creating a financial ecosystem, and we're really a company that exists to serve this financial ecosystem," Buker said. "We're keeping money in Native communities for longer."
That's one of the many reasons there should be more Native companies in fintech and banking, McBerryhill said.
"Indian Country and Native business leaders have a lot to add to financial technology and financial services. We bring a deep understanding of the barriers that marginalized communities face in trying to access our money," McBerryhill said. "Every part of that business - there is a need for Native business leaders to come in and make their impact there.
"I have a lot of belief and conviction in the Native business community to modernize, and innovate, and to better the way these industries work."