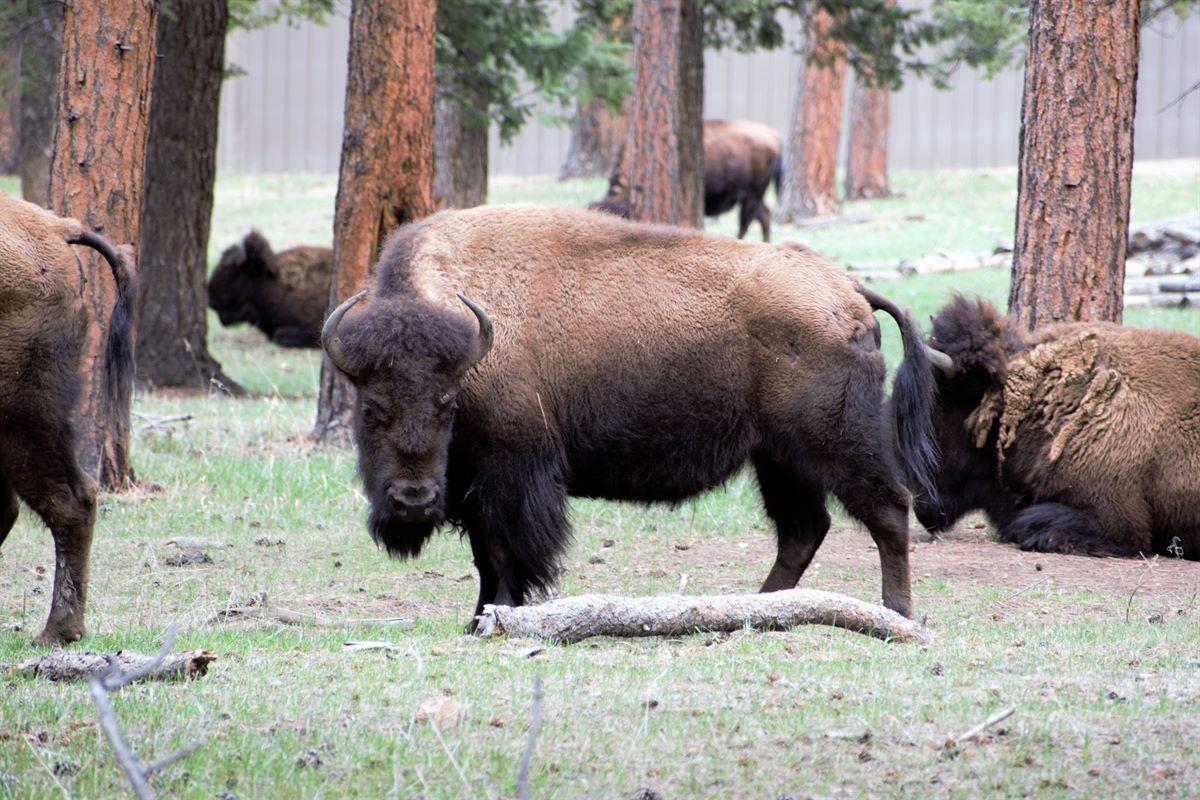 Details

Food | Agriculture
A group of 13 female bison joined a 500-strong herd on the Cheyenne and Arapaho Tribes' reservation in Western Oklahoma in early April, thanks to efforts by the city of Denver, Colo. to avoid auctioning off surplus animals.
The bison will help improve genetic diversity in the Oklahoma herd and assist handlers in breeding more animals, said Cheyenne and Arapaho Department of Business Executive Director Nathan Hart.
Consequently, the donation will help maintain and improve what has become the tribes' main agriculture enterprise with its bison herd, Hart said.
"We utilize our herd as a source of food to our tribal members. To sustain the ongoing cost of managing the herd, we have our own private label meat product, Black Prairie Bison, and that's the commercial side of the herd," Hart said. "We still have some row crops and cash crops, but the bison herd is the core of our operation."
The city selected the Cheyenne and Arapaho as the first recipients of the surplus bison from Denver Parks and Recreation's herd because of the tribes' historical connection to the area. Colorado was home to each tribe's first reservation prior to their forced removal to Oklahoma, Hart said.
"There's a lot of cultural significance, a lot of history that kind of ties back to this donation," Hart said.
As part of the Denver Mountain Parks system, Denver Parks and Recreation maintains two bison herds, which stem from conservation efforts in the early 1900s. For years, the city auctioned young bison to control the size of the herd, but will eschew the practice moving forward, opting instead to work with tribes across the country to build and enhance their herds.
"Denver shares a common vision with our tribal partners to return and restore wild bison back to historical habitats and ancestral lands," Denver Mayor Michael Hancock said in a statement. "Bison restoration efforts teach us how to be better stewards of the land, improve prairie landscapes and ecosystems, ensure genetic diversity of the species, and ensure a legacy of cultural understanding."
FOCUS ON BISON
The donation precedes further moves by the Cheyenne and Arapaho to centralize bison as both a food source and economic driver. In addition to converting more of their 9,000 acres of agricultural grounds to grazing land, the tribe is in the design and final funding stages of establishing a meat processing plant.
Under the $16 million project, the tribe will construct a plant capable of sustaining expansion plans for Black Prairie Bison by moving into convenience stores and restaurants, first tribally owned locations and then privately owned third-party stores, Hart said.
Moreover, the plant should prove attractive for private cattle producers in Western Oklahoma, Hart added.
"That's going to meet our demands for what we need to process our own meat, but it's going to be an avenue for a lot of cattle producers in this area as well," he said.
The tribe initially planned to fund the plant using funding from the Coronavirus Aid, Relief, and Economic Security (CARES) Act, which distributed $8.8 billion total to federally recognized Native American tribes in response to the spread of COVID-19. However, the tribe eventually realized the funding wouldn't cover a plant large enough for the planned operation, Hart said.
Instead, the tribe used the CARES Act funds to construct greenhouses for vegetable production. In the meantime, funding for the plant has been secured from tribal funds and private equity.
"We're very close to signing all the documentation to having that 100-percent funded," Hart said of the meat processing plant.
CULTURAL SIGNIFICANCE
Despite the growth plans, building out a market for Black Prairie Bison serves a secondary purpose for the herd, which is primarily used to provide food directly for the tribe. For the tribe, maintaining a herd, building a tribally owned meat processing plant and constructing greenhouses are all steps it is taking toward feeding members in need and improving access to traditional foods.
"We can't supply 100 percent of the food needs to our tribal membership, but we can take small steps toward that goal. Our primary focus is meat sources for our elders, and then a food source to people who need the healthy meat product in their diets to help them out," Hart said. "We want to meet the needs of our tribal members."
Many tribes like the Cheyenne and Arapaho are working to return to traditional, self-sustaining food systems to address systemic health issues, such as high rates of obesity and diabetes, according to a previous report from Tribal Business News. A 2016 Centers for Disease Control and Prevention report notes that Native Americans are two to three times more likely than other ethnic groups to contract Type 2 diabetes.
That same report also concludes that traditional food initiatives, like the CDC's own 2008-2014 program or more modern food sovereignty efforts by tribes, are effective ways to combat those health disparities.
Improving the health of members proved a central theme for the efforts to maintain and grow the Cheyenne and Arapaho's bison herd, Hart said.
"Food sovereignty is a very big aspect of what we focus on with our agriculture operations," he said. "We want to build a herd that's here for the benefit of the tribe for generations to come."