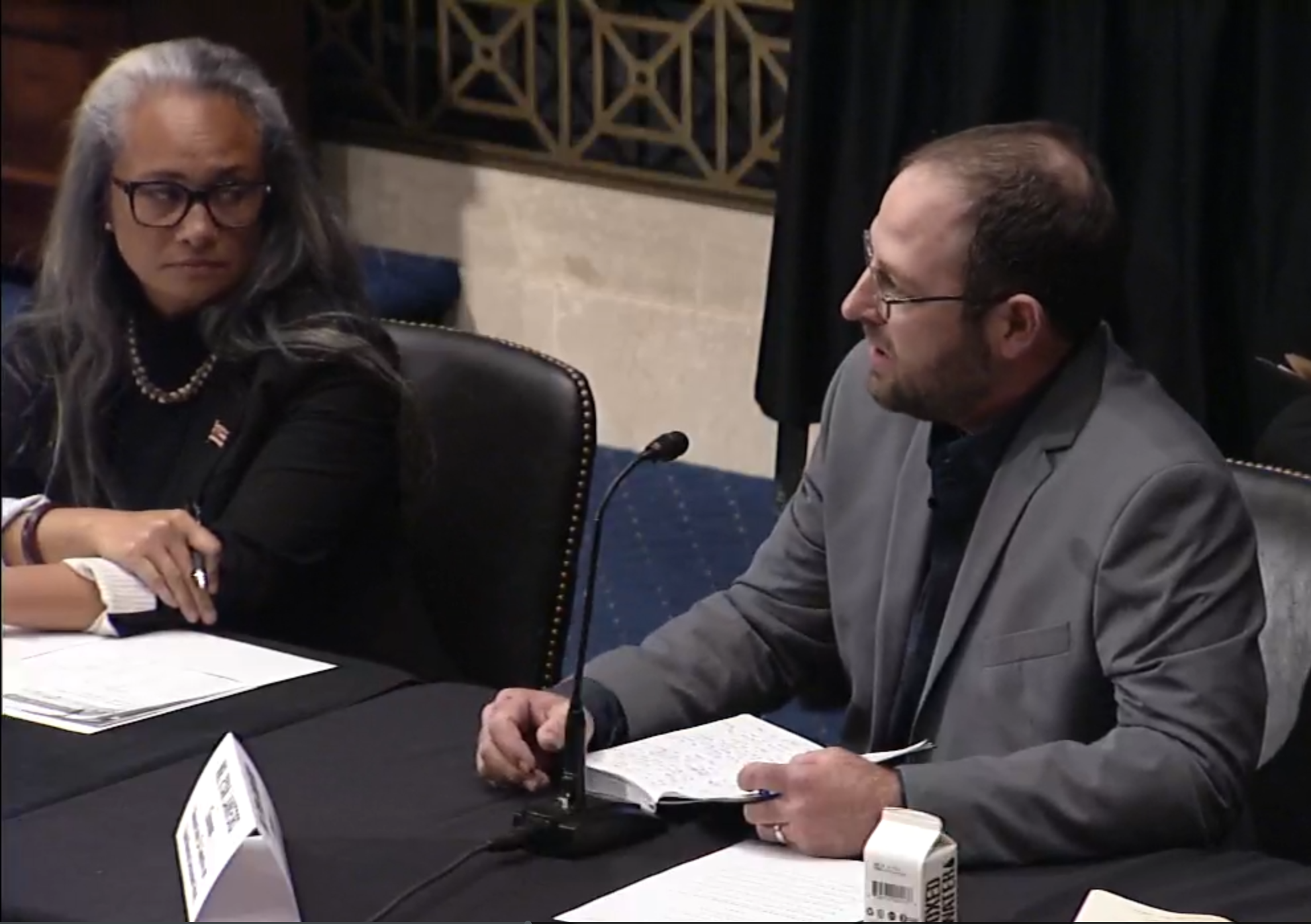 Details

Food | Agriculture
A roundtable hosted by the Senate Committee on Indian Affairs last week revealed a clear priority as to what Indian Country needs in the 2023 Farm Bill: self-determination.
The hearing, "Native Priorities for the 2023 Farm Bill Reauthorization," brought together representatives from tribes, intertribal organizations, and enterprises. Representatives circled back repeatedly to self-determination in their remarks, particularly when it came to choosing which foods were eligible for the Food Distribution Program on Indian Reservations, or FDPIR.
The topic arose due to a pilot program outlined in the 2018 Farm Bill, wherein eight tribes/organizations were allowed to source other foods for their food distribution. The program was authorized under section 93-638 of the Indian Self Determination and Educational Assistance Act of 1975, becoming known as the "638 Program" in the process.
Dr. Mary Greene Trottier, president of the National Association of Native American Food Distribution Programs on Indian Reservations, called expanding the 638 program — a central tenet of the Native Farm Bill Coalition's proposals on the 2023 Farm Bill — a "no-brainer."
"I think tribes have an interest in sourcing their own food and feeding their own food to their communities," Trottier told the Senate Committee. "You can eliminate the need for transportation to and from and back to the tribes where you can have a locally sourced product delivered right to your door. It creates economic resources for tribes and producers. If they continue this program with a steady amount of funding, you'll find that we can have a healthy offering."
Tlingit and Haida Tribes' general counsel Madeline Soboleff-Levy echoed the sentiment when Senator Lisa Murkowski (R-AK) asked about her tribe's experiences with the program.
Soboleff-Levy pointed to the practice of replacing traditional catfish in USDA distributions, which has to be barged or flown up from the lower 48, with fresher halibut and cod purchased from nearby tribal fisheries.
"Expanding the 638 contracting authority would be a huge relief in being able to navigate and ensure that traditional food and access are able to be provided to citizens in this way," Levy said. "It's tribes navigating these challenges; tribes have these commitments to their communities, so Tlingit and Haida would really speak in favor of that, thank you."
Representatives repeatedly returned to the topic when asked about their priorities for the Farm Bill — both in preserving existing measures, such as sourcing traditional foods specific to each tribe for distribution programs and expanding those measures to other areas, such as food inspections.
Agriculture and Natural Resources for Muscogee (Creek) Nation Director Trent Kissee said his tribe recently opened a meat-processing plant in Okmulgee County, Oklahoma. Navigating the consequent flurry of inspections and safety analyses made opening the facility a "cumbersome process" made worse by the relative unavailability of USDA inspectors, he told the Committee.
Kissee's solution, prompted by Oklahoma senator Markwayne Mullin (R-OK), was to allow tribes to train and certify their own in-house inspectors. Kisse pointed to the tribe's existing trust realty offices, also authorized under the 1973 Self-Determination Act, as proof the self-determination model could work beyond food distribution.
"The realty trust offices at Muscogee Creek Nation are sort of a hallmark for those programs, and they run that office really well, they're very agile," Kissee said. "It's kind of a model, and it shows 638 does work, that tribes can administer these programs, and that a lot of tribal governments are very sophisticated and able to carry out those programs no problem."
Vincent Cowboy, chief operations officer for the Navajo Agricultural Products Industry, said his organization was initially stifled because it had to wait six years for a USDA inspector to come to New Mexico.
Grant funding and support for training internal contractors could cut those wait times and provide tribes with inspectors familiar with traditional Native foods that otherwise may go uninspected or be inspected incorrectly, he said.
"A lot of these USDA inspectors don't know our small crops, so it's harder," Cowboy said. "I think we really need to expand those opportunities for an in-house USDA inspector."
Elsewhere, representatives brought up the ever-present barriers to credit faced by Native producers, chiefly due to collateralization issues around their land, which is often held in trust by the Bureau of Indian Affairs.
Ryan Lankford , chairman for the Montana State FSA Committee and Island Mountain Development Group, told the Committee that in lieu of more direct control over trust lands, banks have begun collateralizing crop insurance policies. Lankford pointed to a portion of the 2018 Farm Bill that provided, through the USDA, a 90% subsidy toward the insurance and suggested that subsidy should apply to all similar Risk Management Agency tools.
"What they can collateralize is my insurance, and that's a great tool for all Indians. We need to bolster that and we need to help that level," Lankford said. "That's literally the only way we can borrow money. I think it's crucial to put in a safety net that allows Native Americans to borrow because we can't collateralize our equipment, we can't collateralize the land, and it really leads us into a fix."
Kelsey Scott, director of programs at the Intertribal Agriculture Council, offered slight pushback on Lankford's assertion, pointing instead to the rise of Native CDFIs in securing necessary funding for producers. Moreover, Scott said, tribes could be incentivized to begin building their own insurance agencies to partner with the USDA on risk management.
"We need to be careful in our language use — it's not that trust land can't be collateralized, it's that banks won't collateralize trust lands," Scott said. "CDFIs are doing a great job at working with Indian Country to recognize that it's just a different structure set up a little bit differently. Specifically for risk management…We should really appreciate any effort towards recognizing more tribally owned and operated insurance companies for being viewed as a key partner and collaborator in identifying opportunities."
Committee Chair Sen. Brian Schatz (D-HI) said the meeting made it obvious that tribal sovereignty was in question when considering these policy proposals.
"The assumption is that there's all this knowledge in possession of the federal government and that you have to ask permission every step of the way — even if it's your land in trust, even if it's your knowledge that has been ignored, that even though you can manage something better than the federal government," Schatz said. "We want to over time open up a little aperture here, to say these are not Native peoples with their hands out saying, please help us, but we actually already know what we're doing and would you let us unleash our collective wisdom and our work ethic."