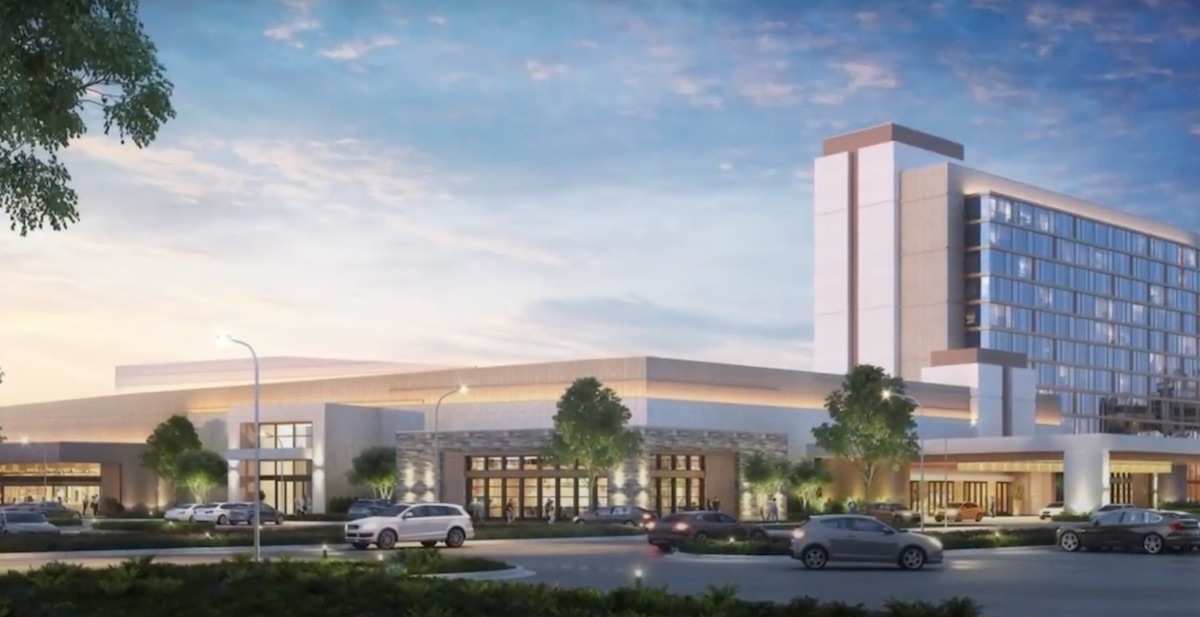 Details

Gaming
Choctaw Nation's long-term relationship with gaming financier and consultant Rob Miller brought the Oklahoma-based tribe to the table for a bid at a highly competitive commercial casino license in Cook County, Ill.
Miller reached out to ask the tribe if they would be interested in managing the proposed $300 million casino, hotel and entertainment venue in Matteson, just south of Chicago, said the tribe's Senior Executive Officer of Commerce Janie Dillard. A major draw: The exclusivity of the state gaming license means the facility will likely be the only casino location in that part of the state.
It's the largest private opportunity yet for the Nation, which runs eight casinos in Oklahoma and 22 gaming operations overall, Dillard said.
"We've helped a lot of tribes, but not to the degree of full-blown management, nor an opportunity of this size," Dillard said. "We've built every one of our operations from the ground up, but we had to think about it, talk about it and talk about analytics to see if this was the direction we wanted to go."
Choctaw Nation was among three other applicants to apply for the casino license for the south suburbs of Chicago, which was enabled by the passage of a 2019 bill. Other proposals, also reaching into the hundreds of millions of dollars, included a plan from Ho-Chunk Nation to partner on a casino resort with the city of Lynwood, and a concept from Southland Casino Live — with pro sports legend Bo Jackson as one of the equity partners — to open a casino in Calumet City.
Both of those proposals were eliminated during a special meeting of the Illinois Gaming Board on Oct. 20.
As a result, both the South Suburban Development proposal in Matteson and a $275 million plan from the Poarch Band of Creek Indians' Wind Creek Hospitality brand to open a casino resort spanning the East Hazel Crest and Homewood communities will move forward in the competitive process, as Tribal Business News previously reported.
"I feel very honored to be in round two," Dillard said. "Each and every one of the presenters were phenomenal, they did a wonderful job. It will be tough for the Illinois Gaming Board. We're two good, very good solid organizations. We just have to put it in God's hands."
Big money
The Illinois Gaming Board must now decide between two organizations that head multiple operations across the country, each with years of experience in the hospitality and gaming industries.
Wind Creek Hospitality, via its subsidiary Wind Creek Illinois LLC, has proposed a 64,000-square-foot casino alongside a 15,800-square-foot entertainment center and 35,000-square-foot hotel off Interstate 80, just west of the Indiana border. In total, the venues will include three restaurants, two bars and a lounge, and 252 guest rooms.
The proposed Illinois operation would cap off a gaming empire that includes 10 properties spanning Alabama, Florida, Pennsylvania, Aruba and Curaçao.
According to a statement, Wind Creek's planned partnership with East Hazel Creek and Homewood is estimated to bring 800 full-time jobs to the community, along with roughly 600 temporary jobs during construction.
In addition, Wind Creek will help create the Southland Public Benefit Fund, donating $10 million toward scholarships and health services in the region.
"Wind Creek Hospitality will not just build a casino, but truly create a community in the south suburbs — with job creation, community investment and sustained operational excellence, and we were enthused to share that with the Illinois Gaming Board in our presentation," Jay Dorris, president and CEO of PCI Gaming Authority said in a statement.
South Suburban Development paints a similar picture for Matteson, where the company has gathered more than 1,700 signatures in a petition supporting the project. The company estimates it will have 600 employees across a 123,000-square-foot casino built in the former Lincoln Mall. While the initial project only calls for the casino, future plans include a 200-room hotel and an event center.
If built, the Matteson Casino has pledged $10 million over 20 years for scholarships, career training assistance, counselling services and small business across Southland.
Dillard said the relationship between the Choctaw Nation and Matteson has grown close since the initial project proposal in 2019. Dillard views the town's potential rise as a mirror for the Choctaw Nation's success.
"It would be a viable opportunity for Matteson. We need them and they need us. We can put people to work in these communities," Dillard said. "I know we have come from poverty and we have gone to prosperity."
The tribe's positive relationship with Matteson and the tribe's gaming experience played a part in the proposal advancing through the gaming board's initial selection, Dillard said.
"That's what's brought our tribe through: We're good at casinos, we're good at managing casinos," Dillard said. "Without a doubt, we can help Matteson and Chicago and the south suburbs be number one."
Dorris echoed a similar sentiment for Wind Creek's proposal: "This development promises to be the best in and for the entire Southland region — with job creation, economic and community investment, sustained operational excellence, and a strong commitment to diversity and inclusion in all phases of construction and operation."
Want more news about the $130 billion tribal economy?
Tribal Business News publishes thoroughly reported and well-crafted stories about Native businesses and entrepreneurs, growth and expansion strategies, best practices, economic data, government policy and other relevant business news. Tribal Business News is required reading for tribal council members and leaders of Native businesses, as well as state and federal legislators, policymakers, economic developers, entrepreneurs, bankers, lawyers and anyone interested in doing business in Indian Country.
Sign up for our free newsletter to track Native business and the tribal economy. Or sign up for a premium digital subscription ($99/year or $10/month— cancel anytime) to gain full 24/7/365 access to our business news reporting. Megwetch.