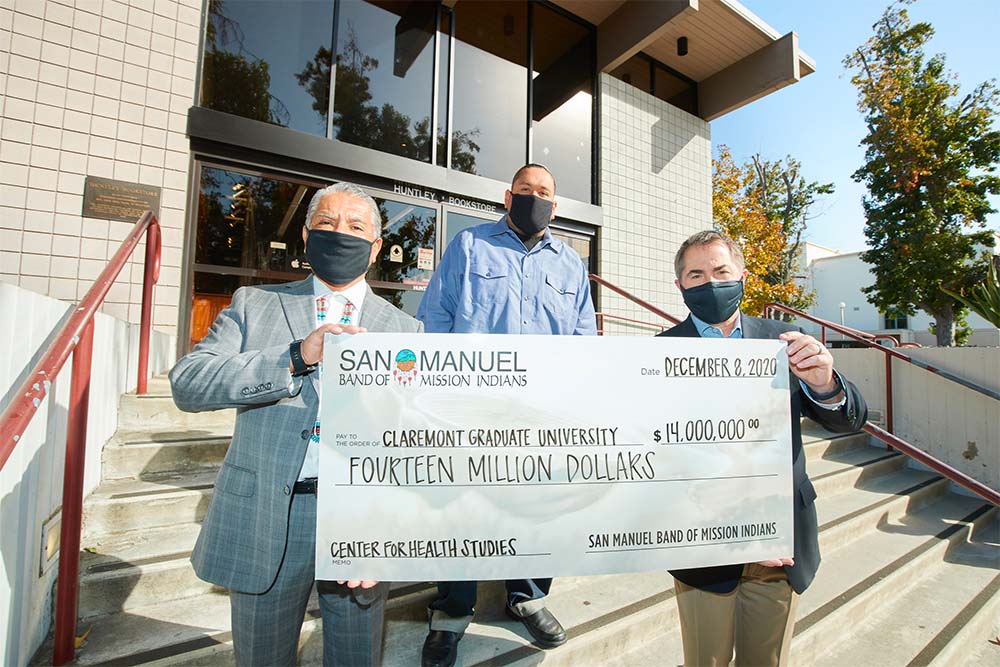 Details

By

Tribal Business News Staff

Higher Education
HIGHLAND, Calif. — The San Manuel Band of Serrano Mission Indians has contributed $14 million to Claremont Graduate University to purchase and convert a building into a high-tech health research center.
The university will use the gift, one of the largest in its history, to buy the Huntley Bookstore at The Claremont Colleges and transform the facility into the Yuhaaviatam Center for Health Studies, which launched last year and takes a multi-disciplinary approach to health research.
The 23,000-square-foot center will focus on addressing health and well being issues for people in underserved and vulnerable populations in Southern California, including Native Americans in the greater Los Angeles area, according to a statement.
"In our role as stewards of our ancestral lands, we support our neighboring communities, in addition to our Tribe," San Manuel Tribal Chair Ken Ramirez said in a statement. "For generations, low-income communities and underserved populations have needed quality healthcare. Our gift is an investment in future healthier communities and one we are happy to make."
The center takes aim issues such as a lack of health coverage and awareness about the benefits of preventative care in underserved communities. It will focus on collaborative research and outreach to change behaviors in those communities that have led to chronic health conditions such as diabetes, obesity and heart disease and mental health issues.
"Real, substantial breakthroughs happen when people from many disciplines come together and collaborate," Claremont President Len Jessup stated, noting the facility purchase "makes it possible to create such a space for that kind of engagement on our campus."
The partners are targeting a late 2021 opening date for the facility, according to a report in the Los Angeles Business Journal.
Claremont and the tribe began talking about the gift last year, but the donation was delayed by the COVID-19 pandemic, according to the university.
The San Manuel Band first began working with the university in 2006 with the creation of the school's Tribal Administration Program, which offers management training in tribal governance and administration.
The Yuhaaviatam Center for Health Studies facility, located in a 23,000-square-foot mid-century modern building that had served as the school's central bookstore for five decades, will be anchored by the Claremont School of Community & Global Health. The partners also have a vision for a "tribal community governance and jurisdiction center focused on health, well-being, and other issues affecting Indian Country" at the facility.
Officials hope the research at the center will have a profound effect on health outcomes for underserved people across the country.
"The types of health and well-being research that will be tackled by the center are relevant to the needs and situations of so many today. Its benefits will ripple out," Deron Marquez, former chair of the San Manuel and a member of the university's board of trustees," said in a statement. "To bring together the university's pioneering approach to research with San Manuel's philanthropic vision is truly exciting."
Want more news about the $130 billion tribal economy?
Tribal Business News publishes thoroughly reported and well-crafted stories about Native businesses and entrepreneurs, growth and expansion strategies, best practices, economic data, government policy and other relevant business news. Tribal Business News is required reading for tribal council members and leaders of Native businesses, as well as state and federal legislators, policymakers, economic developers, entrepreneurs, bankers, lawyers and anyone interested in doing business in Indian Country.
Sign up for our free newsletter to track Native business and the tribal economy. Or sign up for a premium digital subscription ($99/year or $10/month— cancel anytime) to gain full 24/7/365 access to our business news reporting. Megwetch.