DENVER — Backed by a new grant of more than $1.1 million, the American Indian College Fund plans a pair of new programs at tribal colleges and universities in North Dakota and Montana.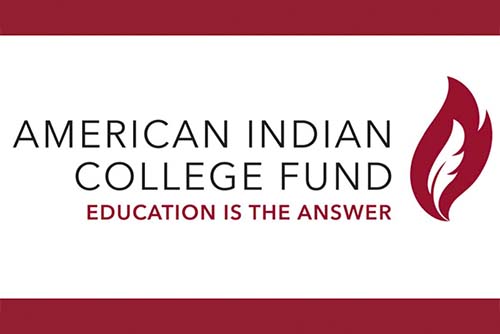 The funding from the Los Angeles-based ECMC Foundation, a national organization that focuses on improving educational outcomes for students in underserved communities, will be allocated to programs focused on the health care and education sectors.
"Since our founding, ECMC Foundation has focused on improving the educational and workforce outcomes for underserved students," ECMC Foundation President Peter Taylor said in a statement. "We're thrilled to support The College Fund's critical work at the intersection of these issues, ensuring that more Native students are well-placed for the in-demand careers that will be central to our economic recovery from the COVID-19 pandemic."
In Montana, the "Building Montana Tribal College Transfer Pathways for Student Success" program will receive $625,000 over two and a half years to help Native students complete their programs and find careers in health care and education. The program also aims to boost "progressive education pathways" for students to earn certificates, associate and bachelor's degrees through transfers and other programs, according to a statement.
Tribal colleges and universities joining in the program include:
• Aaniiih Nakoda College in Harlem, Mont.
• Blackfeet Community College in Browning, Mont.
• Chief Dull Knife College in Lame Deer, Mont.
• Fort Peck Community College in Poplar, Mont.
• Little Big Horn College in Crow Agency, Mont.
• Salish Kootenai College in Pablo, Mont.
• Stone Child College in Box Elder, Mont.
Meanwhile, five tribal colleges and universities in North Dakota will benefit from the $500,000, two-year "Strengthening Postsecondary Career Pathways Across North Dakota's Tribal Colleges: Braiding Workforce Development and Native Student Success" program.
The effort aims to create a "cohesive system to deliver health care education, stackable credentials, and coordinated career support," all with a goal of helping communities in North Dakota meet the need for health care workers, according to a statement.
Participating schools are:
• Cankdeska Cikana Community College in Fort Totten, N.D.
• Nueta Hidatsa Sahnish College in New Town, N.D.
• Sitting Bull College in Fort Yates, N.D.
• Turtle Mountain Community College in Belcourt, N.D.
• United Tribes Technical College in Bismarck, N.D.
American Indian College Fund President and CEO Cheryl Crazy Bull praised the ECMC Foundation's investment, citing the recognition that tribal colleges and universities (TCUs) "serve as solid, community-based assets, building tribal and regional economies through meaningful employment."
"This is an exciting and challenging time as TCUs develop more employment opportunities for Native and rural students through innovative and collaborative approaches to high-demand careers," Crazy Bull stated.
Since you're here.
Doing business anywhere is a challenge, but it's even more challenging in Indian Country. Tribes and their citizens face unique obstacles as they try to build Native-owned enterprises: the patchwork of federal laws, bureaucratic red tape, limited access to capital and the fact that most people are unfamiliar with what's involved in operating a business in Indian Country.
We believe Tribal Business News can help remove some of those hurdles by highlighting what tribes and Indigenous business owners are doing to build the tribal economy. We're committed to bringing you thoroughly reported and well-crafted stories about Native entrepreneurs, M&A, expansions, best practices, economic data, government policy and other relevant business news. Our goal is to make Tribal Business News required reading for tribal council members and leaders of Native businesses, as well as state and federal legislators, policymakers, economic developers, entrepreneurs, bankers, lawyers and anyone interested in doing business in Indian Country.
Hopefully, you'll consider supporting Tribal Business News through a discounted subscription ($99/year — use coupon code "TBN21") or a donation to help fund our reporting. Sign up for our free weekly newsletter that comes out each Monday morning.
Megwetch for your continued support.