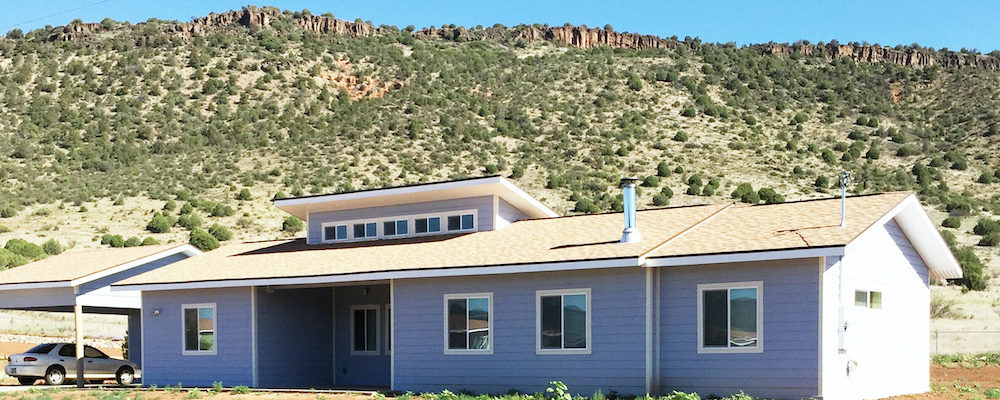 Details

By

Mark Fogarty

Real Estate
How do you get projects with hundreds of housing units built in Indian Country when you get only a skimpy amount of federal housing assistance each year?
You use leverage. Tribes have used other people's money to build projects like 152 units of housing in the New Mexican desert, 317 houses in a remote area outside Phoenix, and 500 homes on lots outside the Cherokee capital of Tahlequah, Oklahoma.
The Native American Housing Assistance and Self Determination Act of 1996 — often referred to as NAHASDA — turned over administration of federal Department of Housing and Urban Development programs to tribes themselves. That legislation also directed tribes to tap outside funding sources to augment their federal financial assistance.
If $1 billion is coming in each year to tribes under NAHASDA and the total amount necessary to fix the Indian housing crisis is $50 billion, that is an enormous amount of leverage needed — or, smaller amounts of leverage over a longer period of time.
Never miss the biggest stories and breaking news about the tribal economy. Sign up to get our reporting sent straight to your inbox every Monday morning.
For this special report, Tribal Business News looked at three tribes that were early adopters of the leverage philosophy. Between them, they leveraged federal housing assistance to build nearly 1,000 new units of housing at a total cost of $100 million to benefit Native economies and, in some cases, to hire tribal workers.
BLACK MESA VIEW, Pueblo of San Felipe, New Mexico.
There hadn't been any housing construction in this Indian village north of Albuquerque for decades. Black Mesa View, begun in the 2010s, started slowly, with just 28 modular housing units in the first subdivision, and then 12 stick-built homes to finish the first phase of the project. Half of the workers employed to build the homes were tribal members. But as families started to move into new homes, the pace picked up and the subdivision grew to 152 housing units.
The development is now finished except for a sports complex, according to Isaac Perez, executive director of the San Felipe Pueblo Housing Authority.
The Housing Authority leveraged its modest $500,000 in annual federal financial assistance by first getting a $2.8 million construction loan from Bank of America through HUD's Title VI program.
Other sources of funds included the New Mexico Mortgage Finance Authority, federal stimulus money, Enterprise Community Partners, and others. The San Felipe Pueblo Housing Authority also tapped the HUD's Section 184 loan program for mortgages for the individual families occupying the units.
The tribe has planned another 92 units in a new subdivision called Sunset View. It landed $5 million in NAHASDA competitive grant money to do the infrastructure for the new project.
Leverage has put a nice dent in the tribe's housing needs, Perez says, as its waiting list for homes has shrunk to about 150 to 170 people. And tribal members are returning to the pueblo to get on the list.
The experience has generated additional economic opportunity for the tribe, which leveraged the construction expertise it gained on the project to build houses on seven adjacent pueblos.
APACHE DAWN, Fort Apache Reservation, Arizona
An extremely complex financing deal funded 250 homes in the decade of the 2000s in remote Whiteriver, Arizona, but that was just the start.
By the time the White Mountain Apache tribe had finished developing six Apache Dawn subdivisions, the total had risen to 317. Phase 1 had 52 units; Phase 2, 31; Phase 3, 45; Phase 4, 100; Phase 5, 71; and Phase 6, 18.
The main financing mechanism was something new to Indian Country: a $25 million tax-exempt bond issued by the White Mountain Apache Housing Authority (WMAHA). I listed the main financial partners at the time in a report for Indian Country Today: "Partners in the deal are WMAHA, bond counsel Kutak Rock, underwriter US Bancorp Piper Jaffray, lenders Bank One Mortgage and Countrywide Home Loans, and secondary mortgage agencies Freddie Mac and Fannie Mae.
"Fannie and Freddie each bought more than $10 million in bonds, with a third investor, Sit Investment Group of Minneapolis, buying a small amount.
"WMAHA is the borrower for the HUD 184 loans, extended by Bank One Mortgage. Bank One no longer issues Ginnie Mae securities, so that part of the deal is being handled by Countrywide Home Loans."
The good news at Apache Dawn was that a lot of people got excited about constructing Native housing, and they played an elaborate game of financial Twister with multiple partners to get it done. The less positive news was that the deal was so complex that it could not be easily replicated elsewhere.
CHEROKEE TITLE VI Program, Cherokee Nation of Oklahoma.
HUD's Title VI loan program was intended to provide money for infrastructure and big housing projects, as opposed to its Section 184 mortgage-loan program, which usually goes to individual Indians. Title VI was designed to be of comfort to lenders by guaranteeing 95 percent of any outlays they made under the program.
The Cherokee Nation of Oklahoma supersized the use of the loan in the early 2000s, obtaining a $50 million Title VI loan from Bank of Oklahoma to build up to 500 homes in the town of Jay and 14 counties under Cherokee jurisdiction in northeast Oklahoma.
That $50 million is the largest loan in the history of the Title VI program. The last time HUD listed Title VI volume on its website, in 2016, the total amount loaned by the underused program was $221 million. The Cherokee loan accounted for more than 20 percent of that total.