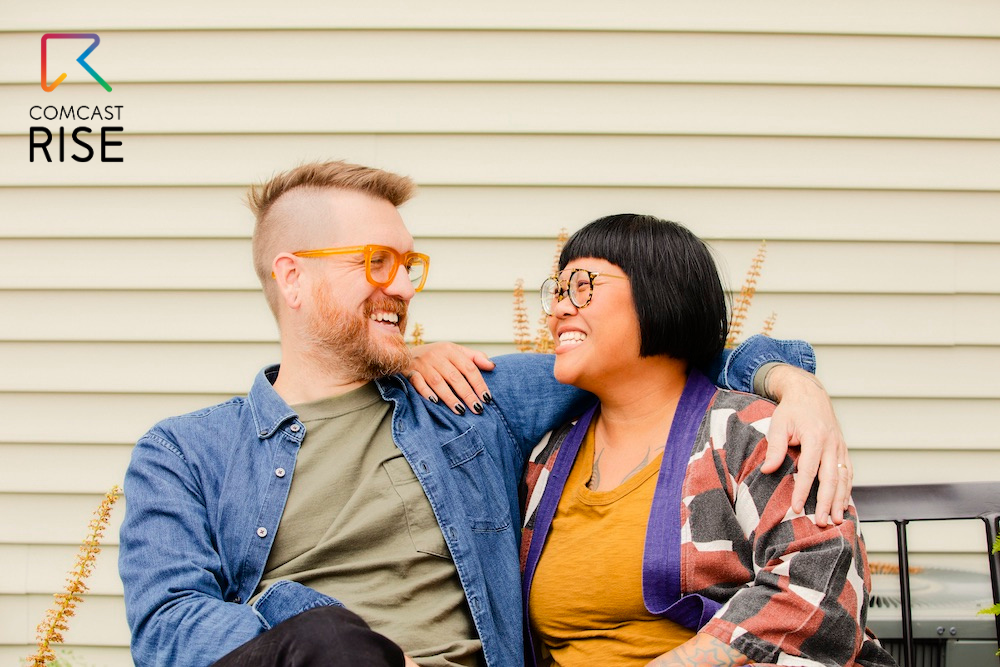 Details

By

Tribal Business News Content Team

Sponsored Content
13,500 Small Businesses Have Been Supported Through Comcast RISE to Date - Find One Near You Today!
Comcast RISE has unveiled its latest cohort of grant recipients, including several Native-owned businesses. Five hundred businesses in Baltimore, Detroit, Memphis, Philadelphia, and Portland received comprehensive grant packages, which include business consultation services, educational resources, a $5,000 monetary grant, creative production, media schedule, and a technology makeover.
Indigenous enterprises who received Comcast RISE grants reflect the initiative's commitment to diversity and equitable support for all small businesses, which power the nation's economy.
Among these Native-owned businesses are Just Because Boutique, a retail shop in Portland, Oregon, and Khepera's Kitchen, a chef service in Baltimore, Maryland. The eclectic mix of recipients spans various industries, reflecting the richness of Native American entrepreneurship.
Some of the Comcast RISE recipient businesses led by people who identify as Native American are:
Just Because Boutique (Portland, Oregon)
Khepera's Kitchen, LLC (Baltimore, Maryland)
Deeply Rooted Enterprises, LLC (Detroit, Michigan)
NoBasis, LLC (Memphis, Tennessee)
EDAY APP Inc. (Philadelphia, Pennsylvania)
Mimi's Fresh Tees (Portland, Oregon)
Myrtle and Flossie Maternity, LLC (Detroit, Michigan)
Saxon Palace, LLC (Memphis, Tennessee)
Krishna Avalon Acupuncture, Inc. (Portland, Oregon)
Greenway Cleaning Services, LLC (Harrison Township, Michigan)
Justin Winkel, LLC (Baltimore, Maryland)
Kettens 4 Lyfe, LLC (Portland, Oregon)
RUNdetroit, LLC (Detroit, Michigan)
Strangeways, LLC (Memphis, Tennessee)
This diverse group builds upon the successes of previous Native-owned Comcast RISE awardees in 2022. Noteworthy mentions include I Knead Sugar, a specialty baker from Gallup, N.M., known for sharing Navajo culture through food and tea. Additionally, Native Pathways LLC, based in Laguna, N.M., a Native education consulting firm focused on science education and leadership for Native youths, continues to be a beacon of support for the Native community.
According to the U.S. Census Bureau statistics, Native American-owned businesses contribute over $33 billion to the U.S. economy every year and employ over 200,000 people. The number of tribal firms continues to grow as Native Americans see business ownership as a pathway out of poverty.
That growth has come despite the varied and complex challenges faced by Native-owned small businesses in 2023. While the pandemic recovery remains a pressing concern, Native entrepreneurs also grapple with systemic barriers, limited access to resources, and the need for greater visibility.
With its holistic grant packages, Comcast RISE continues its commitment to supporting the growth of all small businesses, while also advancing the objectives of diversity, equity, inclusion, and community investment.
Each package includes business consultation services, which provides a business assessment; business to business coaching, and mentorship; educational resources that include content and resources tailored to individual companies; and a $5,000 monetary grant to invest in growth and sustainability. Further, grant recipients receive creative production, which includes a 30-second television commercial and a media strategy consultation, and a technology makeover that provides computer equipment, and internet, voice, and cybersecurity services for a year.
This recent round of grants brings the total to 13,500 businesses nationwide that have received $125 million in monetary, marketing, and technology grants.
Loren Hudson, Senior Vice President and Chief Diversity Officer for Comcast Cable, emphasized the evolving nature of the program, stating, "During the past two and a half years, we have found new ways to further empower and strengthen even more small businesses and entrepreneurs.
Comcast RISE — standing for Representation, Investment, Strength, and Empowerment — was launched in November 2020 to assist small businesses severely affected by COVID-19. From surviving the pandemic to achieving sustained growth, the program continues to adapt and contribute to stronger economic development for businesses and their communities.
As part of Project UP, Comcast's comprehensive initiative to advance digital equity, Comcast RISE remains a catalyst for positive change. The grant packages extend beyond mere financial aid, offering a comprehensive approach that includes consultation, education, creative production, media support, and technology services.
With an eye on the future, Comcast RISE is already gearing up for the 2024 application cycle, ensuring that its impact resonates well into the years ahead.
In addition to supporting businesses directly, Comcast RISE, in collaboration with Philadelphia-based tech education nonprofit Hopeworks, has developed an interactive map showcasing RISE recipients in local communities. This initiative encourages individuals to discover and support these businesses during the holiday season and beyond.