Details

By

TAMARA IKENBERG

Arts and Culture
METLAKATLA, Alaska — In the remote Southeast Alaska village of Metlakatla, population 1,375, Tsimshian artist Dale Horne shapes cedar and abalone into masks, suns, killer whale fins, paddles, boxes and bowls.
Horne may live and work off the beaten path, but he still does a robust business by selling his work in galleries and gift shops like Sealaska Heritage Institute in Juneau and Crazy Wolf Studio and Arctic Spirit Gallery in Ketchikan. Both cities swell with upwards of 1 million tourists annually, thanks to the active cruise ship season that runs from May through September.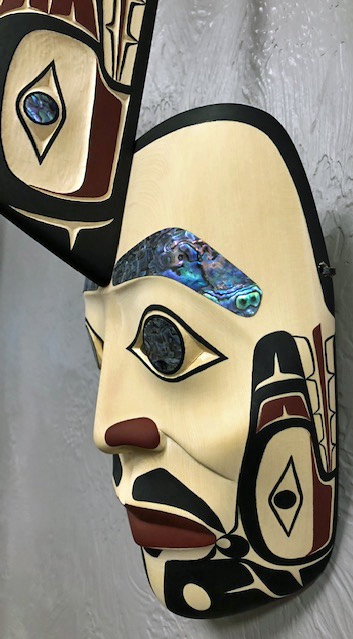 A cedar and abalone killer whale portrait mask by Tsimshian carver Dale Horne of Metlakatla, Alaska. (Arctic Spirit Gallery)"I sell stuff all over the place," Horne said.
Normally, Horne said he pulls in between $12,000 and $18,000 during cruise season.
Except for a couple of small boats that docked in Juneau, no ships have sailed this cruise season because of the pandemic. As a result, Horne and his fellow artists are sharing an uneasy sinking feeling.
No tourist traffic translates into little to no sales.
"This year, I sold one paddle for $650 when all of this started," Horne said. "I've just been squeaking by here."
Crucial cruises
The Inside Passage, which runs along the coast of southeast Alaska, is one of the most traveled cruise routes in the world.
From May through September, passengers on giant ships holding up to 5,000 people glimpse the otherworldly beauty of the region's glistening rainforests, grand glaciers, and abundant totem poles carved by the region's Tlingit, Tsimhsian and Haida people.
As many as four ships per day dock in the bigger ports, including Juneau, the largest city in the region with a population around 30,000, and Sitka and Ketchikan, which have populations around 8,000 people.
Nearly 1.5 million tourists were expected in Southeast Alaska this year before COVID hit, according to projections from the Cruise Lines International Association.
When the passengers spill out, they saturate the towns in search of regional Native art like copper and silver jewelry, carvings and pieces featuring formline design, the signature style of the area's artists.
The cruise season marks the artists' most lucrative market, but now they're all stocked up and their art has no place to go. As well, some cruise lines, including Princess Cruises and British luxury line Cunard, have already canceled their 2021 cruises.
"People become used to that income and all of a sudden it's gone for them, and likewise for us that support them," said Susan Peters, owner of Arctic Spirit Gallery in Ketchikan. "It's a trickle-down effect. Everybody down the whole line gets affected."
Trickster's Turning Point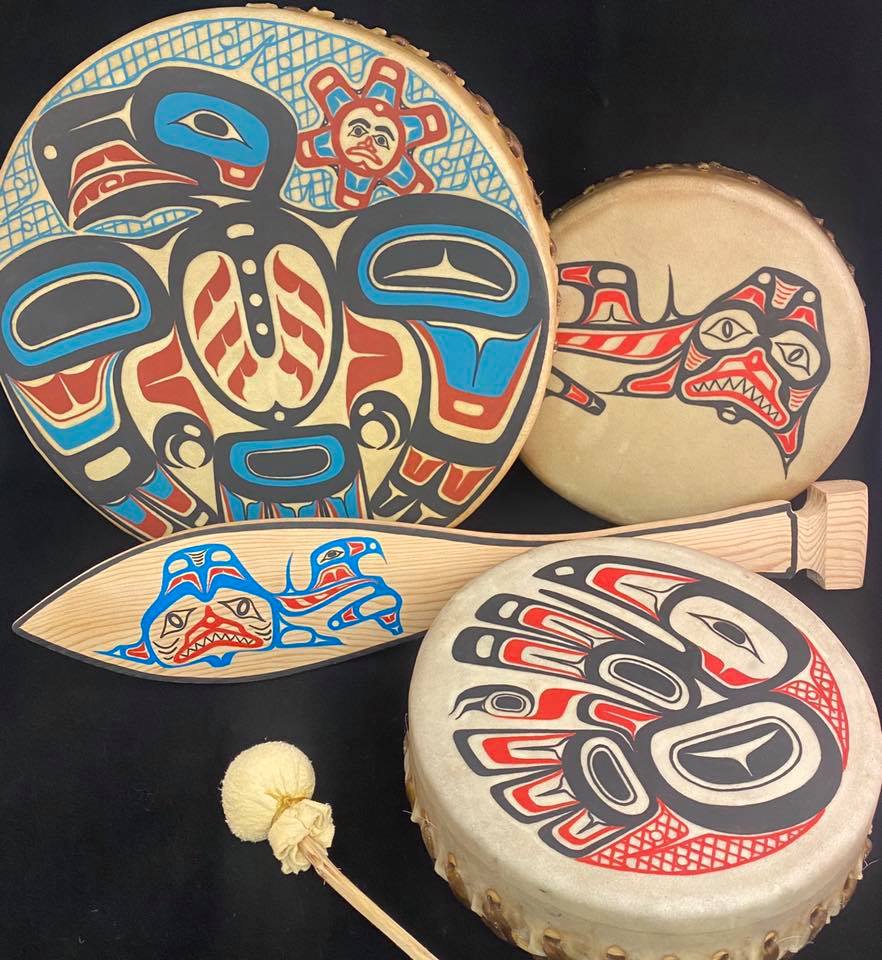 An assortment of formline art by Tsimshian artist Ken Decker, co-owner of Crazy Wolf Gallery in Ketchikan, Alaska. (Crazy Wolf Gallery)
Bursting with fun formline accessories, apparel and art, including skateboards, leggings and stickers, Trickster Company had the freshest, most playful storefront on Front Street in downtown Juneau for six years.
The Native-owned boutique on the city's main downtown shopping corridor was a favorite of visitors and regulars alike.
This year, the tide turned for Trickster. In April, owner and artist Rico Worl (Tlingit, Athabascan) said goodbye to the brick-and-mortar store in what became another casualty of the canceled cruise season.
"The cruise industry is our bread and butter," said Worl, who runs the business with his artist sister, Crystal Worl. "There's no way to afford a summer without a cruise industry — there's no way. It's the only way we are able to afford to pay staff and pay the lease."
Worl explained that the beginning of the pandemic coincided with the end of the store's lease, which made the decision to close the physical location and move forward much simpler.
Even so, Worl will miss the store, noting it was tough letting go of the retail space because it was one of only a handful of Native-owned businesses in downtown Juneau.
"I always enjoyed seeing their store there," said Tsimshian carver and Juneau resident Abel Ryan. "I was happy, excited and proud of the work they had done."
Even without a retail space, Trickster Company will go on. Like other entrepreneurs, the Worls are learning to "pivot" as they grapple with how COVID-19 is affecting their business.
"The goal is to use this time to develop the things we've been meaning to, but have been too busy with retail to get to," Worl said. "For us, that pivot looks a lot like plans we had already started to develop: We wanted to revamp the website, which is currently in the works, and there have been a few grants that have helped us hire designers to make our website more efficient."
Manufacturing is another aspect of Trickster's business affected by the pandemic. The Worls leaned on their large and supportive family to keep the company's Anchorage-based warehouse in operation.
"We had to let go of staff there too, so now it's just family running that manufacturing site. It's a blessing," Worl said. "We're not able to be at full capacity, but we can at least keep up with online and wholesale orders."
As an independent artist, Worl has received grants from The Central Council of the Tlingit and Haida Indian Tribes of Alaska to help make up for lost sales. Trickster itself was a recipient of a grant from Rapid City, S.D.-based NDN Collective, an Indigenous-led organization supporting self-determination and movement building.
"I'm trying to just keep making things and posting things online," Worl said. "It's definitely not like before where I had a waiting list that was three months out and people were perpetually waiting for jewelry from me."
To sum up the situation for artists in southeast Alaska, Worl pointed to a meme making the rounds on social media.
"There's a meme where the whole city is on fire and Spongebob is out in the middle yelling, 'Who wants to buy some earrings?'" he explained. "Everything is so chaotic but we're still out there like, 'Who wants to buy some jewelry?'"
The kindness of strangers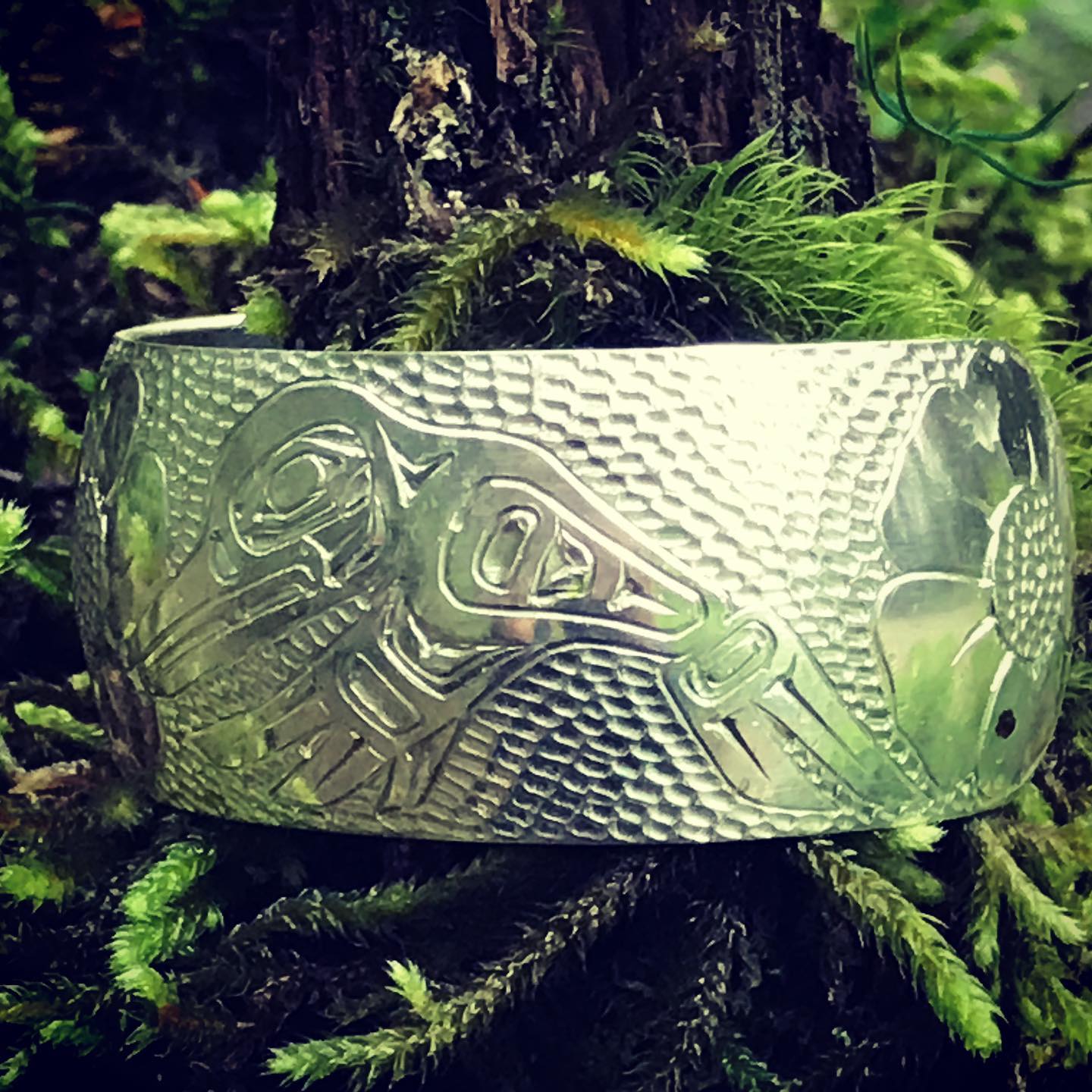 A silver cuff with formline engraving by Tsimshian artist Abel Ryan. (Elizabeth Pisel-Davis)
Just a few blocks from Trickster, a little off the main shopping thoroughfare, Native-owned gallery Planet Alaska LLC is struggling to keep afloat.
The gallery opened in 2019 and specializes in Alaska Native artwork from all over the state, including the caribou skin masks and modern formline work of co-owners and couple Aakatchaq Schaeffer (Inuit) and Vivian Mork (Tlingit). The community-oriented gallery, which also sells traditional medicines and foods, prides itself in supporting and promoting Native art, culture and overall well-being.
The couple's concern for the health of others has kept the gallery shuttered since mid March.
"We don't have the airflow for it," Mork said, referencing the airborne nature of COVID-19. "We're people who spend a lot of time with our elders and my heart would break if I was the reason why we lost one of the last speakers of our language."
After six straight months without cruises and few customers, Planet Alaska and its roster of artists are seriously strapped for cash.
"Last year, our payout to artists was over $60,000. This year, our payout up to August is $5,000," Schaeffer said. "We are very fortunate that we still have our space."
When it became clear that the tourists weren't coming, the couple was plunged into a panic.
"So we were about to get a million and a half people this year for tourism. We were about to have the best economic year of our life and also be able to help others," Mork said. "We went from that to almost losing everything. We had to shut down our store just before the tourists were (supposed to start) coming. And also, all of our local events were canceled, like the Tlingit and Haida Annual Tribal Assembly, where thousands of my people come and they all buy from us."
In that stage of the crisis, the couple was forced to confront some very disturbing possibilities. Mork recalled pondering whether she and her partner would lose their houses, cars and business.
"Whose mom are we moving in with?" she said, recalling her thought process at the time.
However, thanks to the kindness of a stranger, Schaeffer and Mork have avoided living out those possibilities.
"A stranger paid for the rent for our store for that month," Mork said, starting to cry. "That bought us enough time to try to figure out how to adapt to doing our online sales. It gave us at least a couple of weeks to put more things on our website and to get the word out there."
The mystery rent-payer proved how random acts of generosity can make a gigantic difference, she added.
"The best way any of us are going to survive this is by supporting each other," Mork said. "It's obvious to a lot of Native people that systems were already failing us before the coronavirus. In a lot of ways, many of them are failing us now. That's why it's so important at this time in history to come together and support each other."
Saving Celebration
Every other June, downtown Juneau becomes a kaleidoscope of elaborate dance regalia and Native art during an event known as Celebration, which draws around 5,000 tourists, including Native dancers and artists from across the Pacific Northwest.
In addition to dance group performances, the biennial event includes a Native artists market and juried art show that artists count on for exposure and tourist season sales.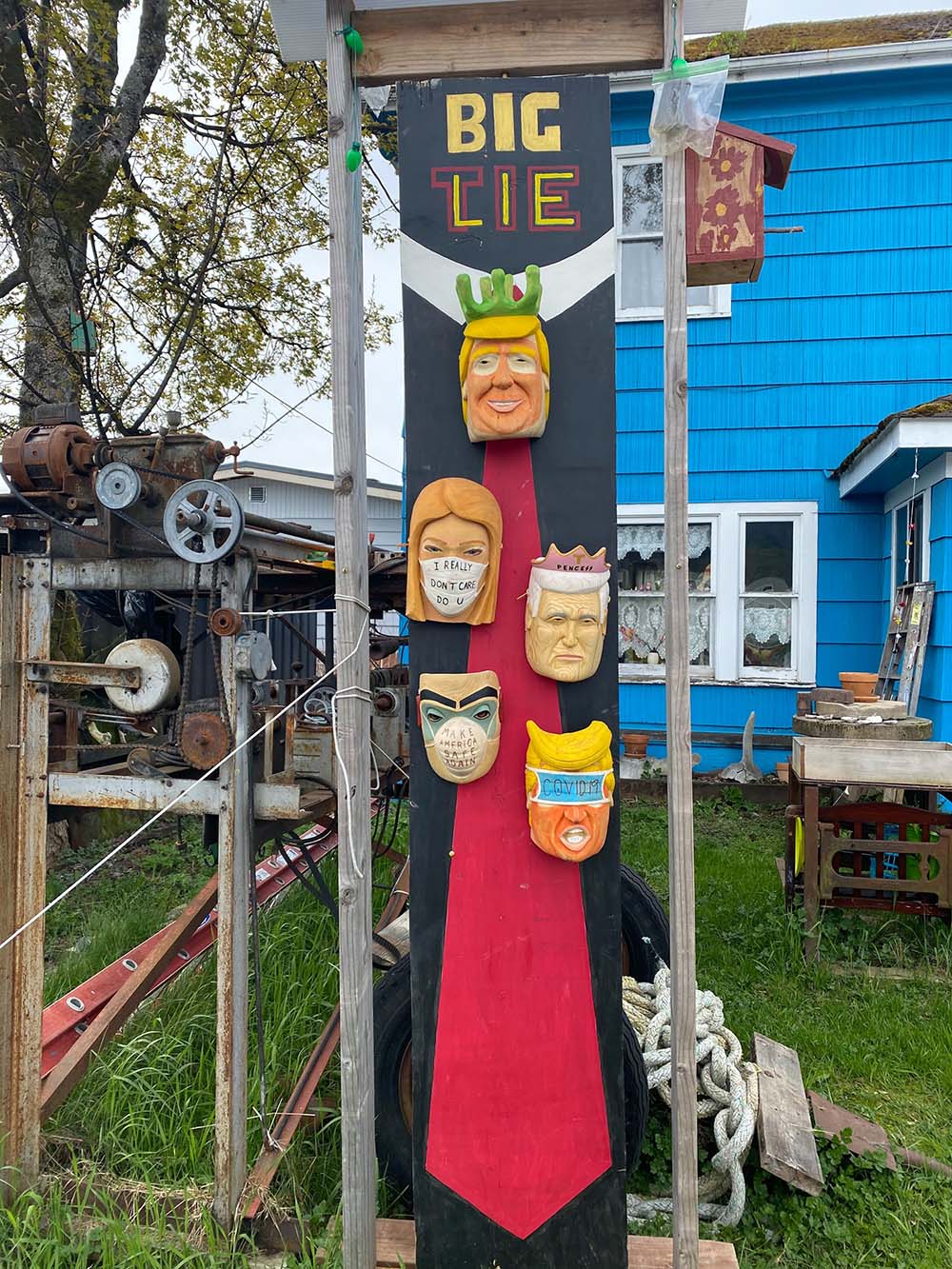 Tlingit carver Tommy Joseph created multiple cedar masks featuring political figures during his downtime in Sitka this summer. (Tommy Joseph)Celebration was scheduled to take place this year. But like so many other major events, Celebration was transferred entirely online, which significantly cut into its estimated $2 million effect on the local economy.
"For the Native Artists Market, there was no way that we were able to make up for the loss of sales with our vendors for that," said Kari Groven, art director of Sealaska Heritage Institute (SHI), which puts on Celebration.
Groven noted that vendors make anywhere from $5,000 to $15,000 during the in-person market, which attracts several thousand potential customers.
"Artists did make connections with people that had seen their work and were interested in buying and they made some smaller sales of prints and small carvings," she said. "It's all small things."
Sealaska Heritage Institute is the nonprofit arts and culture arm of Sealaska Corporation, an Alaska Native regional corporation owned by more than 22,000 Tlingit, Haida, and Tsimshian shareholders. The institute exists to support and perpetuate Native art, and the staff is investing all its energy into pivoting resources online and devising new ways to help artists through this time.
"We're taking this as a learning opportunity," Groven said. "We aren't only focusing on helping artists increase sales, we're also trying to offer ways for artists to earn income in other ways, like as teachers or virtual artists in residency and putting classes online and paying artists to teach them."
To provide a picture of the regional art scene, Groven cited a 2019 study the institute completed with The McDowell Group, an Alaska research and consulting firm, that revealed 350 to 450 Native artists work in Southeast Alaska. The majority of them make art part-time, with their average annual income ranging from $13,000 to $15,000.
"The loss of the 2020 cruise ship season, the ban on non-essential travel, and the economic shutdown could easily eliminate 50 percent or more of an artist's income," Groven said.
Donald Gregory, facilities and special projects coordinator at Sealaska Heritage Institute and an accomplished Tlingit artist currently specializing in traditional wooden halibut hooks, recalls the anxiety local artists were experiencing in February and March.
"A lot of people here in town in the tourist industry, like the cruise lines' agents, were on the radio giving updates and it just sounded really bleak to start with and it just got worse from there," Gregory said. "There are artists that are able to continue working because their work is still in the highest demand and galleries will still buy it from them, but they're few and far between."
Keeping up in Ketchikan
These days, Ketchikan gallery owners Susan and Michael Peters spend more time applying for grants than dealing with art. Their Arctic Spirit Gallery primarily sells regional Indigenous art.
"At the end of July, it became a reality that there would be no ships all season — none. Ketchikan relies more on tourism than Juneau, because Juneau does have the state capital and other opportunities," Susan Peters said. "We have no income to speak of. It's been a struggle and it's been a struggle for all the artists we represent, too."
Never in its 24-year history had Arctic Spirit Gallery hit such an impasse.
The gallery's business resonates beyond the immediate region, from Gambell in Nome where Peters purchases ivory pieces, to British Columbia's Haida Gwaii archipelago, where she finds argillite stone carvings.
"We had to call all of our artists and say we've got to hold back," Peters said. "That's money they rely on also. They really count on that added income."
The Peters' have the advantage of owning their gallery's building, but they still have plenty of overhead costs and additional expenses. Despite the current crisis, they don't envision having to close up shop.
"We're not there yet. There's still hope. It's just such an unknown," Peters said. "We have to try and support each other mentally and that's all we can do — just hang in there. It's a waiting game."
At Ketchikan's Crazy Wolf Gallery, owned by Tsimshian artist Ken Decker and his wife Monica, sales have plunged dramatically.
"We're down 90 percent, but we're staying open six days a week," Monica Decker said. "I've scaled down. I only have one girl working part time. I usually employ four to five girls. I just couldn't bring them back."
Thankfully for the family, Ken Decker continues to produce and sell pieces like formline drums and paddles, but their other gallery artists aren't faring as well.
"One of my gentlemen who makes jewelry for me took a job in gardening so he would have a steady income. Nobody was buying," Monica Decker said. "A lot of artists have gotten part-time jobs."
She added that several of the most talented and prolific artists have been so wrapped up in all the challenges presented by COVID that they're too distracted to even focus on their work.
"Some artists have been having a hard time getting into being creative," she said.
From Sitka, with satire
Finding inspiration in the time of COVID is not an issue for Tlingit artist Tommy Joseph. The Sitka-based artist is spending his downtime carving out this moment in history.
"I was thinking about all the political stuff happening in the world and I ended up doing eleven yellow cedar masks in a row, the majority of them being satire," he said.
President Trump, First Lady Melania Trump and Vice President Mike Pence are among the characters Joseph captured in cedar. Joseph hung the masks on the Trump and Alaska Governor Mike Dunleavy shame totem pole he created last year.
Thanks to decisions last year to solidify his financial situation, Joseph and his family have been able to economically endure a mostly tourist-free season.
"If this pandemic had happened a year earlier, I'd be in total ruin today," Joseph said. "I know there are so many people right now who have no hope in sight."
Even so, Joseph hasn't been entirely unscathed. As a result of the pandemic, he had a traveling art show and two jobs get canceled, including one for a totem pole at the Jimmy Carter Presidential Library and Museum in Atlanta.
Luckily for Joseph, another commission came up a couple of months ago. Currently, he's carving a 23-foot totem pole at Sitka National Historic Park.
"I'm fortunate that I had a job come along. The timing couldn't have been better," Joseph said. "I'm just blowing right through this totem pole. I wouldn't be if the cruises were in town. I'm not being stopped every five minutes by tourists coming down the trail."
The lack of tourists may boost Joseph's productivity at the moment, but it's a losing game in the long run for the region's artists. Until COVID-19 gets under control and those ships start sailing, the artists' futures remain in limbo.
"I would just love to say the virus would just go away," said Peters of Arctic Spirit Gallery in Ketchikan. "But unless a lot of testing happens I don't think we'll have much of a tourist season next year either."