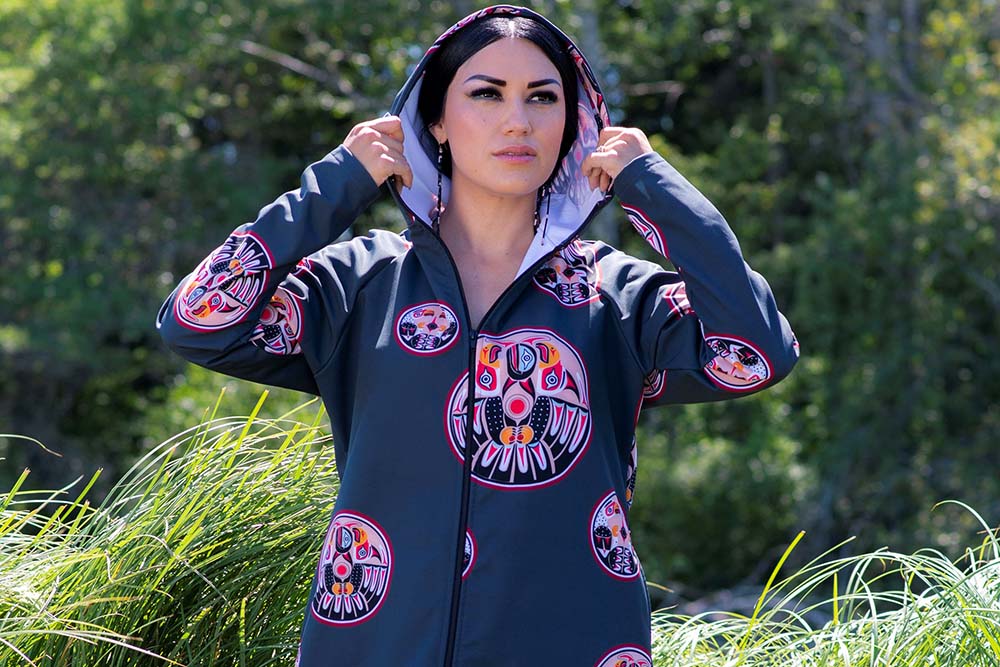 Details

Arts and Culture
Welcome to day five of Tribal Business News' 12 days of Indigenous holiday gifts guide. In the spirit of supporting Indigenous artists and entrepreneurs and drawing attention to some truly gorgeous and inspired items, we are presenting 12 consecutive days of Native-made products perfect for holiday gift-giving, including giving to yourself.
Day 5:
Ay Lelum Short Spindle Whorl jacket, $295, aylelum.com
Ay Lelum's short Spindle Whorl jacket is a chic tribute to the tool Coast Salish women have been using for thousands of years to spin and weave wool.
"It's functional, wearable art that embodies Coast Salish culture and it is super stylish," said designer Aunalee Boyd-Good. "We made it exclusively with our own fabric patterns we developed with our father's traditional Coast Salish spindle whorl designs."
Made of recycled Dintex, a high-tech, breathable waterproof fabric, the limited edition jackets come in sizes from small to 3XL.
With the Ay Lelum line, the Snuneymuxw First Nation Good family tells the stories of the Coast Salish people through apparel and art.
"Our company is built on an Indigenous business model set by our trailblazing artist parents and our father's traditional teachings," said Aunalee Boyd-Good. "We work together as a multigenerational family and document and pass on oral family history, artwork, music and language. This work is essential to continue to create art as a family and it is sustained by our business operations."
Sisters Boyd-Good and Sophia Seward-Good, who were mentored by their mother Sandra Moorhouse-Good, design the clothing, and their father William and brother Joel create the artwork adorning the items.
"It is imperative to support and shop from Indigenous makers and brands to ensure that Indigenous cultural and economic systems grow and thrive," Boyd-Good said. "In supporting authentic Indigenous artists and makers who follow traditional rules and protocols, this ensures that knowledge and history is documented and passed on for generations to come, as well as shared with all to learn about."
Previous gift ideas:
Day 1: Quirky, comical calendar by Ricardo Caté
Day 2: Stationery and scarf set by B. Yellowtail and Debbie Desjarlais Design
Day 3: Baby Yoda power by M Reed Designs Boutique
Day 4: Alaska Native ornaments by Trickster Company