Here is a round up of business news from around Indian Country.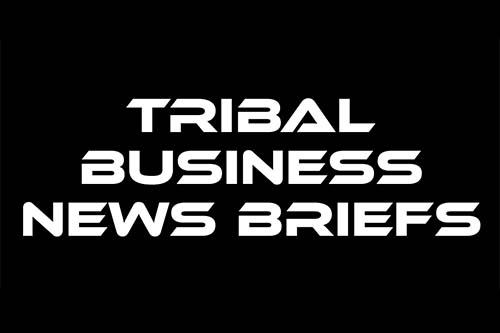 Events
• The National Native American Human Resources Association will be rescheduling its annual conference following an executive order from the mayor of Honolulu that canceled all large professional conferences. NNAHRA now plans to hold the conference for early 2022. "While this is sad news, we move forward in positivity and will plan an event when we can learn, share and enjoy each other's company safely and as Hawaii is ready to say 'Aloha' to us all," NNAHRA said in a statement on its website.
• The Alaska Federation of Natives has postponed its 2021 annual convention until Dec. 13-15 at the Dena'ina Center in Anchorage, citing health and safety concerns related to increased COVID-19 cases and hospitalizations in the state. The event had been scheduled for Oct. 21-23. The rescheduled event will have a virtual option to attend. The ​​Alaska Federation of Natives said its board will monitor new data and health guidance before making a final determination about an in-person aspect of the convention.
Finance
• Dave Tovey, the executive director of the Nixyaawii Community Financial Services, has joined the board of directors for the Native CDFI Network following the resignation of Taala Fund's Natalie Charley. Tovey, a member of the Confederated Tribes of the Umatilla Reservation, will serve out the rest of Charley's board term. "Natalie proudly volunteered her service to the Native CDFI Network. We say ahxé'ee' – thank you for your service, Natalie. We look forward to your continued leadership for economic and financial justice for Indian Country," Native CDFI Network Executive Director Jackson Brossy said in a statement.
Higher education
• Backed by a $250,000 grant from Bank of America, the Washington State University Spokane's Native American Health Sciences program plans to build a clinical simulation space at the school's Center for Native American Health. The 1,045-square-foot area includes a patient exam simulation room, hospital patient exam simulation room, teaching space and storage. The clinical simulation space is believed to be the first in the U.S. that's developed and instructed by Indigenous people, according to a report from the university. In the new center, Native American instructors in medicine, nursing, pharmacy and allied health will work with students to learn about Indigenous health and wellness. "Throughout our histories and across the world, it has taken the listening ears, minds and hearts of our allies and friends who wanted to see a more peaceful, kind and equitable world," Naomi Bender, director of WSU Spokane's Native American Health Sciences program, said in the report. "Through this generous gift, Bank of America is honoring what so many others have set aside: Our ways of knowing and healing. Bank of America is investing in a future where our health care workforce will begin to eliminate health disparities through culturally-centered knowledge and practices that counterbalance western views, instead of perpetuating them."
• Arizona State University Library has named Alex Soto, a member of the Tohono O'odham Nation, as director of the Labriola National American Indian Data Center, which is dedicated to Indigenous research and other materials, according to a report from the university. Previously, Soto served as assistant librarian at the center. "Indigenous librarians, archivists and curators are contemporary culture-keepers," Soto said in the report. "Historically, there has been a disconnect between Indigenous communities and libraries due to the library profession's disregard of Indigenous knowledge. My goal is to Indigenize librarianship to respond to the information needs of ASU students and Indigenous communities. The Labriola Center supports and affirms Indigenous knowledge in academia and beyond, which I believe is crucial for Indigenous self-determination." Soto has a bachelor's degree from ASU and a master's from the University of Arizona. He was also a co-founder of the hip-hop duo Shining Soul.
Small business
• Washington, D.C.-based Determined By Design promoted Sequoyah Hunter Cuyjet (Shinnecock Nation) to vice president of the design firm, according to an announcement from President Kia Weatherspoon. Hunter-Cuyjet is a graduate of Sarah Lawrence College and earned a master's degree in interior design from Moore College of Art and Design. She also serves as an adjunct professor at Drexel University. "It is a privilege to sit with Kia at the table she built and continue Determined by Design's legacy of going against the grain," Hunter-Cuyjet told Hospitality Design for a recent report. "Pay attention, because this is what allyship looks like—women like Kia who aren't afraid to have other women take a seat. While making her place, she makes room for other women who would otherwise be overworked, underpaid, and undervalued."
Sovereignty
• The U.S. Department of the Interior's Bureau of Indian Affairs approved HEARTH Act regulations submitted by the Pascua Yaqui Tribe of Arizona, Pueblo of Jemez in New Mexico, and Table Mountain Rancheria in California. The tribes now have the authority to manage the leasing of their Indian trust land and restricted fee land for agriculture, business, residential, solar and wind energy evaluation purposes without additional departmental review. Specifically, the approvals included business, residential and wind and solar leasing codes for the Pascua Yaqui Tribe of Arizona; agriculture, business, wind and solar, and residential leasing codes for Pueblo of Jemez; and residential leasing regs for Table Mountain Rancheria. "Since its enactment almost a decade ago, the HEARTH Act has been living up to Congress's intent that Tribal nations decide how best to utilize and protect trust and restricted lands for the benefit of their peoples," Assistant Secretary – Indian Affairs Bryan Newland said in a statement. "The HEARTH Act continues to aid Tribal efforts in building sustainable economies that support their self-determination and sovereignty."
Gaming
• The Ak-Chin Indian Community partnered with Chicago-based sports streaming platform FuboTV Inc. subsidiary Fubo Gaming to launch an online sportsbook in Arizona. The move follows the state awarding a special license to Ak-Chin Indian Community. In addition to Arizona, Fubo now has market access in Pennsylvania, New Jersey, Indiana and Iowa. "With this sports betting license and our strategic partnership with Fubo Sports, we know we'll be able to offer our customers the kind of premier entertainment experience they've come to expect from Ak-Chin, whether they visit our sportsbook in-person or online," Ak-Chin Chairman Robert Miguel said in a statement. The tribe also operates the Harrah's Ak-Chin Casino in Maricopa, Ariz.
• The Pokagon Band of Potawatomi Indians debuted its Sportsbook Lounge at Four Winds Casino in New Buffalo, Mich. The new space features sportsbook kiosks and includes 22 large screens with a variety of seating options as well as a sports bar. Four Winds guests can also wager on sports at the tribe's casino locations in Hartford and Dowagiac in Southwest Michigan. "We feel the layout, design and finishes will provide guests with the right ambiance, comfortable seating options and great views of multiple screens to enjoy a refreshing beverage or cocktail while cheering for their favorite teams," Frank Freedman, COO of Four Winds Casinos, said in a statement. "Every addition we've made to our Four Winds Casinos locations has been for the sole purpose of enhancing the guest experience and we are thrilled to be able to offer this new amenity at Four Winds New Buffalo."
• The Tohono O'odham Gaming Enterprise, a venture of the Tohono O'odham Nation, has tapped veteran casino executive Mike Bean to serve as its new CEO of the Desert Diamond Casinos & Entertainment. Bean comes to the Tucson, Ariz.-based Desert Diamond from the Mount Pleasant, Mich.-based Saginaw Chippewa Gaming Enterprises, where he served as CEO. Previously, Bean was in senior management at operations including Mohegan Sun, Foxwoods Resort Casino, Harrah's Entertainment and Boyd Gaming. He comes to Desert Diamond as the organization looks to grow following a gaming compact amendment earlier this year. The Tohono O'odham Gaming Enterprise also is building a new casino in West Valley. "We need a leader who is forward-thinking and ready to embrace a new era of gaming in our state. Mike understands where we're going and what we want to accomplish — for our Enterprise, for the Tohono O'odham Nation, and for our community partners across Arizona," Justin Manuel, chairman of the Tohono O'odham Gaming Enterprise management board, said in a statement. Desert Diamond Casinos & Entertainment currently operates three locations in Tucson, Sahuarita, and Why in Southern Arizona.
Want more news about the $130 billion tribal economy?
Tribal Business News publishes thoroughly reported and well-crafted stories about Native businesses and entrepreneurs, growth and expansion strategies, best practices, economic data, government policy and other relevant business news. Tribal Business News is required reading for tribal council members and leaders of Native businesses, as well as state and federal legislators, policymakers, economic developers, entrepreneurs, bankers, lawyers and anyone interested in doing business in Indian Country.
Sign up for our free newsletter to track Native business and the tribal economy. Or sign up for a premium digital subscription ($99/year or $10/month— cancel anytime) to gain full 24/7/365 access to our business news reporting. Megwetch.