Here is a round up of business news from around Indian Country.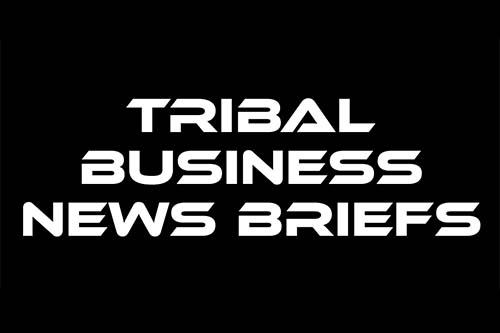 Consultation
• The White House Office of Management and Budget is hosting a virtual tribal consultation on President Biden's 2023 fiscal year budget on Thursday, Sept. 23 from 2-4 p.m. EDT. The consultation will give tribal leaders the opportunity to provide comments and recommendations on how the budget "can effectively support American Indian and Alaska Native governments, organizations, communities and individuals." Registration is available at this link.
Government
• The Biden administration last week announced it intended to appoint Patrice Kunesh, of Standing Rock Lakota descent, to serve on the Community Development Advisory Board. Kunesh is the founder and director of Peȟíŋ Haha Consulting, a social enterprise aimed at helping Native nations access economic opportunities. Previously, she established and led the Center for Indian Country Development at the Federal Reserve Bank of Minneapolis. She also formerly worked at the Native American Rights Fund and had served in the federal government as Deputy Under Secretary for Rural Development at the U.S. Department of Agriculture and as the Deputy Solicitor for Indian Affairs at the U.S. Department of the Interior.
• Heidi Davis will serve as the new staff attorney for the Office of the President of the Central Council of the Tlingit & Haida Indian Tribes of Alaska. Davis will provide legal counsel on issues related to tribal government, federal-tribal relations, federal-state relations, tribal jurisdiction, environmental and natural resources law and policy, economic development, employment, contracts, code drafting and compliance, according to a statement. Davis graduated from the University of Arkansas Little Rock School of Law in May 2021. "It's encouraging to see our graduates return home to work for their people," President Richard Peterson said in a statement. "It reflects how special our Tribe is. We have students who want to come home and give back to our communities. Heidi is a great example of that."
• Michael Lynn, the executive director of the Cherokee Nation Department of Transportation and Infrastructure, was reappointed to the Oklahoma Department of Transportation Tribal Advisory Board, according to a statement. The appointment runs through 2023. Lynn was first appointed to the advisory board in 2007 and previously served as its chair and secretary. He began working for Cherokee Nation in 1995 and has led the Department of Transportation and Infrastructure since 2019. The ODOT Tribal Advisory Board advises the state on transportation programs that affect tribal governments. "It's an honor to continue serving and representing tribal voices so that we can focus on transportation needs that will benefit our citizens and communities for generations," Lynn said in a statement.
Finance
• Fern Orie (Oneida) has joined Longmont, Colo.-based Oweesta Corp., an intermediary for Native CDFIs, as its Chief Programs Officer and Executive Vice President of Advocacy & Strategic Partnerships. At Oweesta, Orie will help lead the organization's advocacy around national policy to expand capital access for Native communities. Previously, Orie served as the founding CEO of the Wisconsin Native Loan Fund and founding chair of the Wisconsin Indian Business Alliance. Orie also currently serves as vice chairperson of the Native CDFI Network. "I'm excited to join Oweesta after working in partnership with them at the Wisconsin Native Loan Fund all of these years. Leading the Wisconsin Native Loan Fund, I experienced how Native CDFIs are agents of change and are the most powerful resources to help communities thrive. It is an honor to now support the broader Native CDFI movement on a national level," Orie said in a statement.
Entrepreneurship
• Orono, Maine-based Four Directions Development Corporation received a $92,500 grant from the U.S. Department of Agriculture Rural Development Office to fund the expansion of the organization's Native Entrepreneur Center where it provides small business services. The funding will go to increase training and to launch Native Entrepreneur Centers on two tribal reservations in Maine. The centers, to be located at the Passamaquoddy Pleasant Point reservation and the Houlton Band of Maliseet Indians' reservation, will provide business education services, technical assistance and small business loans to Native entrepreneurs. Four Directions also plans to hire a small business manager to work with all five federally recognized tribes in Maine. "We are excited and honored to be a grant recipient from the USDA's Rural Development Block Grant program which (will) allow us to support Wabanaki tribes and entrepreneurs to start and grow their business," Four Directions Executive Director Susan Hammond said in a statement. "Receiving this grant will allow us to expand our capabilities in helping Wabanaki tribes and tribal members to start a business and become successful."
Education
• The American Indian Science and Engineering Society (AISES), based in Albuquerque, N.M., received a $962,500 general operating grant from Battle Creek, Mich.-based W.K. Kellogg Foundation to support the mission of increasing Indigenous representation in science, technology, engineering and math education and careers. The three-year grant will help AISES bolster its internal capacity to develop data to advance its work, according to a statement. "This general operating grant will grow the AISES organization by engaging in programs and outreach that are designed to help children discover themselves and their passion for STEM," AISES Board Chair Gary Burnette said in a statement. "The inclusion of Indigenous youth as participants in science learning is a long-held Indigenous value that has been a part of community teachings and learning for centuries. Many of the world's technological advances originated with Indigenous peoples."
Gaming
• The Koi Nation announced plans to develop the $600 million Shiloh Resort & Casino on a 68-acre site near Santa Rosa, Calif. The project would include 2,500 slot machines, a 200-room hotel, six restaurants, a meeting center and a spa, according to a statement. When fully operational, the Sonoma County facility could employ more than 1,100 people. The tribe submitted an application this month to place the land into trust, a move that followed a favorable federal court case in 2019 affirming the tribe's sovereign rights. "By exercising our rights under the IGRA, we can build prosperity for our Tribe and make a real difference for our people today as well as for our children and the generations yet to come," Tribal Chairman Darin Beltran said in a statement. "With this land and the Shiloh Resort & Casino, we are taking long overdue steps to preserve our cultural and historic integrity and secure a brighter future for coming generations."
• Longtime Indian gaming advocate Knute Knudson Jr. will be inducted into the American Gaming Association's Gaming Hall of Fame during an Oct. 5 event held during the Global Gaming Expo in Las Vegas, Nev. Knudson currently serves as vice president of global business development and tribal ambassador for London-based International Game Technology PLC. His career included a stint at the Department of the Interior from 1989 to 1993 during which he helped to implement the Indian Gaming Regulatory Act. He later joined Sodak Gaming and assisted tribes in financing more than $1.5 billion in gaming equipment, according to a statement. "The advancement of Indian gaming, tribal self-sufficiency, and, importantly, Tribal Sovereignty has been my life's work, and my success is intricately tied to Indian people who have trusted me to advance their causes and expand gaming opportunities on their behalf," Knudson said in a statement. "I am grateful for their confidence, partnerships and friendships and thank IGT for its continued support."
Economic development
• The National Center for American Indian Enterprise Development received a five-year, $400,000 grant from the Minority Business Development Agency (MBDA) within the U.S. Department of Commerce. Mesa, Ariz.-based NCAIED will use the funding to launch an MBDA Export Center to assist minority businesses — including American Indian, Native Alaskan and Native Hawaiian-owned companies — to grow by accessing new and global markets, according to a statement. The National Center named former accounting clerk Sadie Belton as its Lead Export Business Development Specialist. "Minority business enterprises (MBEs) are critical to the U.S. economy, acting as engines for investments, job creation, and opportunity in local communities nationwide," Secretary of Commerce Gina Raimondo said in a statement.
• Ten federally recognized American Indian and Alaska Native tribes will split $500,000 in business development grants issued by the Office of Indian Economic Development within the Bureau of  Indian Affairs. The tribes can use the funding to evaluate and identify new economic opportunities. Specifically, the grants will go toward feasibility studies about an economic development project or enterprise. "Native American Business Development Institute grants empower Tribes to make informed decisions about their economic futures," Assistant Secretary – Indian Affairs Bryan Newland said in a statement. "Tribes will use these grants to explore opportunities to further economic self-sufficiency and Tribal self-determination." The awardees in this round of grants were:
• Kashia Band of Pomo Indians of the Stewarts Point Rancheria, $44,500 for a convenience store/gas station feasibility study
• Nulato Tribal Council Awarded, $45,000 for a tribally owned airline feasibility study
• Delaware Nation, $37,500 for a feasibility study about an orchard and apiary products company
• Oglala Sioux Tribe, $65,000 for a feasibility study for businesses on the Crazy Horse scenic byway
• Lower Brule Sioux Tribe, $48,000 for an aquaculture/aquaponics feasibility study
• Oneida Nation, $65,000 for a beef and buffalo production plant feasibility study
• Rappahannock Tribe of Virginia, $40,000 for a feasibility study about tribal enterprises
• Walker River Paiute Tribe, $65,000 for a food sovereignty project feasibility study
• Match-E-Be-Nash-She-Wish Band of Pottawatomi Indians, $45,000 for a feasibility study on economic development recovery
• Bear River Band of Rohnerville Rancheria, $45,000 for an economic feasibility and business plan.
Want more news about the $130 billion tribal economy?
Tribal Business News publishes thoroughly reported and well-crafted stories about Native businesses and entrepreneurs, growth and expansion strategies, best practices, economic data, government policy and other relevant business news. Tribal Business News is required reading for tribal council members and leaders of Native businesses, as well as state and federal legislators, policymakers, economic developers, entrepreneurs, bankers, lawyers and anyone interested in doing business in Indian Country.
Sign up for our free newsletter to track Native business and the tribal economy. Or sign up for a discounted subscription ($99/year — use coupon code "TBN21") to gain full 24/7/365 access to our business news reporting. Megwetch.