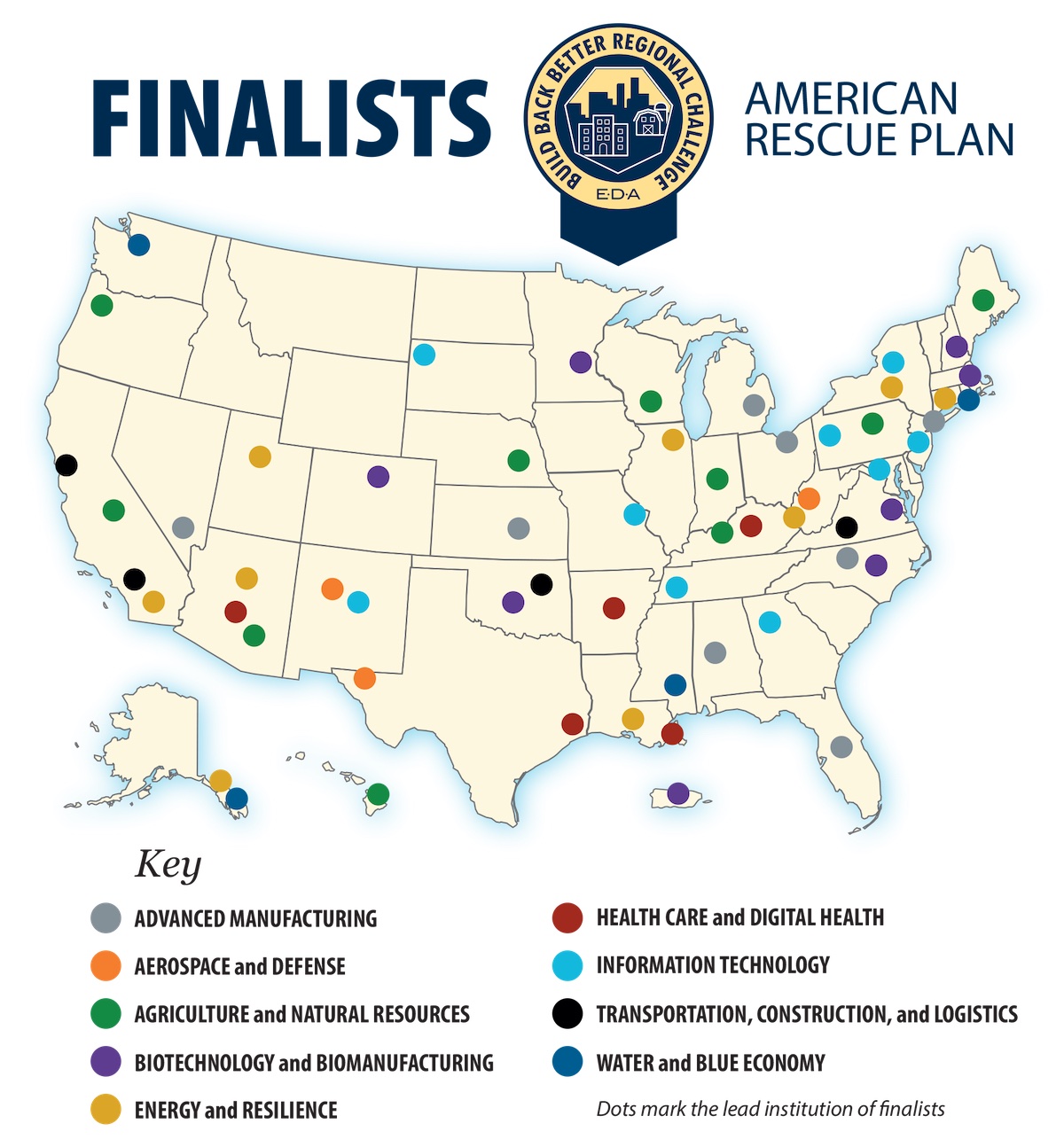 Details

Economic Development
Six Native coalitions received $500,000 grant awards from the $1 billion Build Back Better Regional Challenge and will compete for millions more in potential funding.
The awardees included Window Rock, Ariz.-based Hopi Utilities Corp., the Eagle Butte, S.D.-based Four Bands Community Fund, Tulsa, Okla.-based Indian Nations Council of Governments, and the Pala, Calif.-based Pala Band of Mission Indians.
Also received grant awards were a pair of coalitions representing Alaska Natives led by Juneau-based Spruce Root Inc., a Native community development financial institution, and the Southeast Conference, a regional economic development organization whose partners include the Central Council of the Tlingit and Haida Indian Tribes of Alaska.
The Economic Development Administration, a bureau of the U.S. Department of Commerce, today named sixty finalists in the first round of funding in the Build Back Better Regional Challenge. The agency selected the group from a pool of 529 applicants, which it announced in October.
Between 20 and 30 of those recipients will advance to the second round, where they could potentially receive up to $100 million in federal funding for their proposed projects.
"This program will bring communities back in regions across America," Alejandra Castillo, assistant commerce secretary for economic development, said in an interview with the Associated Press.
Solar, finance, electric vehicles, and more
The Hopi Utilities Corp.'s "large scale solar project" in Northwest Arizona aims to shift the Hopi economy from coal to renewable energy, according to a proposal submitted to the EDA.
Via a partnership with the Navajo Nation and Peabody Energy, royalties from the coal-powered Navajo Generating Station represented nearly 90 percent of the Hopi tribe's budget. When the project closed in 2019 closure, it "blindsided the Tribe," the company wrote in its application.
The goal with the proposed project is to bring renewable energy — and the associated royalties — to the Hopi reservation to make up for the loss of the Navajo Generating Station.
The current plan proposes building a solar station and battery storage facility alongside attracting an "industry partner" who could co-locate an energy-intensive operation on the site under a purchasing arrangement, generating revenue.
The EDA has committed allocating $300 million of its $3 billion in ARPA funding to support coal communities transition to new industries as part of the Coal Communities Commitment.
Meanwhile, Four Bands Community Fund hopes to build an Indigenous-led finance industry servicing Natives in North Dakota, South Dakota, Montana, and Wyoming.
In its project proposal, the Native CDFI wrote that it wants to address access to credit through five component programs: a growth plan for Four Bands' coalition partners, a workforce development plan, development of non-physical infrastructure such as I.T. services and marketing technology, a revolving loan fund and the purchase and renovation of a 12,650-square-foot "innovation center" in Crow Agency, Mont.
A coalition led by Indian Nations Council of Governments, which serves the Osage, Creek and Cherokee Nations, proposed a plan to enter the electric, self-steering (or flying) vehicle market with an industrial development cluster called the Tulsa Regional Advanced Mobility Corridor.
The coalition hopes to leverage a "confluence" of weather patterns ideal for drone testing, a workforce already employed in the aerospace and defense industries, and regional partners for a "world leading" mobility development hub, according to the project statement.
In California, the Pala Band of Mission Indians leads a coalition that also aims to accelerate renewable energy adoption. While the Pala Band serves as the lead group for their coalition, the project proposes bringing renewable energy generation, storage, trading and electric vehicle technologies to 24 member tribes in the region.
The project proposal, titled the SoCal Tribal Accelerated Clean Energy Economy Initiative, consists of an initial technical assistance phase funded by the initial $500,000 grant, then a larger-scope phase allowing for the construction of a central management office, at least one solar panel manufacturing plant, and at least one tribally owned clean energy facility.
Finally, in Southeastern Alaska, Native CDFI Spruce Root proposes to create a "sustainable forest products cluster" by way of a five-pronged project plan: a business incubator focused on Alaska Native art, food, and medical products entrepreneurship; long-term planning for young growth timber harvesting; a move to biomass fuel for heating in the region to reduce wood burning; rebuilding and repairing old logging roads for easier product shipping; and developing a workforce in and around the cluster.
In the same region, the Southeast Conference hopes to fund Project Narrative, a plan to develop the marine agriculture industry in coastal Alaska. Within 20 years, the group wants to create a $100 million per year marine agriculture economy, according to their project statement.
Project Narrative's component projects include a hatchery and nursery network for shellfish and seaweed seed, funds for capital and grantmaking programs, workforce development, and product and market development.
The deadline for the second phase of the Build Back Better Regional Challenge is March 15, 2022.
Want more news about the $130 billion tribal economy?
Tribal Business News publishes thoroughly reported and well-crafted stories about Native businesses and entrepreneurs, growth and expansion strategies, best practices, economic data, government policy and other relevant business news. Tribal Business News is required reading for tribal council members and leaders of Native businesses, as well as state and federal legislators, policymakers, economic developers, entrepreneurs, bankers, lawyers and anyone interested in doing business in Indian Country.
Sign up for our free newsletter to track Native business and the tribal economy. Or sign up for a discounted subscription ($99/year — use coupon code "TBN21") to gain full 24/7/365 access to our business news reporting. Megwetch.