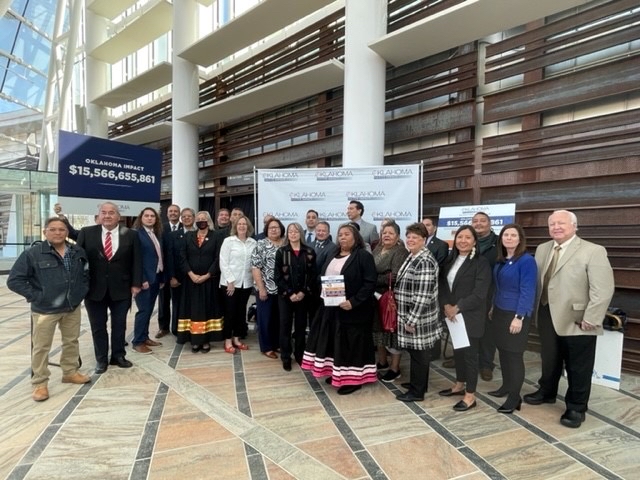 Details

Economic Development
American Indian tribes play an important function in Oklahoma's economy as well as pull economic activity out to otherwise ignored rural communities.
That's according to Oklahoma City University Associate Professor Economics Kyle Dean, Ph.D., who completed a recent study on the economic effects of the state's tribes.
Oklahoma-based tribes provide jobs, training, education and infrastructure in areas that don't often otherwise attract large corporations or investors, Dean said.
"There's no company that's going to come out to Durant, Oklahoma and provide 20,000 jobs," Dean said. "As a matter of fact, if you were to go out and try to attract a corporation to Oklahoma, it'd be hard to find a business that's going to come in and generate billions in activity here."
Never miss the biggest stories and breaking news about the tribal economy. Sign up to get our reporting sent straight to your inbox every Monday morning.
Dean used the example of the Durant-based Choctaw Nation, which employs 10,000 people and, moreover, has no plans to relocate anytime soon.
"The tribes aren't going to entertain business proposals from Nevada or Arkansas to relocate; they're going to be located in Durant and (Cherokee Nation reservation seat) Tahlequah forever," Dean said. "It's an impact on these rural communities that's permanent."
Dean's report, The Economic Impact of Tribes in Oklahoma 2019, compiles financial data from 15 of Oklahoma's 38 tribes to create a snapshot of the economic effects of Native work in the state.
In combining business revenues, government expenditures and capital expenditures, tribes directly produced $8.3 billion for the Oklahoma economy, according to the report.
When accounting for secondary "spillover" effects, or jobs and industries affected by Native activity further upstream such as construction projects or external security firms, the tribes' influence grows to an estimated $15.6 billion, or what Dean calls a "significant" portion of Oklahoma's $200 billion economy.
Moreover, much of those economic effects stem from the way tribes employ people, spend money and handle health care, which spreads the economic effects further than a traditional business might, according to Dean.
"That $15.6 billion number is a little bit esoteric. That number is to pull people to the table to see what's going on," Dean said. "The unique thing that tribes do that businesses don't do is that tribes provide an entire socio-economic ecosystem that businesses don't provide."
Dean pointed to the Cherokee Nation as an example of one such ecosystem. In addition to employing 11,000 people across the tribal government and the tribe's subsidiaries, Cherokee Nation also provides job training and education services that expand Oklahoma's workforce.
"The Cherokee Nation is not just some business providing jobs. They provide fire trucks to local communities and funding for municipal initiatives," Dean said.
Tribes also saved Oklahoma $231.7 million in Medicaid costs by matching payments that would otherwise have been borne by the state.
Another major economic contributor was tribal gaming. With the funds paid for their exclusivity agreements, tribal casinos contributed $148 million to the state in 2019, $130 million of which went to Oklahoma's revolving education fund. In total, growing gaming revenues have contributed $1.8 billion in exclusivity fees since 2006, according to the report.
Throughout the state, tribal governments also invested $228.4 million in "human capital development," such as primary and higher education.
Dean conceded that much of tribal spending focused on aiding Native citizens, but he added that those investments created economic benefits for non-tribal citizens as well.
"(Tribes) engage in massive amounts of capital investment. The majority is for the tribal benefit, but a lot of it brings dollars to Oklahoma for things that help Oklahomans, such as roads and bridges," Dean said. "If a tribe invests in building and maintaining a road, all Oklahomans get to drive on that road."
Studies like this one serve as one vehicle for tribes to communicate their economic contributions and provide context about their effects on the surrounding communities.
For example, the Michigan Non-Gaming Tribal Economic Impact Study found that 38 non-gaming business entities owned by nine federally recognized Michigan tribes created nearly $288.8 million in economic impact in 2019, according to a previous Tribal Business News report. Expanding outward to include tribal gaming industries, the economic contribution swelled to $3.4 billion.
"Tribal business entities have a positive impact on the economy," said Eric Trevan, Ph.D., a co-author of the Michigan study. "A job on the reservation is a job for the region. Public policy should support ongoing growth that increases multiplier effects for surrounding economies."
Along those lines, Oklahoma Tribal Finance Consortium President Victor Flores called tribes a "significant economic driver" in the state. In a statement provided to Tribal Business News, Flores echoed Dean's assertion that tribes will remain a stable economic fixture in their communities that are unaffected by the whims of the industry, for example.
"Oklahoma is home, and we will continue to reinvest in our communities through job creation, critical service delivery and infrastructure development," Flores said. "Oklahoma is stronger when we all work together."
Cherokee Nation Principal Chief Chuck Hoskin, Jr. shared the sentiment, pointing to large Nation projects such as a new $400 million hospital in their reservation seat of Tahlequah.
"Tribes are here to stay and making tremendous investments across our great state providing jobs and serving countless citizens," Hoskin said.
Want more news about the $130 billion tribal economy?
Tribal Business News publishes thoroughly reported and well-crafted stories about Native businesses and entrepreneurs, growth and expansion strategies, best practices, economic data, government policy and other relevant business news. Tribal Business News is required reading for tribal council members and leaders of Native businesses, as well as state and federal legislators, policymakers, economic developers, entrepreneurs, bankers, lawyers and anyone interested in doing business in Indian Country.
Sign up for our free newsletter to track Native business and the tribal economy. Or sign up for a premium digital subscription ($99/year or $10/month— cancel anytime) to gain full 24/7/365 access to our business news reporting. Megwetch.