Here is a round-up of business news from around Indian Country.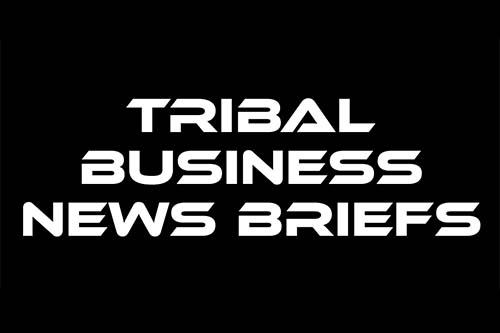 Government
• Lashawna Tso, a member of the Navajo Nation, has been appointed to serve as the new executive director of the Navajo Nation Washington Office effective May 16, according to a statement from President Jonathan Nez and Vice President Myron Lizer. Originally from Smoke Signal, Ariz., Tso previously served as the New Mexico Assistant Secretary of Indian Education, and the Chief of Staff for the Office of the Speaker under the Navajo Nation Legislative Branch. She also formerly worked as a legislative staff assistant for the tribe. Former Executive Director Santee Lewis recently took a new role at the Bureau of Indian Affairs. "We are proud to welcome one of our young Diné professionals back to the Navajo Nation to serve our people. With her extensive background and experience, we are confident that she will advocate for our people and strengthen our Nation's relations at the federal level. She grew up on the Navajo Nation, achieved a higher education, and now she is returning home to help our people once again," Nez said in a statement.
Infrastructure
• The Department of the Interior has allocated nearly $10 million in infrastructure funding in fiscal year 2022 for irrigation projects and power utilities owned by the Bureau of Indian Affairs (BIA). The funding will augment Indian projects including the $3.74 million Wapato Irrigation Project on the Yakama Indian Reservation in Washington, the $1.85 million Colorado River Indian Irrigation Project on the Colorado River Indian Tribes Reservation (CRIT) in Arizona and the $1.25 million Fort Peck Irrigation Project on the Fort Peck Indian Reservation in Montana. The BIA will make $1 million investments in three of the agency's power utility projects: the Colorado River Agency Electrical Services on the CRIT, Mission Valley Power on the Flathead Indian Reservation in Montana and the San Carlos Irrigation Project - Power Division on the San Carlos Indian Reservation and Gila River Indian Reservation in Arizona. The BIA said it planned to invest about $35 million in Indian irrigation projects and $15 million in power utilities it owns over the next five years. The agency will prioritize funding structures and features that reduce the risk of system failure and reduce deferred maintenance, according to a statement. "Investing in irrigation and power is central to addressing climate change impacts and expanding economic opportunity in Indian Country," Secretary of the Interior Deb Haaland said in a statement.
Philanthropy
• After being selected to distribute $50 million to help address the wealth gap, Rapid City, S.D.-based NDN Collective has launched the Collective Abundance Fund survey to help it determine how best to redistribute the funding. The project is aimed at Native individuals and families in Minnesota, North Dakota, and South Dakota and aims to begin making distributions in early 2023 and continue over a four-year period. The Collective Abundance Fund survey is open to Indigenous people in the same geographic region and aims to get responses from 20,000 respondents. NDN Collective also is engaging in listening sessions and working with various partners to gain community feedback on the distributions. "The Collective Abundance Fund is for the people," NDN Collective President and CEO Nick Tilsen said in a statement. "We are just liberating, looking after it and redistributing the funds. This survey is one of many community engagement strategies we are doing to get input from the people on what and how these resources need to show up in their lives to have a meaningful impact."
Federal 8(a) contracting
• Ocean Bay Information and Systems Management LLC, an Anchorage, Alaska-based subsidiary of the Alaska Native-owned Old Harbor Native Corporation, received a $155.6 million contract to provide administrative, professional and technical support to the Drug Enforcement Administration within the U.S. Department of Justice. The 8(a)-certified contractor successfully competed for the set-aside contract, according to a federal notice. According to a report, the contract will support the DEA's Diversion Control Program.
Funding
• The Keweenaw Bay Indian Community in Michigan received $75,000 in funding from the Environmental Protection Agency's Environmental Justice Small Grants program. The area near the tribe's reservation in the Upper Peninsula has a mixed-fuel power plant and various historical legacy pollutants, including from past copper mining operations. The funding will help the tribe identify legacy and current environmental pollutants, conduct an environmental risk assessment and develop materials to distribute project findings. "This EPA EJ funding opportunity will assist KBIC with the completion of a health risk assessment focusing on environmental contaminants," KBIC President Kim Klopstein said in a statement. "This study will analyze the impacts of risk values set for the general population that are not reflective of our tribal lifeways and those members who rely on the environment to hunt, fish, and gather."
Want more news about the $130 billion tribal economy?
Tribal Business News publishes thoroughly reported and well-crafted stories about Native businesses and entrepreneurs, growth and expansion strategies, best practices, economic data, government policy and other relevant business news. Tribal Business News is required reading for tribal council members and leaders of Native businesses, as well as state and federal legislators, policymakers, economic developers, entrepreneurs, bankers, lawyers and anyone interested in doing business in Indian Country.
Sign up for our free newsletter to track Native business and the tribal economy. Or sign up for a premium digital subscription ($99/year or $10/month— cancel anytime) to gain full 24/7/365 access to our business news reporting. Megwetch.