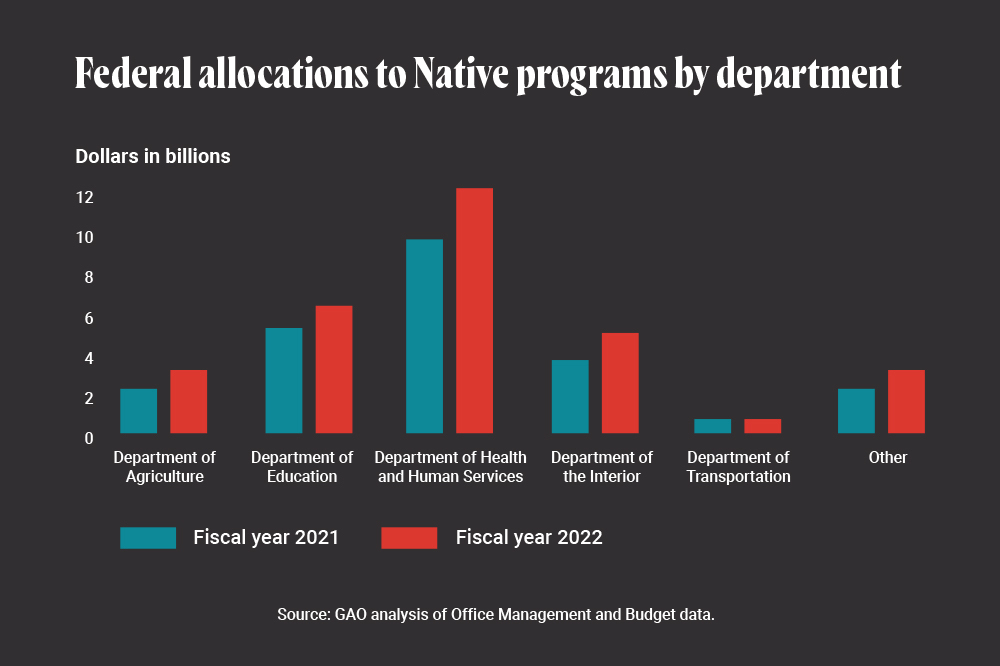 Details

By

Mark Fogarty

Economic Development
WASHINGTON — The good news about the Native American "crosscut," a tally of all federal money allotted for Native programs in the president's budget, is that the total for tribes is up substantially in 2022 from last year.
The bad news, a Congressional watchdog found: Three of the federal agencies it examined ignored tribal sovereignty by conducting no consultation at all with tribes.
"Of the five agencies we reviewed, the Department of Transportation, the Department of Education, and the U.S. Department of Agriculture do not have formal processes for incorporating tribal input on budget issues. These three agencies also do not develop information on tribal needs during budget formulation," according to the Government Accountability Office, which was tasked by the Senate Committee on Indian Affairs to look into the matter.
GAO also found that the crosscut is a mishmash of differing data and procedures that makes it hard to comprehend how the overall amount of government obligations to tribes is figured.
"Tribal stakeholders have expressed concerns about its transparency," authors at the GAO wrote in the report.
GAO's recommendations, in contrast, are crystal clear. The Office of Management and Budget, which tallies the crosscut each year, needs to make it intelligible. The three agencies that do no consulting with tribes need to start now.
Never miss the biggest stories and breaking news about the tribal economy. Sign up to get our reporting sent straight to your inbox every Monday morning.
GAO informed Senate Committee on Indian Affairs chair Brian Schatz, D-Hawaii, and Ranking Member Lisa Murkowski, R-Alaska that "OMB, Education, and DOT agreed or generally agreed with the recommendations. USDA neither agreed nor disagreed."
The GAO picked out those three agencies for examination because they, along with the Department of Health and Human Services and the Department of the Interior, both of which do consult with tribes, make up 90 percent of federal money allocated to benefit tribes or individual Indians. The crosscut report grouped another 25 agencies in 2021 and 26 agencies in 2022 that have contact with Indian Country into an "other" category.
Two of the five main agencies studied do include tribal consultation, GAO reported.
"Specifically, HHS and Interior have processes for tribal leaders to provide input on initial budget submissions to OMB. Also, HHS's Indian Health Service has a tribal budget work group that develops information on tribal needs — including unmet needs — that the agency provides to OMB," according to the report.
The 2022 crosscut comes in at $28.8 billion, nearly a third higher than 2021's $22.2 billion. Each year also saw special allocations on top of these amounts for COVID-19 relief. As well, it should be noted that Congress rarely adopts the president's budget without changes.
In its report, the GAO said the crosscut "does not clearly state the purpose of the crosscut or include detailed information for all agencies about what the published data represent, including how agencies selected programs to include.
"Eight of thirteen tribal stakeholders we interviewed said that the lack of detail in the crosscut made it difficult for them to leverage the reported information for their planning and decision-making purposes."
In addition, "the crosscut does not include detailed information at the agency level for all agencies about what the data from each agency represent — including differences in agencies' methodologies for selecting programs to include and differences in the types of data reported across agencies," according to the GAO.
Education and Health and Human Services "provided more detailed information on selected programs in the fiscal years 2021 and 2022 crosscuts."
The agency found "the five key agencies interpret OMB's guidance differently when identifying which programs to include and take different approaches for reporting data on funding levels for a variety of reasons, including differences in program eligibility and the information that agencies collect and track."
Input from tribal stakeholders included their takes on shortcomings in the report: "For example, seven tribal stakeholders told us that the crosscut does not show what money actually ends up in tribal hands and includes moneys that go to states and funds that federal agencies retain. In addition, six tribal stakeholders told us that having detailed information in the crosscut on how the reported funding is distributed, such as which funding is provided through competitive discretionary grants, would be useful because it provides a more comprehensive picture of the funds tribes can access."
The Congressional overseer included a letter from Department of Transportation Assistant Secretary for Administration Philip McNamara, which said in part: "Upon review of the draft report, the Department concurs with GAO's recommendation to develop a formal process to ensure meaningful and timely input from tribal officials when formulating budget request and program reauthorization proposals for the Department's programs serving tribes and their members."
McNamara promised a detailed response to GAO within 180 days of the final report.