Here is a round-up of business news from around Indian Country.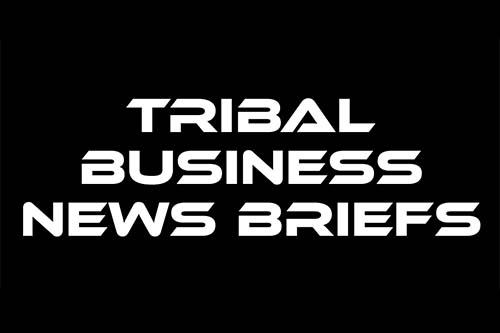 Economic development
• Alaska Native-owned Brown Jug, the largest packaged liquor store in Alaska, is expanding with a new location in Anchorage. Brown Jug, which Afognak Native Corporation acquired in mid 2020, operates 21 locations in Anchorage, Wasilla and Fairbanks, plus a warehouse in Anchorage. The company remodeled the 6,000-square-foot building and installed a range of new efficient systems for lighting and coolers, according to a statement. Brown Jug expects to employ a full-time staff of seven people plus a manager. "What gives us, as a company, the most satisfaction is continuing to lead our industry in ensuring social responsibility and staying active and engaged in every community where a Brown Jug store is located," company President Matt Thorpe said in a statement.
Arts and Culture
• Albuquerque, N.M.-based 516 Arts has hired Rachelle Pablo, an enrolled member of the Navajo Nation, as curator. In the position, Pablo will curate exhibitions and develop programs for the contemporary art museum, and work with community and regional partnerships. The role also involves coordinating the museum's statewide Indigenous arts programming. Pablo serves as board member of the IndigenousWays nonprofit and has completed various fellowship and internship programs at the likes of the Peabody Essex Museum in Salem, Mass., the National Museum of the American Indian in Washington, D.C., and the Museum of Contemporary Native Art in Santa Fe, N.M. The position at 516 Arts is partially supported by grant from the Henry Luce Foundation. "I will bring wide-ranging experience and cultural awareness of the Native American and diverse local communities in New Mexico," Pablo said in a statement. "The intersectionality nurtured by the 516 ARTS team is a value that appeals to me as a queer Diné artist and museum professional. This curatorial position fulfills my long-term goal of contributing to the arts and community in New Mexico."
Funding
• First Nations Development Institute has launched two separate funding opportunities under its Stewarding Native Lands program. The Regional Dialogues on Climate Resiliency Grant program will focus on providing financial and technical assistance to support Native ecological stewardship and improve Native control of and access to ancestral lands and resources. First Nations expects to award 10 grants averaging $50,000 to tribes or organizations. The funding is aimed at fostering conversations on climate resiliency and the Justice40 initiative Native communities. The Climate Resiliency in Indian Country Grant program has a similar focus but will award 10 grants up to $100,000 each for Native-led projects related to the development or implementation of climate resiliency planning. Proposals for both grant programs are due by June 1. The Bezos Earth Fund provided funding to First Nations to support both programs. Tribes and organizations are encouraged to apply for one or both competitive grants, depending on capacity.
Education
• The St. Paul, Minn.-based Bush Foundation has selected Erin Griffin (Sisseton-Wahpeton Oyate) as one of 24 people to participate in its 2022 Bush Fellowship program. Griffin serves as a program officer for Indigenous education at the American Indian College Fund. The fellowship awards up to $100,000 over 12 to 24 months for fellows to pursue education and learning experiences that help them develop the skills and relationships to foster large-scale change in their communities and region, according to a statement. Griffin wants to expand the number of people speaking the Dakota language and is working to finish her doctoral degree in Indigenous language and culture revitalization. The Bush Foundation selected the 24 fellows from a pool of 468 applicants. "The Dakota language is a significant component to my everyday life; it informs my worldview and understanding and guides my action," Griffin said in a statement. "The ability to understand and speak Dakota in conjunction with my work, family and friends, gardening, artwork, and moments of silence brings me fullness and feeds my passion on a daily basis. This helps me to achieve my responsibilities as a Dakota woman."
• The Twenty-Nine Palms Band of Mission Indians pledged to invest more than $9 million to support California Indian Nations College, which is working to become the first standalone accredited tribal college in California in decades. The tribe chartered the college in 2017 and provided seed funding the following year. California Indian Nations College offered its first classes as part of the University of California Riverside Extension and later partnered with the College of the Desert in Palm Desert. "We believe that education is the foundation for success in life," Tribal Chairman Darrell Mike said in a statement. "CINC offers a springboard for Native and non-Native students pursuing opportunities that can be best achieved with a college degree and the knowledge that comes with it."
• Albuquerque, N.M.-based Advancing Indigenous People in STEM (AISES) has received a $200,000 grant for general operating support from the San Francisco, Calif.-based Christensen Fund to broaden access to STEM fields for Indigenous youth. Christensen Fund is a private foundation that works to support advancing Indigenous rights and self-determination. "The Christensen Fund grant is making an incredible impact on STEM initiatives across the country," AISES CEO Sarah EchoHawk said in a statement. "By partnering with AISES in our diversity-focused work, we can enrich and enhance STEM pathways and opportunities for Indigenous populations. Specifically, this grant will support AISES in exploring how Indigenous values and knowledge informs STEM education to increase interest and persistence in STEM education and careers for Indigenous peoples."
Infrastructure
• The National Telecommunications and Information Administration at the U.S. Department of Commerce awarded the Tunica-Biloxi Tribe of Louisiana with a $2.5 million grant to expand internet access and increase digital literacy, according to a statement. "The Tribe has designed a three-prong approach to address the disproportionate challenges that prevent Tribal citizens from accessing and utilizing broadband services," Tunica-Biloxi Tribe Chairman Marshall Pierite said in a statement. "With this grant, Tribal seniors can receive telehealth and social services virtually, Tribal youth can attend classes remotely and Tribal citizens can apply for jobs and participate in other workforce development opportunities online. We believe better internet access is imperative to the continued development and success of our Tribe."
Never miss the biggest stories and breaking news about the tribal economy. Sign up to get our reporting sent straight to your inbox every Monday morning.