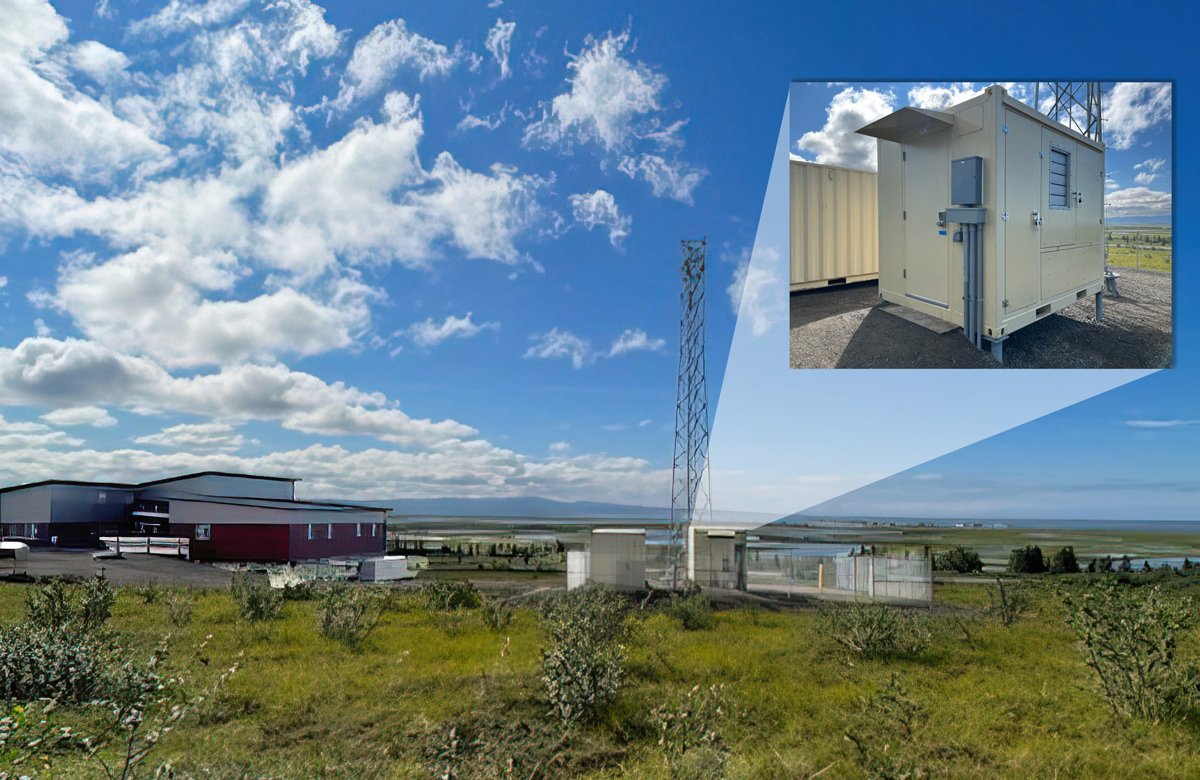 Details

Economic Development
UNALAKLEET, Alaska — The Inuit village of Unalakleet endured a massive storm in September 2022, with torrential rains and high winds pummeling the town that sits 147 miles away from Nome, the nearest community, as flooding reached 11 feet and many residents lost power.
Importantly, Unalakleet's new internet connection, which is crucial for communicating between emergency teams and first responders, stayed online.
Prior to the storm, Alaska Native-owned engineering firm Alaska Tribal Broadband LLC, based in Eagle River, partnered with Kansas City, Mo.-based HCI Energy to create a resilient shelter around the town's recently installed satellite and wireless internet equipment.
It's an important step to consider as much of Alaska begins coming online in the wake of unprecedented federal and private investment in broadband connectivity, says Alaska Tribal Broadband founder Harold Johnson.
"Any kind of telecommunications network, you need a hub to store your equipment, and you need to keep it safe," Johnson said. "HCI's shelter kept the communications equipment up for a few days while power was being repaired elsewhere."
Never miss the biggest stories and breaking news about the tribal economy. Sign up to get our reporting sent straight to your inbox every Monday morning.
The shelter in question is a small building equipped with lithium-ion batteries and an automatic generator created by HCI. The lithium-ion batteries handle most of the workload, recharging during a short turnover to the generator each night. Sparse use of the generator also preserves fuel and lightens the maintenance load, according to HCI.
"This was our first install in Alaska, and we couldn't be more pleased with the performance of our Hybrid Power Shelter for the villagers of Unalakleet during the powerful storm," HCI Energy CEO Kurt Armbruster said in a statement. "Working in partnership with Alaska Tribal Broadband to build out Tribal-owned networks in remote villages in Alaska is very rewarding. Our robust and climate-controlled Hybrid Power Shelter is essentially a ruggedized Central Office."
The setup has become part and parcel of Alaska Tribal Broadband's recommendations during its work with tribes across the state, Johnson said.
"It really becomes the tribe's central telecommunications office," Johnson said. "They own the equipment, of course; we're just getting it implemented. But it becomes a great way to centralize those operations and protect their equipment."
The situation in Unalakleet highlights an important challenge unique to Alaskan broadband: After bringing internet access out to incredibly remote locations, it is necessary to protect the systems to preserve that access because repairs could otherwise take weeks, Johnson told Tribal Business News.
"Access to these places is really limited. Some of them you have to get in a hopper plane and make a short flight to get there, there's no roads," Johnson said. "Getting fuel to a remote site in Alaska is a major logistics challenge, and costly."
A sufficiently equipped shelter building can become the hub for extending connections further and further into remote regions, becoming the "telephone office" for the tribes who buy into Alaska Tribal Broadband's suggested solution.
Even the timing becomes a challenge, Johnson said. Shipping and construction seasons begin in late spring and end in early fall, leaving a sliver of the year open for making real progress on connectivity solutions.
Devising solutions like the HCI shelter, which is built elsewhere and shipped pre-assembled to its eventual destination, could widen the opportunity window for getting new connections online. That's especially important given the sometimes complex nature of funding, Johnson said.
He pointed to the coalition that Alaska Tribal Broadband serves, called Alaska Village Initiatives, or AVI. The consortium has worked since 2019 to bring more than 30 tribes across the state online, according to Alaska Tribal Broadband's website.
The group has primarily employed low-earth orbit satellite equipment to bring connectivity to tribes that were largely unserved prior to the consortium's formation, Johnson said. Through work with the consortium and leveraging federal funding, Alaska Tribal Broadband plans to bring that solution to as many tribes as possible.
"There are some existing services out there, but it's really subpar. It doesn't really qualify as broadband. (It's) very low speed for very high prices," Johnson said. "We've been building these connections, basically, up from scratch."
Alaska Village Initiatives has entered its final stages of talks with the National Telecommunications and Information Administration regarding funding for getting its members online.
Johnson didn't specify which funding program was in play. Notably, the NTIA's Tribal Broadband Connectivity Program has yet to announce recipients for the remaining $300 million of the overall $1.98 billion in available funding from a 2021 funding opportunity.
The long process has placed many villages in a holding pattern until next year for beginning their builds and connections, Johnson said.
"When grants are late, just like what happened this past year, we missed installing systems that should have been in place for 15-20 years," Johnson said. "Shipping prebuilt solutions that can be transported by barge or helicopter saves us time, so that we can get some of these people online by 2023."
When funding is ready and the equipment has been secured, however, Alaska Tribal Broadband will start getting shelters to tribes as soon as possible, Johnson said.
"We'll be on that first barge in May," he said. "We're looking forward to getting this done."