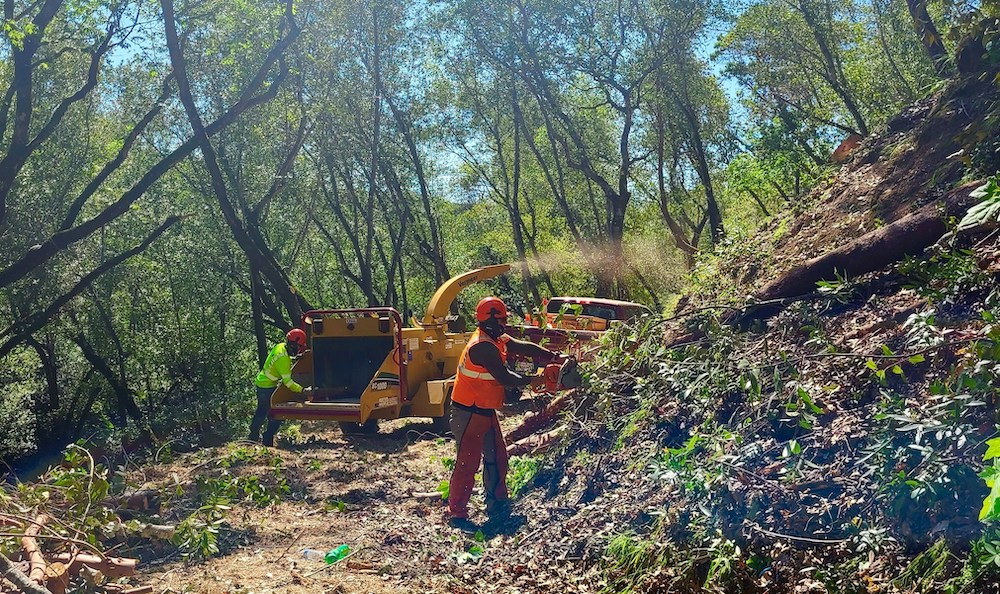 Details

By

Elyse Wild

Economic Development
The federally recognized Redding Rancheria Tribe has launched a new business venture aimed at protecting communities and the environment from the devastating impact of wildfires in northern California and beyond.
Last month, the Tribe's Redding Rancheria Economic Development Corporation (RREDCO) acquired a 51 percent stake in Glendale, Calif.-based Essential Vegetation Management Services (EVM) to launch Rancheria Environmental Vegetation Management Corporation.
The company provides vegetation management — the control and elimination of plants and trees that are fuel for fires — to private, state and tribal entities. The environmental management firm is the latest addition to the Tribe's non-gaming economic development portfolio, which includes a hotel, gas station and mini-mart, and a utility corporation. The Tribe also owns the Win-River Resort and Casino.
Redding Rancheria is located in Shasta County, CA, which stretches from the Northern region of the Sacramento Valley to the southern region of the Cascade Mountain range. The area encompasses the natural beauty synonymous with the Pacific NorthWest: the snow-capped mountains of the Shasta Cascade range run through the county, as well as lakes, rivers, and waterfalls, making it ideal for outdoor adventure.
Never miss the biggest stories and breaking news about the tribal economy. Sign up to get our reporting sent straight to your inbox every Monday morning.
Redding Rancheria tribal member and RREDCO President Jeremy Hayward told Tribal Business News he was inspired to seek a solution to the proliferation of wildfires in the area two years ago when he was mountain biking with his brother on Mount Shasta — 26,409 acres of which had just burned in the 2021's Lava Fire. The pair found trails impassable, covered in debris and fallen trees from the fire.
"They covered all of our trails for about three miles," Hayward said. "We couldn't (ride) it back to our vehicle, so we had to walk and carry our bikes back to the truck. At the end of the day, we thought, 'One match and the whole thing will burn down.'"
The experience prompted Hayward to start researching what, if anything, the Tribe could do to mitigate the risk of wildfires. He connected with EVM Director and Director of Tulane University Law School's Utility Vegetation Management Initiative Larry Kahn and fellow EVM Director Stephen Cieslewicz, who launched EVM in March 2022 to minimize fire risk in California.
"I said, 'That sounds great — that's exactly what we're looking to get into,'" Hayward said.
The new Redding Rancheria Environmental Vegetation Management Corporation — also called RREVMCO — is currently headquartered in Lake County, just north of Napa Valley, where it works with vineyards to maintain safe vegetation levels. Wildfire damaged the region's famous grape crops in 2020, drastically depleting yields from that season's harvest. According to Winebusiness.com, the damage from that year alone cost the industry a staggering $3.7 billion in losses.
As well, the company contracts with the California Department of Forestry and Fire Protection (Cal Fire) to implement defensible space, shaded fuel breaks, access road clearing, utility pole clearing, and eliminate excess fuel from the forest floors. By working in tandem with RREVMCO, Cal Fire can establish defensive perimeters near roads or near forest roads so people can evacuate if the main route out of their communities is blocked by a wildfire.
Hayward told Tribal Business News that RREVMCO has plans to expand to a dozen states in the next two years. The company — which has a tribal preference hiring policy — currently employs 40 workers and anticipates ramping that number up to 400 by the end of 2023.
"What we're seeing nationwide is a deep drought situation, and that is causing the wildfire risk to increase," Hayward said. "And that's exactly what we're trying to fight."
Wildfires have become part of daily life for those living in the Western United States. According to the National Oceanic and Atmospheric Administration, climate change resulting in increased heat, extended drought, and lack of moisture in fuel — trees, shrubs, grasses, and forest debris — has driven an increase in wildfires over the past two decades.
The number of wildfires in the United States doubled from 1985 to 2015, according to a 2016 study by the Department of the Interior. Humans cause 85% wildfires in the U.S., according to estimates.
California is the most wildfire-prone state and has the most fires annually, with 7,667 fires burning more than 360,000 acres in 2022 alone. As a result of last year's fires, nine people died, 776 structures were destroyed and 104 were damaged.
As fires rip across the landscape with greater frequency, the effect on communities and the environment is devastating.
In 2018, the state experienced its deadliest and most destructive fire in its history: The Camp Fire. The fire originated from power lines in Butte County — which neighbors Shasta County — and destroyed more than 18,000 structures and resulted in 85 deaths.
EVM's Kahn emphasizes that wildfires have severe implications for the very ground on which they burn.
"The intensity of some of these fires really damages the soil — it kills the entire biome of the upper layer of the soil, meaning that nothing proper can grow in that soil after the fire," Kahn explained.
Kahn points to the northern California region's heavy snowfall and rain, which, when piled on the damaged soil, can cause mudslides.
"It's just a system that keeps getting worse and worse," Kahn said. "This is not a temporary issue.
The impact wildfires have on tribal communities are even more drastic.
Hayward emotionally recalls a tribal member whose house had burned down in a wildfire.
"She rebuilt her house, and the very next year the fire burned up to her fence," Hayward said. "The year after that, it burned into her front yard and burned a tractor. And that was all because the stuff that had already been burned hadn't been removed."
While Native American communities have long used their own techniques to manage wildfire, Hayward says RREVMCO won't be utilizing Indigenous techniques initially because of the risk of further damaging soil.
"We have neglected the forest in California for hundreds of years, and Indigenous people haven't been allowed to take care of these lands," Hayward said. "Now the fuels have compiled so much, if we were to manage these forests in the Indigenous way, it would burn too hot and damage the soil underneath."
"It's going to take a lot of time and a lot of people to get the forest back into a state where we can manage them the Indigenous way. This project is really important to us, to the Tribe." Hayward said.
The Native-owned company will also place a premium on the sovereignty and beliefs of other tribes, Hayward said. RREVMCO will work with tribes to identify sacred sites that should remain undisturbed in the process of vegetation management.
"My tribe, we have a tree that is sacred to us, that we never want cut down," Hayward expressed. "When RREVMCO is going to be in an area, we plan to meet with tribes in that area and say, 'What are your sacred sights? What is of value to you?' Those relationships are important."
Want more news about the $130 billion tribal economy?
Tribal Business News publishes thoroughly reported and well-crafted stories about Native businesses and entrepreneurs, growth and expansion strategies, best practices, economic data, government policy and other relevant business news. Tribal Business News is required reading for tribal council members and leaders of Native businesses, as well as state and federal legislators, policymakers, economic developers, entrepreneurs, bankers, lawyers and anyone interested in doing business in Indian Country.
Sign up for our free newsletter to track Native business and the tribal economy. Or sign up for a premium digital subscription ($99/year or $10/month— cancel anytime) to gain full 24/7/365 access to our business news reporting. Megwetch.