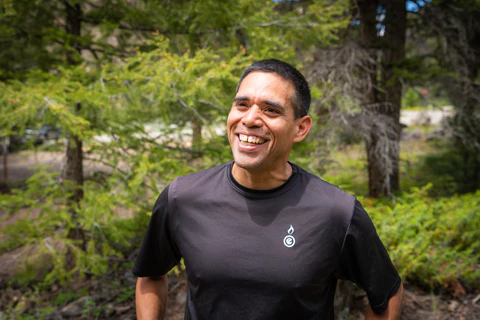 Details

By

Elyse Wild

Entrepreneurism
In Mike Mojica's native Pueblo Laguna language, his name is "Bodaway," which means "fire maker."
The moniker is appropriate for a few reasons. After just a few minutes of chatting with Mojica, it's clear he carries a rare, infectious spark that leaves those he encounters with a feeling of warmth and inspiration.
And, what's more, he is the founder of Outdoor Element, an adventure gear company whose stand-out product is the Firebiner, a patented climber's carabiner that's also a fire-starter.
"I've embraced my Native roots," Mojica, an engineer by trade, said. "A common theme among my product lines is that they create fire."
Mojica is part of the 1% of outdoor adventure brand leaders or owners who are not white. As participation in outdoor recreation grows — it's up 26% since March 2020, according to the Outdoor Industry Association — the $459.8 billion dollar outdoor products and services industry is poised to climb along with it.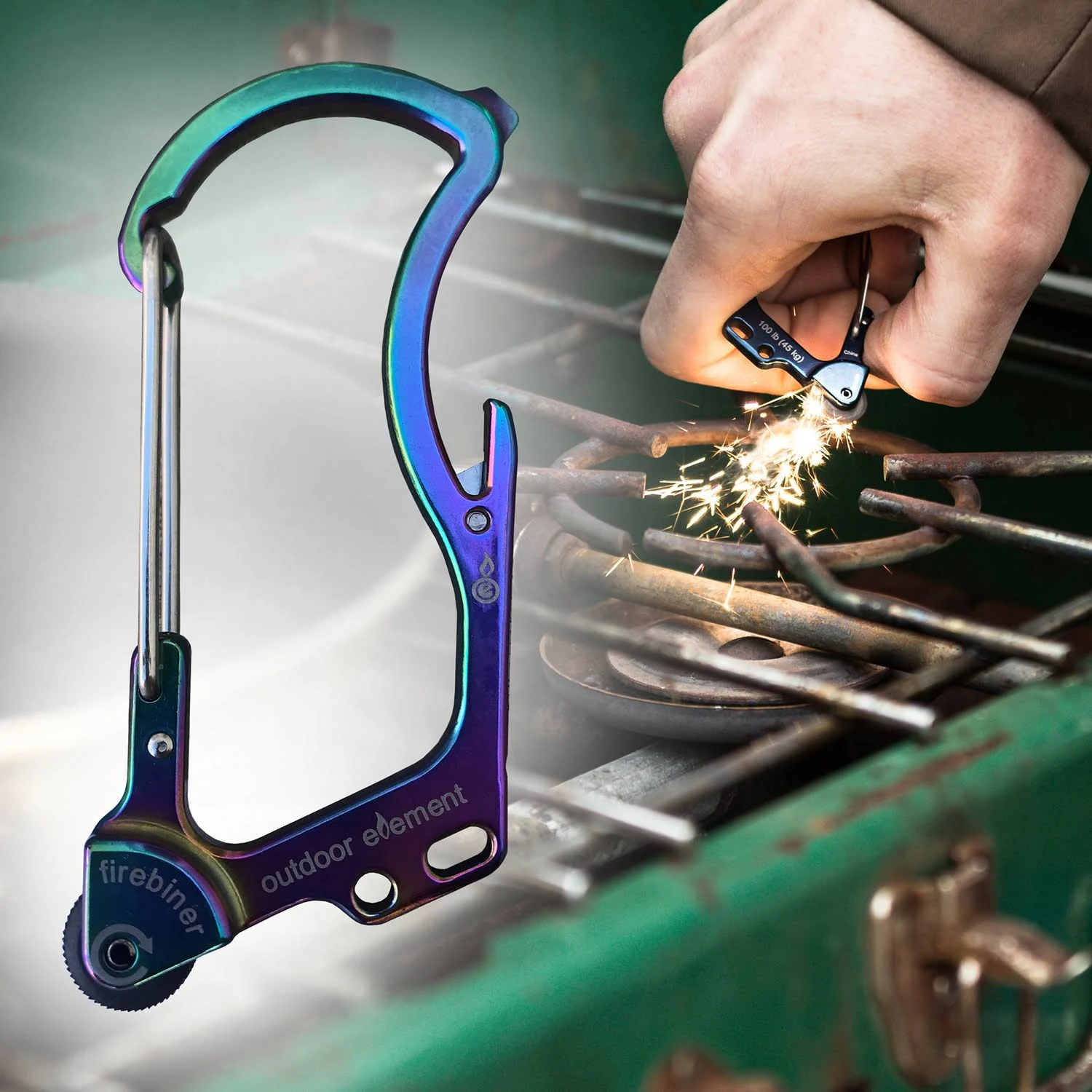 Outdoor Element, an adventure gear company whose stand-out product is the Firebiner, a patented climber's carabiner that's also a fire-starter. (Courtesy photo)Mojica and Outdoor Element are poised for growth alongside the industry. Last year, he participated in the Navigate accelerator cohort run by outdoor retail giant REI. The Seattle-based co-op created Navigate to elevate outdoor brand owners of color and help them bridge the chasms between ideation, growth and landing their items on retail shelves. Mojica was one of six founders chosen from 150 applicants.
REI launched the Navigate accelerator in 2021 under the brand's Path Ahead Ventures program, itself launched with a $30 million investment. Path Ahead Ventures' other program, Embark, serves as a launching pad for new outdoor brands owned by people of color.
The co-op opened the process for the 2023 cohort in February and is accepting applications through March 12, 2023.
Dan Kihanya is the director of REI's Path Ahead Venture and oversees the Navigate accelerator. Along with individualized support from industry experts to help founders scale their brands, the accelerator provides each participant with a $25,000 capital investment.
The Navigate programming takes place 4-7 hours a week over four months, culminating in a "demo day" style pitch competition and a "founders market," a pop-up shopping experience outside REI's flagship store in Seattle. But, even when the founders complete the program, Kihanya says, Navigate continues to work with the founders.
We intend to keep working with them on a journey that will hopefully lead within some number of seasons — depending on where they are in their process — to being on our shelves."
According to a 2022 report from Statista.com, REI is the 10th highest-earning outdoor retailer in the nation, with last year's revenue at $595 million. For Mojica, landing his gear from Outdoor Element on REI shelves has been a game changer.
"For me, it was a massive confidence booster," Mojica said. "That influential market industry support from REI was massive for us — we've experienced 80% growth year-over-year."
While the outdoor industry has remained almost exclusively white, the very outdoor space the sector relies on has been stewarded by Indigenous peoples since time immemorial. And, with Indigenous people stewarding more than 80% of the planet's biodiversity, Natives play a critical role in preserving beloved lands in the face of the climate crisis.
Never miss the biggest stories and breaking news about the tribal economy. Sign up to get our reporting sent straight to your inbox every Monday morning.
In November 2021, Secretary of Interior Deb Haaland and Secretary of Agriculture Thomas J. Vilsack issued a joint secretarial order calling for co-stewardship agreements between tribes and federal entities managing federally owned lands. Since the order, 13 co-stewardship agreements have been signed, among them between Twenty-Nine Palms Band of Mission Indians and Joshua Tree National Park and the US. Forest Service and five Tribes of the Bears Ears Commission.
Joey Montoya (Lipan Apache) launched Urban Native Era in 2012 to bring awareness to Indigenous issues, with t-shirts, beanies, ball caps, sweatshirts and more bearing the words, "You are on Native Land." Today, the brand is carried in all 165 REI stores around the U.S.
"There are a lot of people working hard to bring Native representation to the mainstream," Montoya said. "But our ancestors, our relatives, have been at it for quite some time."
National Parks are ancestral homelands for many tribes,some of which were forcibly removed to create the very parks Americans enjoy today. Many of the nation's most popular parks, including Yellowstone and the Badlands, are home to Indian reservations. According to the National Parks Service most recent 10-year-report, just 23% of visitors to the nation's 419 national parks are non-white.
That data, released in 2020, brought national attention to the racial disparity in outdoor recreation, and amplified the message from groups already working to create pathways for people for color to enjoy the outdoors, and the benefits that come with it: a 2018 study published in the American Journal of Lifestyle Medicine exposure nature appears to have a profound impact on our physical and mental health, decreasing symptoms of anxiety and depression.
Major publications such as Forbes, the Washington Post and the New York Times published articles examining the racial gaps in the great outdoors spotlighting grassroots organizations promoting equitable access, such as Native Women's Wilderness, Black Girls Hike and LatinX Hikers.
"The outdoors gives us that opportunity to get out of our comfort zone and discover who we really are," Mojica, a former boy scout, said. "We're just too comfortable sitting in our houses that are nice and warm. And then we get outside and it's like, 'Wait, who am I? What's the relationship between me and nature, me and myself, me and my family?'"
Kihanya said that welcoming those various customer segments who have been historically excluded involves welcoming those same segments on the creator side.
"We think that it's pretty important to have not just the customer and different customer segments that you're welcoming in," Kihanya said. "You really need those different perspectives and those different voices on the creator innovator side and for lots of different reasons. If founders of color are succeeding in the business, then the outdoor industry and the outdoor market is going to be much more vibrant and healthy,"
REI's Kihanya describes last year's Founders Market as a great success — the cohort participants had high sales and interacted with people who were enthusiastic about their products, he said.
And there were special moments that drove home the importance of cultivating representation in the great outdoors.
"There was a moment when a customer hugged one of our founders, Raquel," Kihanya described. "She makes technical hiking pants size 14 and up. We had an outdoor changing room, and when the customer tried on the pants and looked in the mirror, she started crying. She had never had a product like that fit her."
Mojica currently has 12 patents for products under his Outdoor Element brand, and his products are available in REI stores and on the retailer's website. He describes his experience with the Navigate accelerator as a "catalyst."
"They weren't going to change the outcome but they sure did speed it up," Mojica said. "It was really nice to have a partner that did just that — sped it up."
He gets emotional as he talks how support, in many ways, is also permission to succeed.
"It doesn't matter what you look like or where you came from," Mojica said. "Bring that paradigm, bring that heritage to whatever space you want to be in and flourish. You have permission to flourish. And I think that more of us need to hold onto that."