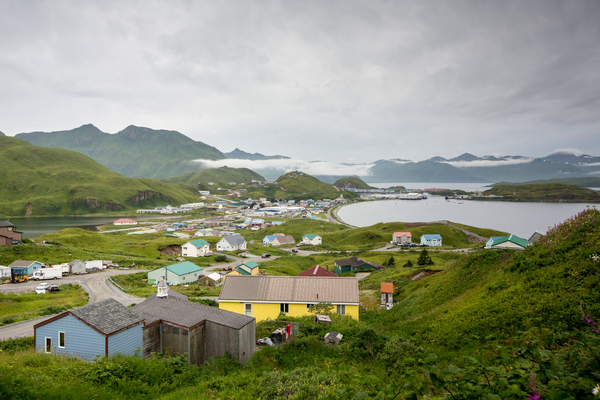 Details

Economic Development
A major Alaskan broadband effort has turned its first circuits online, connecting the remote Unalaska region to high speed internet amid a statewide push to bring rural and tribal communities online.
Unalaska is the first of 12 Alaskan communities brought online under Alaskan telecom GCI's AU-Aleutians Fiber Project. The initiative aims to connect 800 miles of fiber backbone and subsea cabling to a larger node, giving 2 gbps access to communities stretching from Unalaska to Kodiak Island.
CGI Rural Affairs Director Jen Nelson notes that the internet brings with it an opportunity for Unalaska residents to leverage the benefits of being online.
Never miss the biggest stories and breaking news about the tribal economy. Sign up to get our reporting sent straight to your inbox every Monday morning.
"People are not only going to be able to connect to everything the world has to offer, but they're also going to be able to bring themselves and their culture and their experiences and their economies to the rest of the world," Nelson said. "IIt's hard to put it into words how transformational it's going to be - it's going to be like going from not having electricity to having electricity."
So far, the project has cost nearly $100 million, some of which has been supported through tribal partnerships in securing federal support for the initiative. That support includes a $29.3 million extension into the Kodiak Islands through an unmatched grant from the Tribal Broadband Connectivity Program. In securing that grant, GCI partnered with the Native Village of Port Lions, according to prior Tribal Business News reporting.
Tribal partners have been crucial in getting the AU-Aleutians Fiber Project up and running throughout its inception, said Heather Handyside, GCI Chief Communications Officer..
"In some situations, tribal entities must be the applicants for the grants that have supported this project," Handyside said. "In addition, we've found that the value in partnering with tribes is what they bring in terms of knowledge of weather conditions, currents, how people travel across the tundra, and how we can power our network. Their local knowledge allows our projects to be more robust and more informed."
It's not the only time the telecom giant has partnered with tribes to launch a new network initiative. GCI helped create the "Airraq" network to connect a series of communities in the Yukon-Kuskokwim Delta through a $42 million unmatched Department of Agriculture ReConnect grant secured through a collaboration with Bethel Native Corporation.
As Unalaska comes online, GCI and its partners look ahead to a planned two-year timetable for bringing the rest of the 800-mile network online. GCI technicians will connect each community and bring the tail end of the project — there in Port Lions — online by 2024, if everything goes to plan.
For Port Lions administrator Denise May, that can't come quickly enough. Speaking to Tribal Business News in a prior story, May said she paid $500 a month for internet that only just met Federal Communications Commission service standards — 25 mbps download, 3 mbps upload — at peak speeds.
Now she looks forward to "urban prices in a very rural community," she said.
"This will allow us to compete globally," May said. "That's crucial for us. That's just really crucial."
Want more news about the $130 billion tribal economy?
Tribal Business News publishes thoroughly reported and well-crafted stories about Native businesses and entrepreneurs, growth and expansion strategies, best practices, economic data, government policy and other relevant business news. Tribal Business News is required reading for tribal council members and leaders of Native businesses, as well as state and federal legislators, policymakers, economic developers, entrepreneurs, bankers, lawyers and anyone interested in doing business in Indian Country.
Sign up for our free newsletter to track Native business and the tribal economy. Or sign up for a premium digital subscription ($99/year or $10/month— cancel anytime) to gain full 24/7/365 access to our business news reporting. Megwetch.