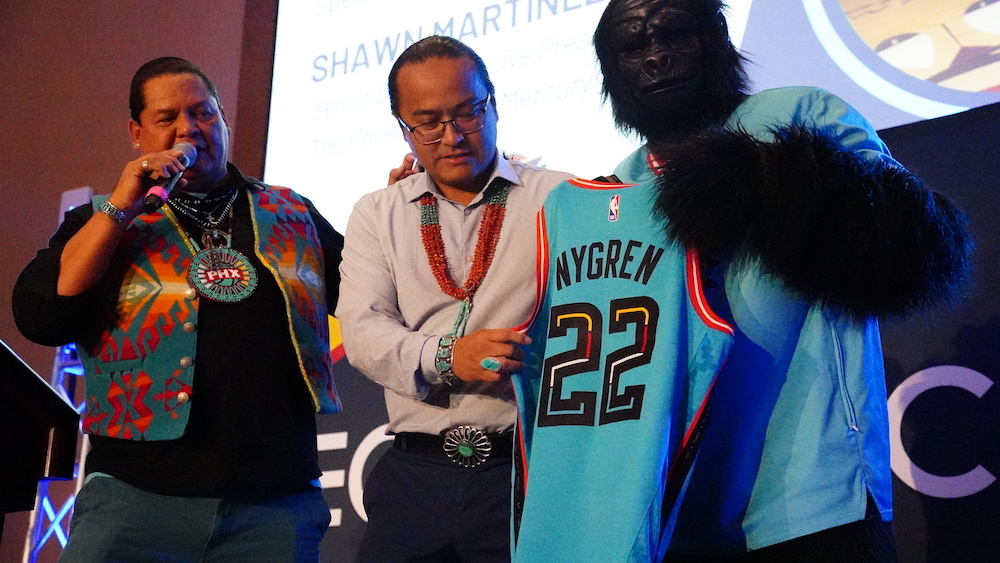 Details

By

Darren Thompson

Economic Development
FLAGSTAFF, Ariz.—The Navajo Nation Department of Economic Development hosted its 6th annual economic summit last week — its largest professional meeting since the beginning of the pandemic three years ago, organizers said.
More than 600 people registered for the summit, which focused on building a tribal economy that can sustain the largest land-based American Indian tribe in the country. Hosted at the Navajo Nation's own Twin Arrows Casino and Hotel, the summit highlighted businesses that operate on and off the Nation's reservation as well as business leaders, policy makers, and tribal leaders.
Sen. Mark Kelly (D-AZ), Navajo Nation President Dr. Buu Nygren, Phoenix Suns Senior Director of Live Entertainment Shawn Martinez, Miss Navajo Nation Valentina Clitso, Diné Development Corporation (DDC) Executive Director Austin Tsosie, and Northern Arizona University Professor Manley Begay, Ed.D were some of the summit's keynote speakers.
"It goes to show you the need we want for our people to prosper," said Betty Okay, mistress of ceremonies for the summit. "We worked really hard to bring people together again."
Throughout the summit, several common themes emerged — especially tribal sovereignty and economic sovereignty, but also the need for Dine people to come together to develop Navajo Nation as "a global force."
"We are not only family, friends, small business owners, government, but we are business and we need to come together, and start talking at a higher level of how we can develop the Navajo Nation as a global force," DDC's Tsosie said during the summit's general session.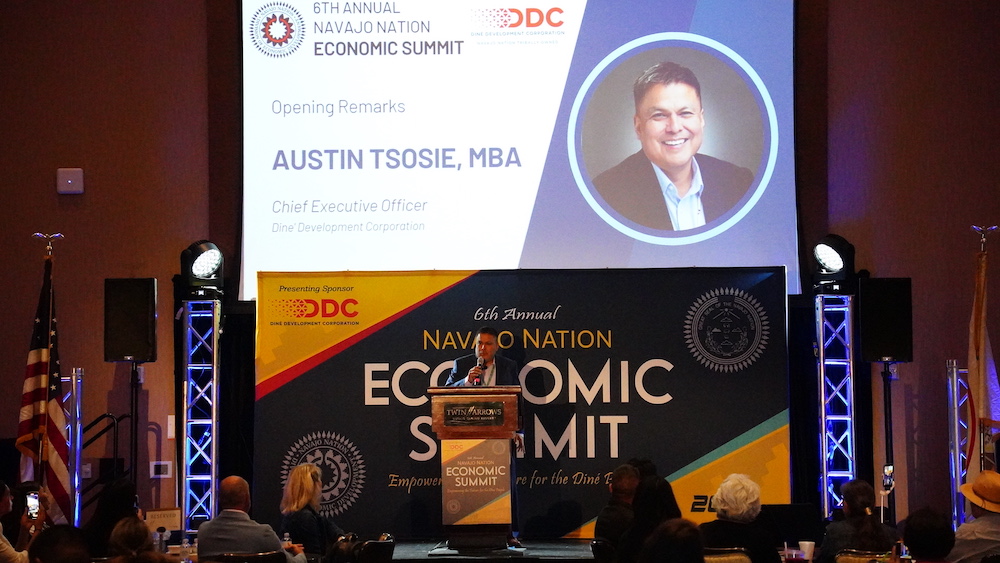 Austin Tsosie, executive director of Dine Development Corporation, speaks during the opening session at the Navajo Nation's annual economic summit in Flagstaff. "We need to come together, and start talking at a higher level of how we can develop the Navajo Nation as a global force," he said during his remarks. (Photo: Darren Thompson)
Begay, a Navajo Nation citizen who specializes in specializes in Indigenous Nation-Building, discussed the need for tribes to exert their sovereignty and build their own tribal economies and entrepreneurial ecosystems rather than rely on the federal government
"Tribal enterprises and corporations are one economy, tribal entrepreneurship and private small businesses are another economy," Begay said. "The last is letting the federal government run the show—we don't want that."
A former director of the Harvard Project on American Indian Economic Development, Begay highlighted other Tribes and steps they have taken to develop their own economies.
"Here's the common pattern in Indian Country: you have to exhibit sovereignty (and) you have to have a Nike attitude—Just do it!" Begay said. "If you want to build a road here, just do it—you don't have to ask permission, you're a sovereign nation."
Never miss the biggest stories and breaking news about the tribal economy. Sign up to get our reporting sent straight to your inbox every Monday morning.
Another highlight of the summit was an appearance by Go the Gorilla, the high-flying mascot of the Phoenix Suns of the NBA. Go appeared after the presentation by Suns Senior Director of Live Presentation Shawn Martinez about the team's efforts to bring Native culture to the NBA and the opportunity for tribes to work together.
"I was humbled by the invitation from my Diné people to share my journey," Martinez said. "I felt the power from my sisters, brothers and elders that were there and want to reinforce that we are stronger together when we lift each other up."
After his talk, Martinez and Go presented Navajo Nation President Dr. Buu Nygren with a customized Phoenix Suns city-edition jersey.
During his remarks, Nygren talked about Navajo Nation's efforts to support small businesses on the reservation and the opportunities — and challenges — associated with developing clean energy on the reservation. "We have always been an energy community," Nygren said.
Nygren also reminded the audience that tribal enterprises and economic development projects help fund important needs on the Nation, including caring for and honoring elders.
"Our elders should have the best care and enjoy coming to senior centers again," he said. "A stronger economy will help us reinvest and make sure we continue to highlight and (take care of) our elders," Nygren said.
The need to break out of organizational "silos" and come together for the good of the Navajo Nation was another theme throughout the summit, Jocelyn Billy-Upshaw, director of marketing for Diné Development Corporation told Tribal Business News.
Events like the 6th annual summit help break down some of the silos by encouraging people to share best practices and policies, she said. The summit also highlighted excellence with business awards for enterprises in several sectors, including infrastructure, energy, community, tourism, entrepreneurship, and agriculture.