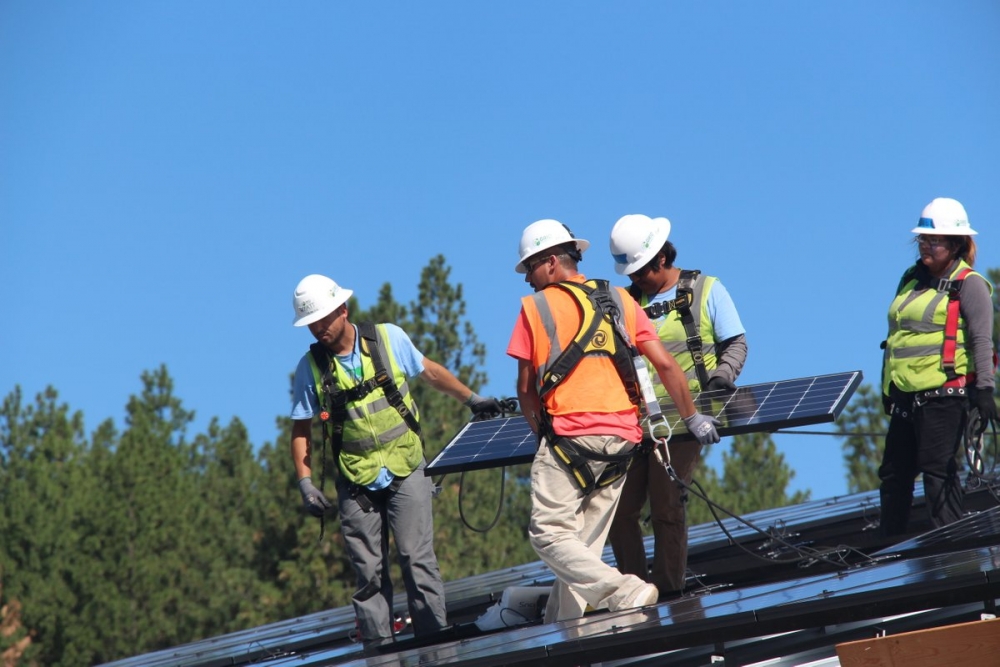 Details

Energy | Environment
OAKLAND, Calif. — Solar energy-focused nonprofit GRID Alternatives has opened applications for the second year of the Tribal Energy Innovators Fellowship Program.
Using grant money from its Tribal Solar Accelerator Fund, GRID Alternatives seeks entrepreneurs, students, and community members with ideas on how to improve renewable energy resources in their communities, whether through kickstarting direct installations or developing educational materials on the issue.
As examples of projects the fellowship would look to support, program director Tanksi Clairmont pointed to prior projects in the cohort preceding this latest program: Navajo tribal member Demetrius Johnson proposed developing solar curriculum and training for local governments on the Navajo Reservation, while Oglala Lakota member Cheyenne PoorBear took the first steps toward creating an solar operations and maintenance tribal business.
"Really, the intent is just to provide that space for folks. They don't have to be experts or environmental directors or anything like that," Clairmont said. "They just need to have that passion for moving their community forward within the environmental justice space and that energy resilience space."
The fellowship will offer federally recognized tribal members a $10,000 stipend, mentorship and networking within the solar energy industry, and a year-long cohort program to share ideas and resources.
The fellowship will primarily be virtual, inviting cohort members from across the country to have monthly meetings and "robust" discussions by phone, Clairmont said.
"When you convene five like-minded individuals on a call and let them take over the conversation, they really like to have those calls with each other," Clairmont said. "We usually prompt them with some questions and then we hear the perspective from their communities."
At the end of the program, which runs from Aug. 31, 2021 to July 31, 2022, cohort members will be invited to a "demo day" to present their projects and research to industry experts.
"We let them show whatever projects they've been working on and we talk about how they can leverage Grid's partnerships as they move into the industry," Clairmont said. "We're really connecting them with industry folks so they can grow and learn from experts in this space."
The first cohort, which launched last year, included a suite of proposed projects ranging from developing a tribally owned solar operation and maintenance business to developing a curriculum meant to more effectively educate tribal leaders on renewable energy.
Clairmont helped create the fellowship program after prior experience in the higher education sector, working at the American Indian College Fund with tribal colleges and universities.
"With that experience and that passion for higher education, I brought those ideas to the Tribal Solar Accelerator Fund and kind of expanded how we could support energy leaders in their communities," Clairmont said. "We work with a lot of grantees right now, and within that grantee space, we discovered a lot of folks that would like that professional development support, that whole connecting and networking within the industry."
GRID Alternative's industry connections include partnerships with roughly 70 tribes across the country where they work to install and support solar projects for tribal members and enterprises. The scope ranges from single rooftop installs to entire community energy grids.
The Tribal Solar Accelerator Fund began its programming in 2018 following a $5 million donation from the Wells Fargo Foundation. Tribal grants from the accelerator fund averaged around $110,000 per project, Clairmont said.
The program has distributed $3.7 million across 186 total solar installations, trained 176 tribal members, and awarded scholarships to eight college students. Since 2018, GRID's work has helped tribes save $10.2 million in energy costs, according to a program report.
"We've created some really strong partnerships and relationships with who is doing this work across the country and even globally," Claremont said.
However, in the absence of additional large donations following the initial award, the Solar Accelerator Fund's coffers have dwindled, forcing GRID Alternatives away from awarding broader grants and instead focusing on specific projects and requests, Clairmont said. Much of the organization's current fundraising is earmarked for projects in particular areas, such as California and Alaska.
"While we've received some small grants that are sustaining some tribal projects right now, we just really can't open up an open grant cycle. We don't have the $5 million that we had," Clairmont said. "We're doing what we can to find that pot of funding that will allow any tribe to apply for grant funding."
The application for the fellowship can be found here.